Prosecutors Say Gunman Shot by UCPD Officer Was Experiencing Mental Health Episode; Involved Officer Also Shot Charles Thomas in 2018
Minutes before being shot by UCPD officer Nicolas Twardak, Rhysheen Wilson told 911 dispatcher he was seeking "suicide by cop." After five gun wounds, Wilson is now in serious but stable condition and Twardak is on mandatory administrative leave.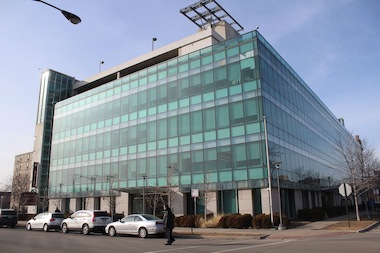 Update: The text of this article has been updated to reflect new information about Wilson's current condition, early court proceedings, and Wilson's mental health status leading up to the incident.
Content Warning: This article discusses suicidality and describes gun violence
The Illinois State's Attorney's Office has approved criminal charges against Rhysheen Wilson, the 28-year-old man shot by University of Chicago Police Department (UCPD) officer Nicolas Twardak on Tuesday. The University identified Twardak as the same officer who shot former UChicago student Charles Soji Thomas in 2018.
According to a statement provided to The Maroon by the University, the Illinois State's Attorney's Office charged Wilson with one count each of attempted murder of a police officer, aggravated discharge of a firearm to a person, and aggravated unauthorized use of a weapon. Judge Maryam Ahmad set Wilson's bail at $2,000,000 cash on Thursday.
In accordance with University policy, Twardak is currently on mandatory administrative leave following the shooting incident with Wilson while the University and the Chicago Police Department (CPD) conduct investigations into the event. Per a University spokesperson, Wilson's condition has been updated from critical to "serious, but stable".
On Tuesday, according to police scanner information and University reports, Twardak was on patrol on South Woodlawn Avenue when he saw Wilson walking on Woodlawn Avenue with a handgun drawn. When Twardak got out of his vehicle to investigate, Wilson allegedly fired in Twardak's direction. Twardak took cover on the other side of the street and then on the front porch of a nearby home. UCPD reported that Wilson advanced and continued to shoot when Twardak fired at Wilson from the porch.
Before the Incident
New reporting on court proceedings by the Chicago Sun-Times has shed more light on Tuesday's events. In a statement in court, Assistant State's Attorney James Murphy said that Wilson was experiencing a mental health episode on the day of the shooting. Minutes before encountering Twardak, Wilson called 911 and told a dispatcher that he was suicidal and wanted to be killed by police. According to Murphy, Wilson was not taking his usual medication for schizophrenia, PTSD, and mood swings.
On Tuesday morning Wilson called his cousin, who came to meet him in-person and found Wilson crying and expressing suicidal thoughts. Wilson then left his cousin, pulled out his gun, and placed the call to 911. According to Wilson, Murphy said on the call that "he wanted to go out by suicide-by-cop, and that he just wants to die, and he's ready." Wilson told the dispatcher where he was, what he was wearing, and that he was armed. While on the phone, Wilson fired several shots in the air and told the dispatcher that "he is not going to hurt anyone but a cop," Murphy said. He also fired at the ground close to his cousin, who had followed him.
The public defender representing Wilson declined to comment on possible mitigating factors in the incident, saying she has not yet spoken to Wilson, who is still hospitalized.
Wilson had two gunshot wounds to the thigh, two to the lower leg, and one to the groin, according to University reports. UCPD administered medical assistance at the scene before taking Wilson into custody and transporting him to the University of Chicago Medical Center.
A Prior Shooting
In April 2018, Twardak was involved in the shooting of then-student Thomas. Thomas was breaking the windows of a building and multiple cars in an alleyway with a metal pole when Twardak arrived on the scene. Body camera footage shows Thomas did not respond to commands to drop the pole and not approach police officers before running towards Twardak with the pole. Thomas's parents believe his behavior was connected to a psychiatric episode.
Subsequent investigations by CPD and the University ruled that Twardak's actions in the Thomas shooting "were consistent with applicable law." In March 2020, Thomas sued the University and Twardak for misconduct and negligence. The lawsuit, which was filed by Thomas's attorney Steve Greenberg in Cook County Court, is still pending.
"There's a reason why someone like this is a serial shooter," Greenberg said, according to the Chicago Sun-Times article. "And it's not because he has some special 'spidey sense' that shootings require. It's because he's poorly trained and ill-equipped and shouldn't be on the job."
Following the incident, Thomas was charged with three felony counts of aggravated assault of a police officer and five felony counts of criminal damage of property. In May 2021, these charges were dropped after Thomas completed a diversion program for first-time felony offenders.
Thomas's shooting prompted allegations of racial bias and a surge of organizing around campus policing, including the formation of the student organization #CareNotCops (CNC). In the intervening four years, CNC has demanded the University defund and disband the UCPD, alleging that campus police exhibit racial bias and receive inadequate mental health training.
CNC organizers have expressed concern over similarities between the Thomas and Wilson cases. "From what we know right now, it seems like he was undergoing a mental health crisis, which just further connects it to Soji," Warren Wagner, an organizer with CNC, told the Chicago Sun-Times on Wednesday.