#CareNotCops (CNC), a student group dedicated to the abolition of the University of Chicago Police Department (UCPD) in favor of investing in South Side communities and mental health services, gathered on the main quad in front of Levi Hall at 12:30 p.m. on Friday, February 4, to protest the recent shooting of community member Rhysheen Wilson by a UCPD officer.
Fourth-year CNC organizer Alicia Hurtado began the rally by giving a speech calling for the abolition of UCPD. They asserted that far too many UCPD encounters with community members result in "escalation, violence, and criminalization."
Hurtado spoke out against the increased patrols and surveillance that the University instituted in response to 24-year-old recent UChicago graduate Shaoxiong "Dennis" Zheng being shot and killed during an attempted robbery at 956 East 54th Place on November 9.
"When the University announced their expansion of their private armed police force, I knew that it only had one predictable outcome," Hurtado said. "That outcome was not safety or an answer to gun violence."
Next, Hopie Melton, a third-year CNC member, read a statement on behalf of Students for Disability Justice (SDJ), an advocacy organization that promotes disability activism and discussion within the University community and Chicagoland. The organization said that UCPD and emergency dispatchers are not properly trained to handle mental health crises and unnecessarily escalate many confrontations as a result. SDJ also demanded that the University further invest in mental health services.
"[UCPD] responds to every situation with the same heavy-handed, violent approach, leaving behind the people that need our help the most," Melton said, reading the statement. "Our Black neighbors are under constant surveillance. Our mad and neurodivergent neighbors are judged and have been pathologized for their differences. Our disabled neighbors are under constant threat, and UChicago acts as a further disabling force."
After the speeches, protesters marched on South Ellis Avenue, East 57th Street, South University Ave, and East 59th Street before ending back on the main quad.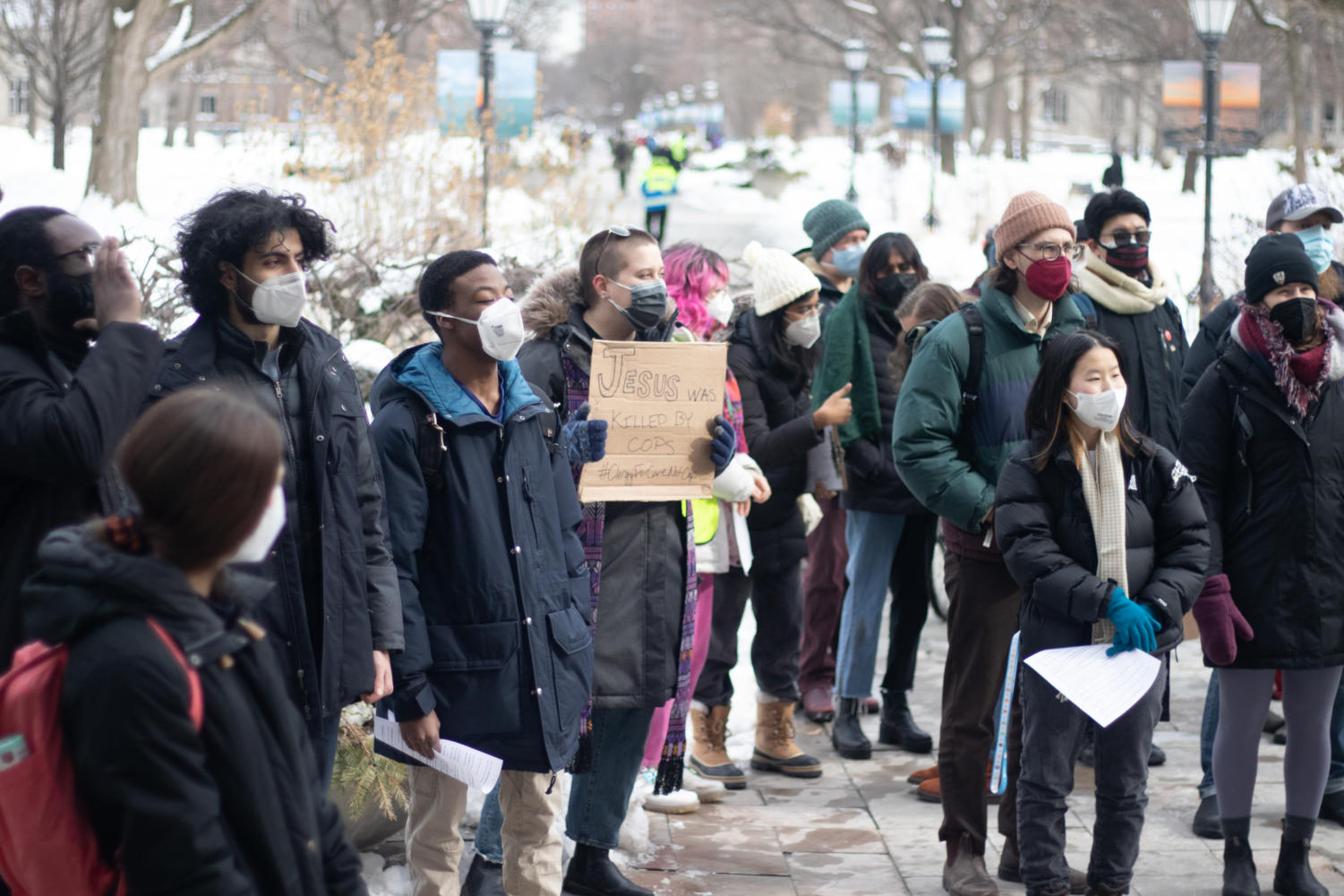 Wilson was shot by UCPD officer Nicolas Twardak on the morning of January 18. According to a statement by the Assistant State's Attorney James Murphy, Wilson was experiencing a mental health episode on the day of the shooting. Wilson's condition as of last week is "serious, but stable," according to a University spokesperson. Twardak has since been placed on administrative leave pending the investigation.
In 2018, Twardak also shot then–UChicago student Charles Soji Thomas, who was breaking the windows of buildings and cars in an alleyway with a metal pole during what his parents believe to have been a psychiatric episode. Thomas was charged with three felony counts of aggravated assault of a police officer and five felony counts of criminal damage of property.
CNC was formed following Thomas's shooting as a branch of UChicago United, a group of students of color "committed to racial justice at the University of Chicago and [in] the surrounding Chicago area." CNC campaigned to drop the charges against Thomas, and they were ultimately dropped in May 2021 after Thomas completed a diversion program for first-time felony offenders.
"It's so devastating and frustrating how similar this situation is to the one we had four years ago, and how we only just got the charges dropped against Soji Thomas last year," CNC organizer Kelly Hui, a second-year who serves as Viewpoints editor for The Maroon, said in an interview after the rally. "It's the same struggle. It's the same organizing we're doing, but it's important."
CNC is holding a general interest meeting for students to learn more about the organization and the history of UCPD on Thursday, February 10, at 6 p.m.