First-Year Sells Desserts to Benefit Ukraine
First-year Jonah Herrera-Dodd has raised and donated $1,200 to Project HOPE to benefit Ukraine through bake sales.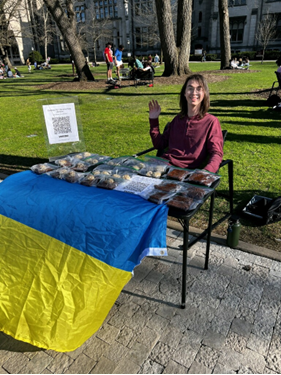 First-year Jonah Herrera-Dodd came up with a "sweet" way to help those impacted by the war in Ukraine: selling cookies and brownies on the quad with his two-man group, Cookies for Ukraine.
After reading about the Ukrainian conflict, Herrera-Dodd and first-year Ethan Clark felt driven to help those in need. "We were talking one day and were like, 'we should do something.' And then we did something," Herrera-Dodd said.
Herrera-Dodd makes brownies and white chocolate oatmeal cookies from an old family recipe for the bake sale in the Burton-Judson kitchen. Occasionally accompanied by a friend or two, he bags the finished treats and sells them on the quad at a rate of $5 for two items.
Herrera-Dodd begins to bake as soon as classes end, taking a Divvy bike to get back to B-J quickly. With the items ready to be sold, he and Clark set up their table on the quad with a large Ukrainian flag to grab the attention of passersby. They usually sell all 20 bags within an hour and a half, bringing in $100 at each of the 12 bake sales. Typically, the bake sales run from 4:30 to 5:30 p.m. Mondays, Wednesdays, and Fridays and from 1:30 p.m. to 3:30 p.m. Tuesdays and Thursdays.
"It's been doing spectacularly. We've sold a lot of cookies, and people seem to really like them. So, you know we're doing something right," Herrera-Dodd said.
Beyond the satisfaction of donating to a cause he believes in, Herrera-Dodd enjoys watching people try the cookies. He recounted the time a woman purchased a bag containing one cookie and one brownie. As she walked away, she tried the cookie and immediately turned around to buy a bag with two cookies. "She said they were awesome," Herrera-Dodd said. "It was a really proud moment for me. I was like 'Man, people really liked this.'"
When searching for an organization to donate their profits to, Herrera-Dodd looked for one with a civilian focus. He decided on Project HOPE, a healthcare charity dedicated to fundraising for medical supplies. Cookies for Ukraine donates to HOPE's Crisis in Ukraine campaign, which raises money for hospital necessities.
Herrera-Dodd also seeks to expand Cookies for Ukraine. "If we had more people to man more tables, then we could grow the operation. If anyone reading wants to help with Cookies for Ukraine, it would be greatly appreciated," he said.
Cookies for Ukraine has raised over $1,200 through dessert sales, and hopes to donate more. Their biggest challenge, however, has been finding a kitchen to bake in, as the Burton-Judson kitchen has been closed since April 21. "We need to figure out how to work around [the kitchen closing], but we definitely still want to keep going," Herrera-Dodd said.