It's been a rewarding year for two of UChicago's seven a cappella RSOs. This winter quarter, student-run groups The Ransom Notes and Voices in Your Head both competed in the annual International Championship of Collegiate A Cappella (ICCA), held in person for the first time in two years. After placing first and second respectively in their quarterfinal competition, both groups performed their 10-minute sets at the semifinal competition on March 19, and Voices in Your Head went on to perform at finals on April 23.
While first-place groups at the ICCA semifinals automatically advance to finals, second- and third-place groups also have a chance to nab a spot, competing against one another in a "wildcard" round. The winners of this sub-competition then advance, along with the first-place groups, to the final round of the competition. After placing third at semifinals, Voices in Your Head won the wildcard round and competed at finals in New York City. While The Ransom Notes did not place at semifinals, the group was nevertheless recognized with an award for Outstanding Arrangement, credited to their Music Director at the time, Wonyoung Jang.
Considering their competitive achievements this year, it is impressive that both groups feature a significant number of younger members. Katie Ko, the music director for Voices in Your Head, is a second-year, as is her leadership partner Lina Klak, the group's creative director.
"We have no graduating members, and the bulk of our members are first-years," Ko told The Maroon, adding that the group took in four new members at the end of fall quarter.
This demographic skew may be in part due to the pandemic. Remote competitions and rehearsals led to reduced activity for Voices in Your Head, leaving them with a smaller group of singers at the start of this school year.
"I didn't really know what this group was [about] because we didn't have any meetings last year," Klak said. "But it definitely has gotten a lot easier [this year] because everyone in the group is really excited to learn and willing to help."
After working to incorporate their new members at the beginning of winter quarter, Voices in Your Head found their stride at semifinals.
"I think by Semis [all of our members] were really on the same wavelength of 'we know exactly why we're here, we know exactly what the set means to us,' and I think that [mindset] honestly carried us a long way," Ko said.
Similarly, The Ransom Notes welcomed eight new members this school year—a circumstance that Jang, a fourth-year, sees as an opportunity for growth.
"I'm living vicariously, I think, through a lot of the younger members of the group," he said. "They have so much to offer to this group [in the] years to come, so for me that's probably the best part of this year, just seeing them really grow and enjoy themselves."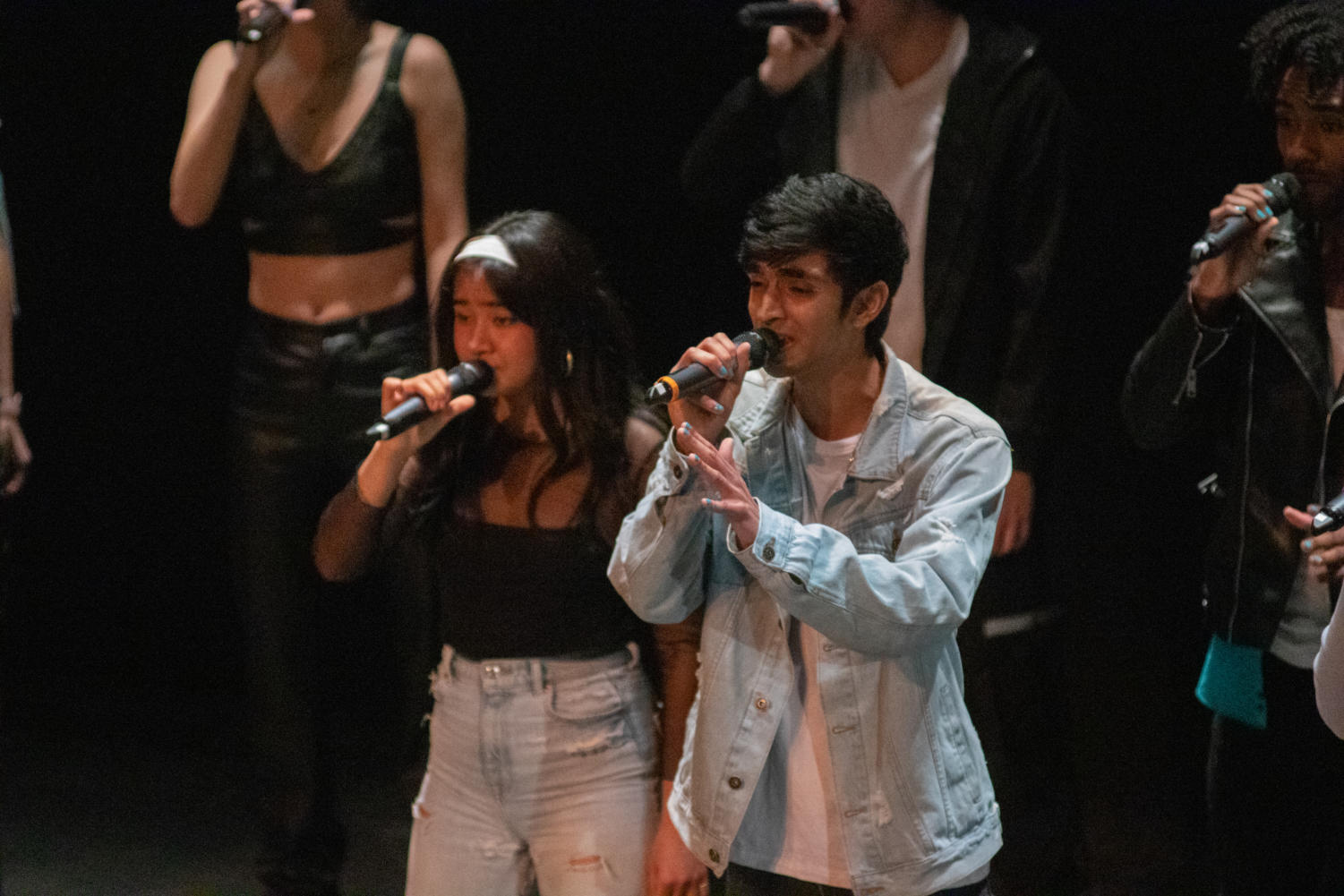 Fourth-year Achu Menon, former president of The Ransom Notes, likewise weighed in on the group's accomplishments.
"I think this is a really successful time in the group's history—we won our ICCA Quarterfinal for the first time in our history," Menon said. "We've worked harder than we have in previous years, but I wouldn't say that we've lost the fun aspect of it."
When asked about what they think has contributed to their successes this year, both groups credit the importance of building relationships between members.
"It wouldn't be possible for us to be OK with working so hard and spending so much time together on something that isn't academic at college if we weren't really tight with each other," Menon said.
Jang recognized the importance of this social aspect as well. "Obviously we've got a lot of great talent in this group, but every group's got a lot of great talent," he said. "We love what we do, and we love each other, and at the end of the day it's about just lifting each other up and working hard to do that."
"It's so cheesy, but I don't know how I got so lucky to end up with this specific group of people. I just feel very lucky to be in a group with these people who are so talented but also just amazing individuals," Ko said.
Klak added, "Everyone in the group is just so happy to be there all the time and excited to learn and to sing."
These connections also build trust, which paid off for Jang and The Ransom Notes at semifinals this year. In reference to his Outstanding Arrangement award, Jang noted that he had actually changed the intro for the group's set between quarterfinals and semifinals. According to Jang, the new intro was "very, very experimental.… It was a really big risk. But after I saw the way that this group performed at quarterfinals and everything, I felt like I could trust this group to execute something so difficult."
In addition to competing in the ICCA, The Ransom Notes recently went on their biannual Spring Tour, visiting Cleveland, Philadelphia, New York, and Boston over spring break. Part of the tour involves visiting high schools, where "we do workshops with those schools, teach them some arrangements and answer any questions that they have about a cappella or college in general," Menon said. "I think that's a really good opportunity for us to give back."
As musical artists, Menon sees it as one of the group's responsibilities to give younger singers access and exposure to music.
Jang, who is an Education and Society minor, finds the educational aspects of the group's tours particularly rewarding. When describing the high school students he has met, he notes that "they're just as passionate—if not more passionate—about singing than we are." To him, this passion "is a reminder of why we do this and what we do this for…these are the people that, one day, we hope can join our a cappella groups and have the same experiences that we do. And [we hope] that they can come away with it feeling as amazed and as inspired as we were."
While hard work and engagement clearly factor into the talent of these two groups, they both understand that it's not all about the hustle.
"A lot of times, I think, people forget not to take themselves too seriously," Jang said.
Similarly, Ko acknowledged that competitions sometimes come down to luck.
"A lot of things have to click into place. First of all, the set has to have that something which is really indescribable, and part of it is just how much the members latch onto it—which is, again, truly luck," she said.
Perhaps this understanding contributed to the shock felt by the members of Voices in Your Head on learning that they'd won the wildcard round and would be advancing to finals.
"That was truly mind-boggling," Ko said.
The group received the news directly from the Executive Director of the ICCA, Amanda Newman, who FaceTimed them during a rehearsal.
"She was like, 'Hey! How would you guys like to go to New York?'… It was so, so great. It was just something we really did not expect," Klak told The Maroon.
The winner of the ICCA final competition this year was Pitches and Notes (University of Wisconsin), followed by The Opportunes (Harvard) in second place and ScatterTones (UCLA) in third.
Despite having not placed at finals, Voices in Your Head members hoped to make the most of their experience and ultimately just have fun.
Ko explained, "It's just kind of like, 'Wow, we did it, we made it to finals. Let's just enjoy each other, enjoy the set, enjoy this opportunity.' And so, I really hope that…we all really enjoy this time and remember to be grateful for it."
The group has other plans besides competition. When not competing in the ICCA, Voices in Your Head holds concerts, collaborates with other groups both on and off-campus, and records their arrangements for Spotify, among other pursuits. The group released their most recent single, "My Day Will Come," in 2021, and their most recent album, Begin Again, came out in 2019.
The Ransom Notes are also continuing to work on their music. Their newest EP, quit, dropped on Spotify on April 22. They are currently working on a new album tentatively set to debut next year and are preparing for their 25th Anniversary concert planned for the end of the school year.
If you want to keep up with these groups, be sure to follow their social media!
The Ransom Notes: @uchicagoransomnotes
Voices in Your Head: @uchicagovoices