Chicago's Oldest Church Develops Artists' Space to Build Community
The First Presbyterian Church of Chicago's pastor David Black strives to make Woodlawn more connected through art. UChicago alumni and undergraduates worked with the church to develop an artistic space for community building.
Nestled in the neighborhood of Woodlawn lies the oldest church in Chicago––so historic that its roots predate the incorporation of Chicago as a town. Located at 6400 South Kimbark Avenue, the First Presbyterian Church of Chicago is building upon its legacy of artistic patronage by creating a new space for South Side artists. The church has a long history of providing space for different organizations and individuals, including Martin Luther King Jr.
"Our vision for this church is to be a hub for Woodlawn's culture," Pastor David Black said. "That means that we really want to invite people in and allow people in this community to take ownership of the church, to say what they think, what they want to bring into this space, how they envision it being used."
Max Li, the artist in residence at the church, received his master's in fine arts with a focus on photography from UChicago last spring and discovered First Presbyterian while exploring Woodlawn. Enchanted by the building's historic architecture, Li began taking photos when Black walked outside and offered a tour of the church. During the tour, Black explained the church's mission of supporting South Side artists.
Li's form of photography, tintype, dates to the Civil War era and features a black-and-white photograph etched onto a tin sheet. Entirely self-taught, Li says that he is one of the very few tintype photographers in the Chicago area. Li presented his artwork last October to the church's elders, who make decisions for the church, and received an offer to be the artist in residence.
"I really feel like I've been learning so much about the art of gathering," Li said. "With all these events we've been doing, I just learned so much about the overall flow of getting people to come together and have meaningful experiences."
Getting people to come together, for Black, highlights the extensive network of artists throughout the community. "One of the things I love about South Side arts is that if you get connected to one person, you get connected to a web of people," he said.
Through Li, Black met Elizabeth Myles, the digital storytelling initiative program manager at the Logan Center. Myles graduated from the College in 2020 with a major in cinema and media studies. Her work at the Logan Media Center involves creating programs for Southsiders to learn how to tell their own stories using mediums such as podcasting, storytelling, and filmmaking.
Having used the church as a space to rehearse with her chamber music group, Myles wanted to contribute to Black's artistic mission. "It's really exciting to see how [the church's artistic space] can grow, and I feel like that definitely aligns with the work that I do," Myles said.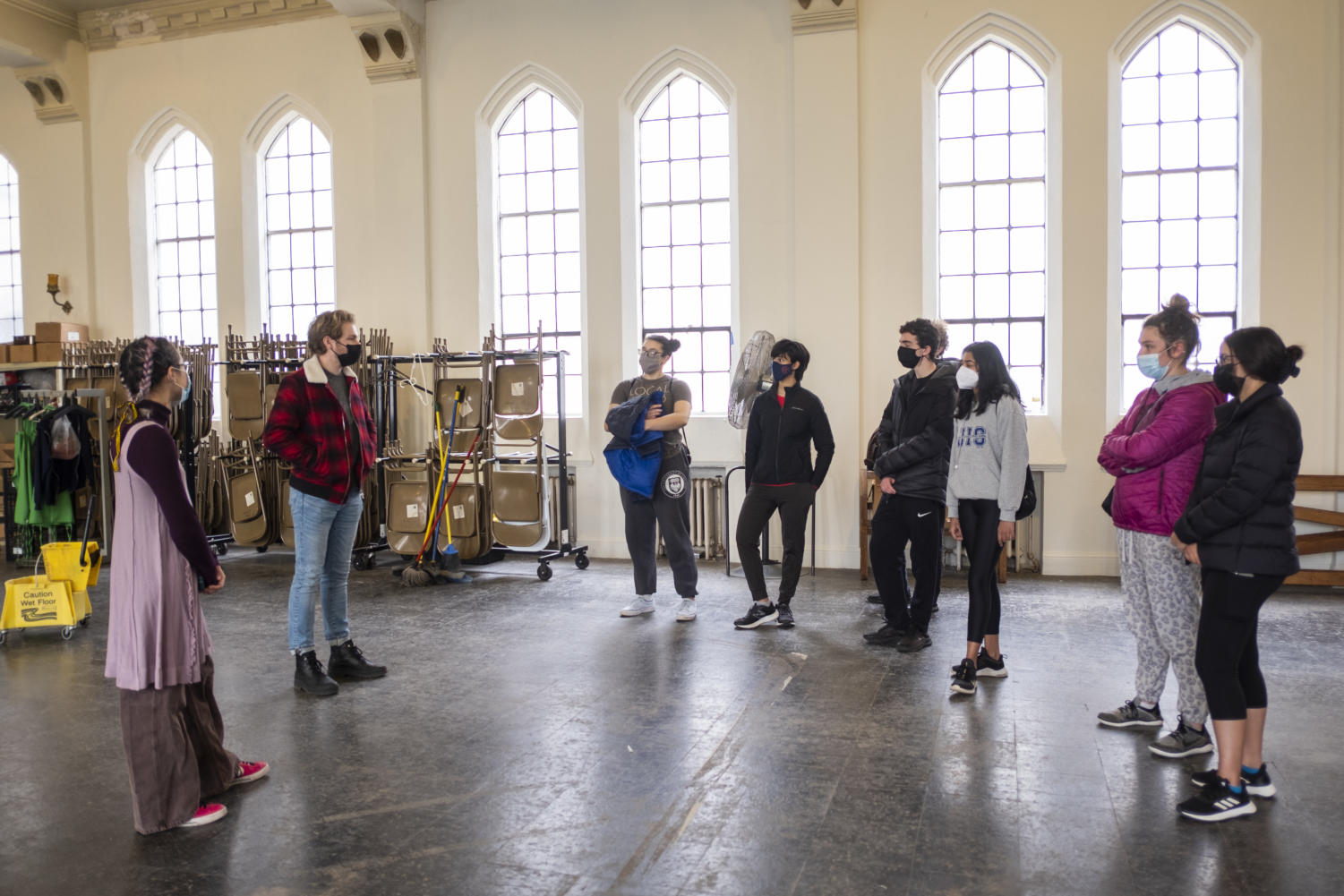 Most recently, Myles, Black, and Li worked on refurbishing a room at the church for open mic nights and other artistic endeavors. This involved reaching out to the University Community Service Center and recruiting seven undergraduates to assist with cleaning up this space in exchange for lunch and a tintype portrait from Li.
Ivan Messias, a second-year who volunteered to clear the space, told The Maroon, "I'm neither a religious nor a particularly artistic person, but I do believe in the power of community."
Although this room at the church has always been available for anyone to use, Black wanted to make it a welcoming one. "The first step is cleaning [the room], making it a space that feels dignified," Black said. "It's not just like, 'Oh, here's a crummy room that you can use if you want.' But like, 'Here's a room that people have really loved into being a beautiful space where we want you to flourish in your arts and your creativity and in your businesses.'"
Black strives to make the First Presbyterian Church of Chicago open to community members at any time. "My long-term goal is to have the church available 24 hours a day for artists to make work, to view work, to show work, to teach work," he said. "We want to hyper-use this space, want every part of it to be filled all the time, just filled with life and creativity."
Black also hopes that the space will help Woodlawn residents unite in the face of gentrification. "I think the way that we make Woodlawn more resilient as it goes through this challenge of gentrification is to keep people connected and get neighbors to meet neighbors. If your neighbor is getting priced out and you don't know it, then there's nothing you can do about it," Black said. "If you know each other and people are talking about what's happening, there's a lot of power in that."