IOP Invites Al Franken for Night of Comedy Despite Admission of Sexual Harassment
In a statement to The Maroon, the Institute of Politics said, "While a group of his colleagues urged his resignation from the Senate, no formal complaint, charge or lawsuit was ever filed against him."
Content warning: This article contains mentions of sexual harassment.
UChicago's Institute of Politics (IOP) announced that former U.S. senator Al Franken, who resigned from the Senate in January 2018 after multiple allegations of sexual harassment surfaced against him, will join its April speaker lineup for a night of comedy and reflecting on his time in the Senate.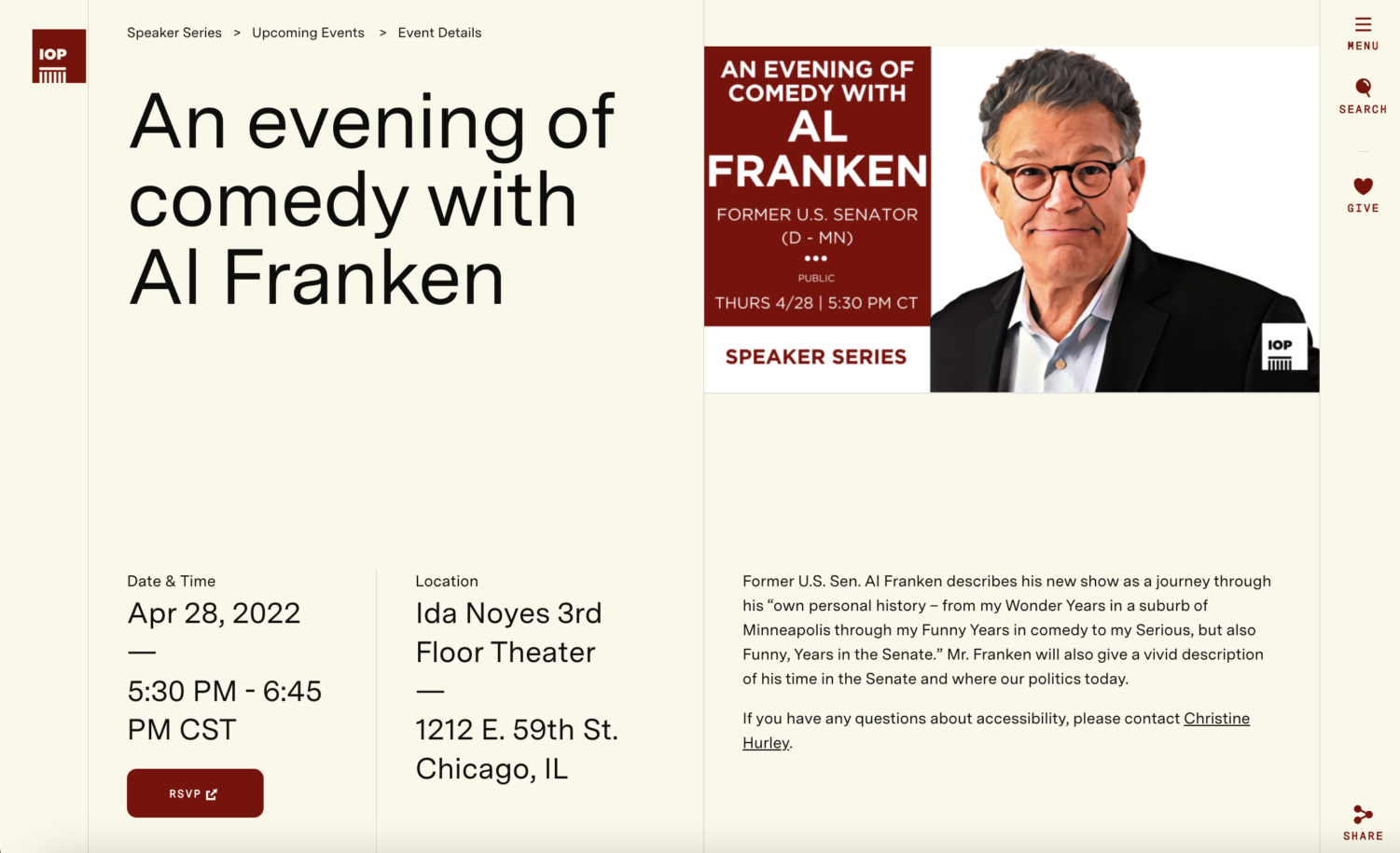 Before being elected as a Democratic senator for Minnesota in 2008, Franken was mainly known as a comedian. He was a writer and cast member for Saturday Night Live throughout the '70s, '80s, and early '90s, and he went on to host a progressive radio show on Air America—an attempt to create a left-wing counterpart to conservative talk radio. Franken also wrote a number of movies and books.
In November 2017, radio broadcaster Leeann Tweeden publicly accused Franken of forcibly kissing and groping her in December 2006 while they both were on a United Service Organizations tour in Iraq. In a blog post detailing the allegations, Tweeden included a photo in which a smiling Franken is seen groping her while she sleeps. That same day, Franken released a public apology to Tweeden.
Following Tweeden's accusations, seven more women shared their stories of misconduct by Franken, who admitted that he "crossed a line for some women" but denied some accusations. Pressure from politicians in both the Democratic and Republican Parties led Franken to announce his resignation from the Senate in December 2017. In 2019, a ninth woman accused Franken of groping her at an event in 2006 while she worked as an aide to Senator Patty Murray (D-WA).
Since his resignation on January 2, 2018, Franken has floated the idea of running for office again and is currently traveling around the country in his "The Only Former U.S. Senator Currently on Tour Tour." While in Chicago, Franken will speak at Ida Noyes Hall on April 28 in "An Evening of Comedy with Al Franken," an event open to the public. In its announcement of the event, the IOP highlighted Franken's former senator status but did not mention his history of sexual harassment.
The IOP wrote in a statement to The Maroon, "We take allegations of sexual harassment very seriously and carefully reviewed the circumstances surrounding Franken's 2018 departure from the U.S. Senate. While a group of his colleagues urged his resignation from the Senate, no formal complaint, charge or lawsuit was ever filed against him." The IOP's statement did not mention the evidence of Franken's harassment.
"Given these facts and the positive reaction Franken received when he visited with students at the IOP earlier this year, we were comfortable welcoming him and the comedy show with which he's been touring the nation to our campus," the IOP statement continued.
Phoenix Survivors Alliance (PSA) expressed disagreement with the IOP's decision to invite Franken.
"We call on the University of Chicago's IOP to immediately cancel Al Franken's 'Evening of Comedy' and to issue a public apology to our University's survivors for hosting him during Sexual Assault Awareness Month (SAAM). Franken has abused his power to engage in predatory behavior, has multiple allegations of sexual violence, and has never taken proper accountability for the harm he's caused," PSA wrote in a statement to The Maroon. "By providing him with a platform for a 'comedy' event during SAAM, the IOP—and the University of Chicago at large—demonstrates utter disregard for survivors of sexual violence and others who have suffered at the hands of people like Al Franken."