Burning Loud and Bright, Killswitch Engage Screams About Living and Dying
Technically skilled, bold, and inspiring, famed metalcore band Killswitch Engage headlined a March 7th concert at Radius Chicago.
To go from the bitter, wintry outdoors into Radius Chicago's sweat-filled coliseum was to enter another world. The air smelled of beer and smoke. Thousands of earring-clad, bearded men jostled, shouted, and hoisted each other in the air, pushing towards the stage. Metal music superfans yelled their affection for each other, embracing as sound thundered through the hall. Killswitch Engage lit up the night with screeching guitars, wailing voices, and a barrage of strobe lights and spotlights.
Formed in 1999, Killswitch Engage has been at the forefront of metalcore—a blend of hardcore punk and extreme metal—for almost two decades. They've been nominated for Grammy Awards and in 2016 reached 17th on the Billboard Artist 100. Now in their forties, Killswitch Engage's musicians remain fiery and fervent. With zeal and enthusiasm that have endeared them to many, the band combines singing, screaming, and blaring guitars. They're not all doom and gloom, however; front man Jesse Leach once said the band's music contains "unity, positivity, and love." The mood in Radius was certainly exuberant.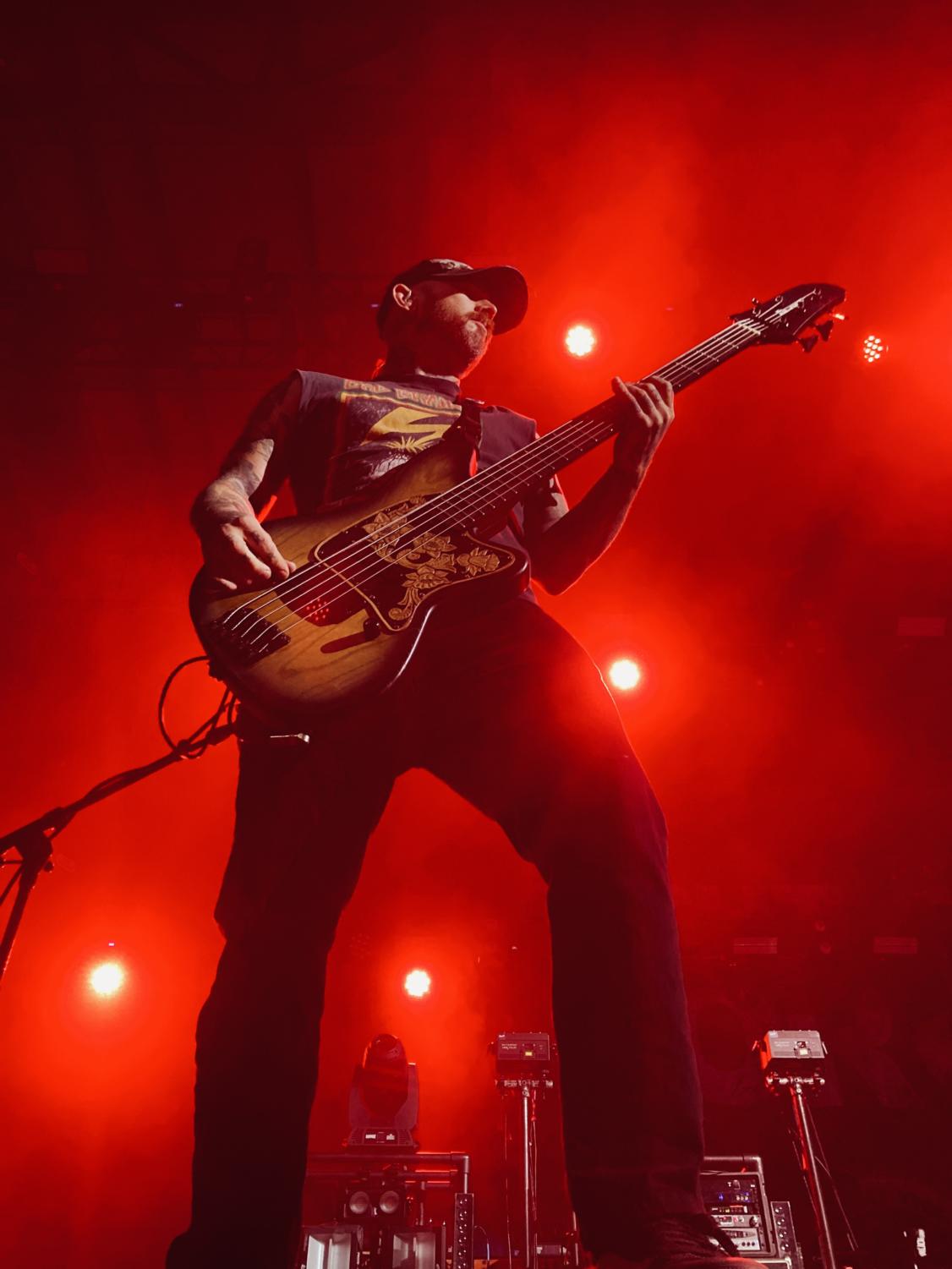 Los Angeles band Light the Torch opened the March 7th show, led by powerful vocalist Howard Jones, who left Killswitch Engage in 2012. Light the Torch's set was a fanfare of melodic drumming and deafening screeches. Fans thrust devil horns into the air and crowd surfers surged above the sea of bobbing heads. Jones was the star of Light the Torch's set as he prowled and death growled; Drummer Alex Rüdinger was also excellent. The band closed with their 2018 hit "Die Alone," and the crowd wailed alongside them.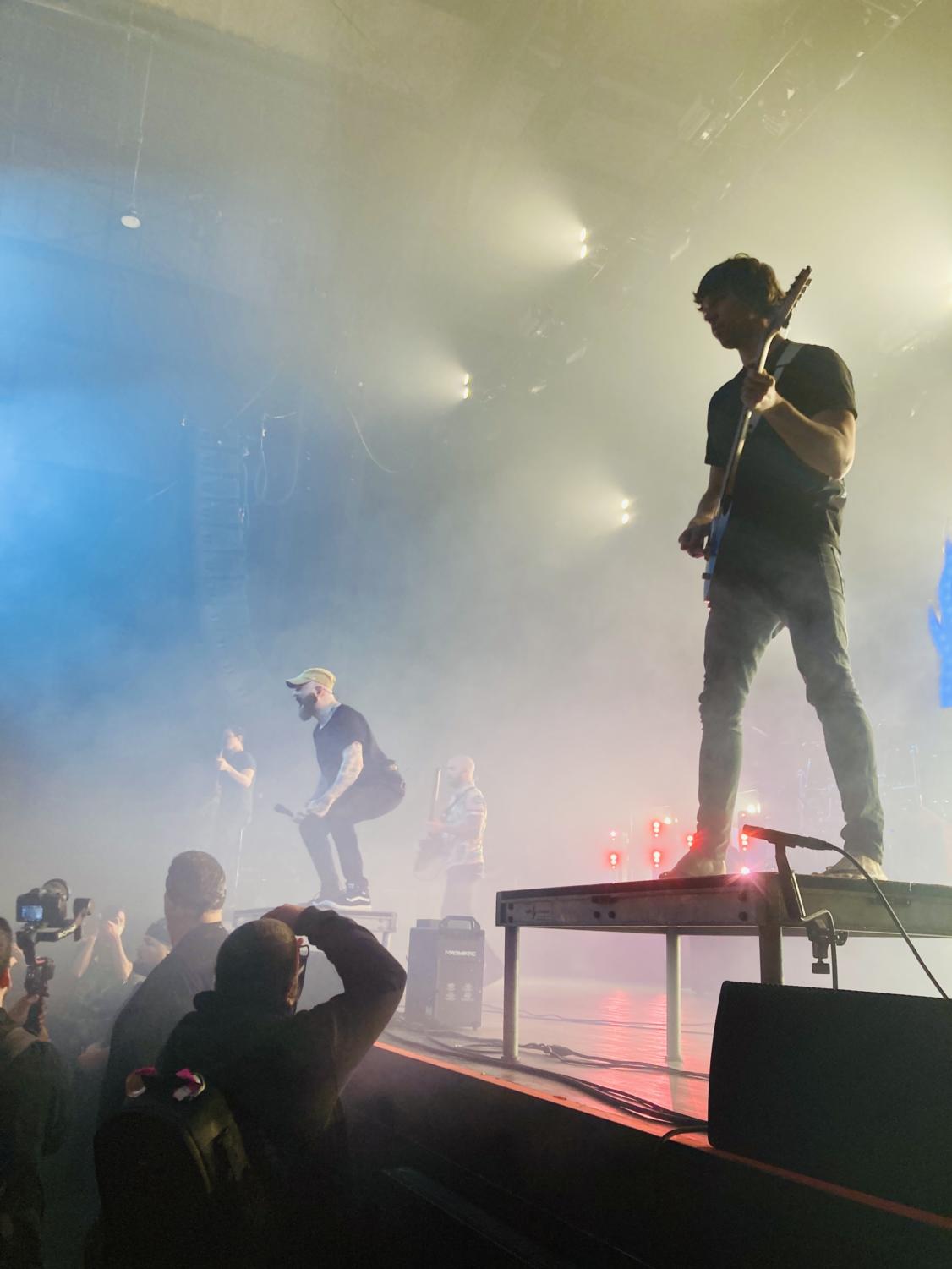 Following Light the Torch, August Burns Red played a blazing set, featuring songs from across their 19-year history, including a bold metal cover of the Legend of Zelda theme. Lead singer Jake Luhrs was magnetic, swinging his mic through the air before pulling it back towards himself; the crowd was drawn in too. Laser beams, smoke cannons, and spotlights framed the four-man band throughout their fifty-minute set.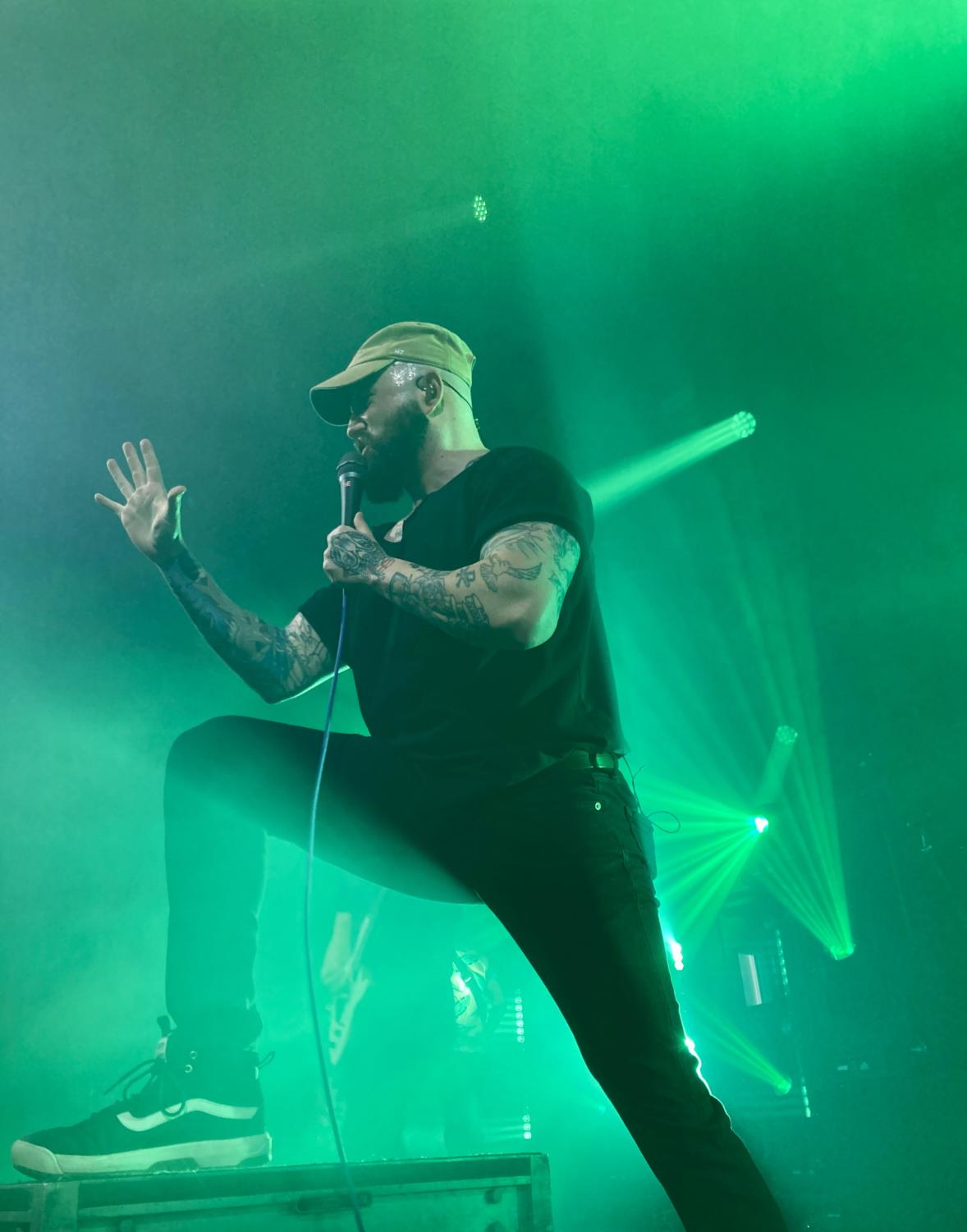 And finally, to screams and cries, Killswitch Engage emerged. Opening with songs off their 2019 album Atonement, they belted out lyrics as the crowd swayed, arms to the sky. Lead guitarist Adam Dutkiewicz, rhythm guitarist Joel Stroetzel, and bass guitarist Mike D'Antonio stormed across the stage. Their thrashing, flailing, and dancing felt natural, especially for a touring show. Wearing an "I'm With Stupid" shirt, Dutkiewicz was particularly expressive; bouncing up and down, at times contorting his mouth and at times grinning stupidly, he had presence and poise rare to find in hardcore metal music. He displayed his gruff but stellar vocals, and along with them an impressive ability to match mood to music.
That combination is where Killswitch Engage excels. All of their music is bold, thrilling, and offensively loud. However, they use changes in body language and vocal quality to draw distinctions between their songs. The lighting changes frequently as well; the show was as much a special effects spectacle as a rock concert. Whether backlit, spotlit, or standing in waves of moving colors, the band was impossible to look away from.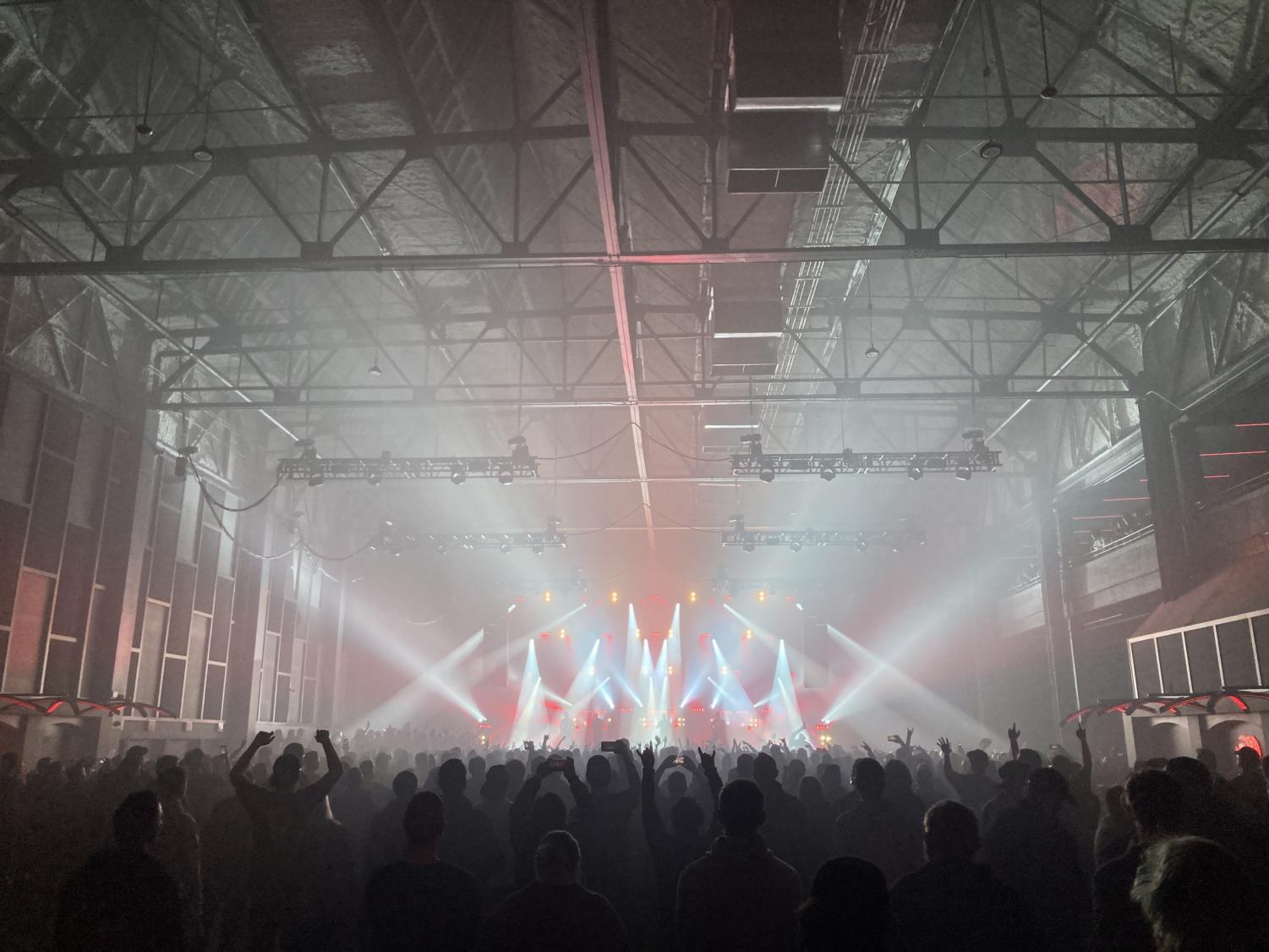 Killswitch Engage understands the people they reach, in all senses. When speaking to the crowd between songs, they are frequently crass. Dutkiewicz and Leach have strong chemistry on stage, which at times betrays them as they play off each other in childish exchanges. Generally, though, their explicitness is on message with their brand. Their lyrics are frequently uplifting—"When the fear and panic takes a hold/ You must take control"—and their speeches are similar. "Be present in the moment, and be grateful for all you have," said Leach towards the end of the show. A few songs later, Howard Jones rejoined his former bandmates on stage. Leach and Jones embraced, and the crowd erupted.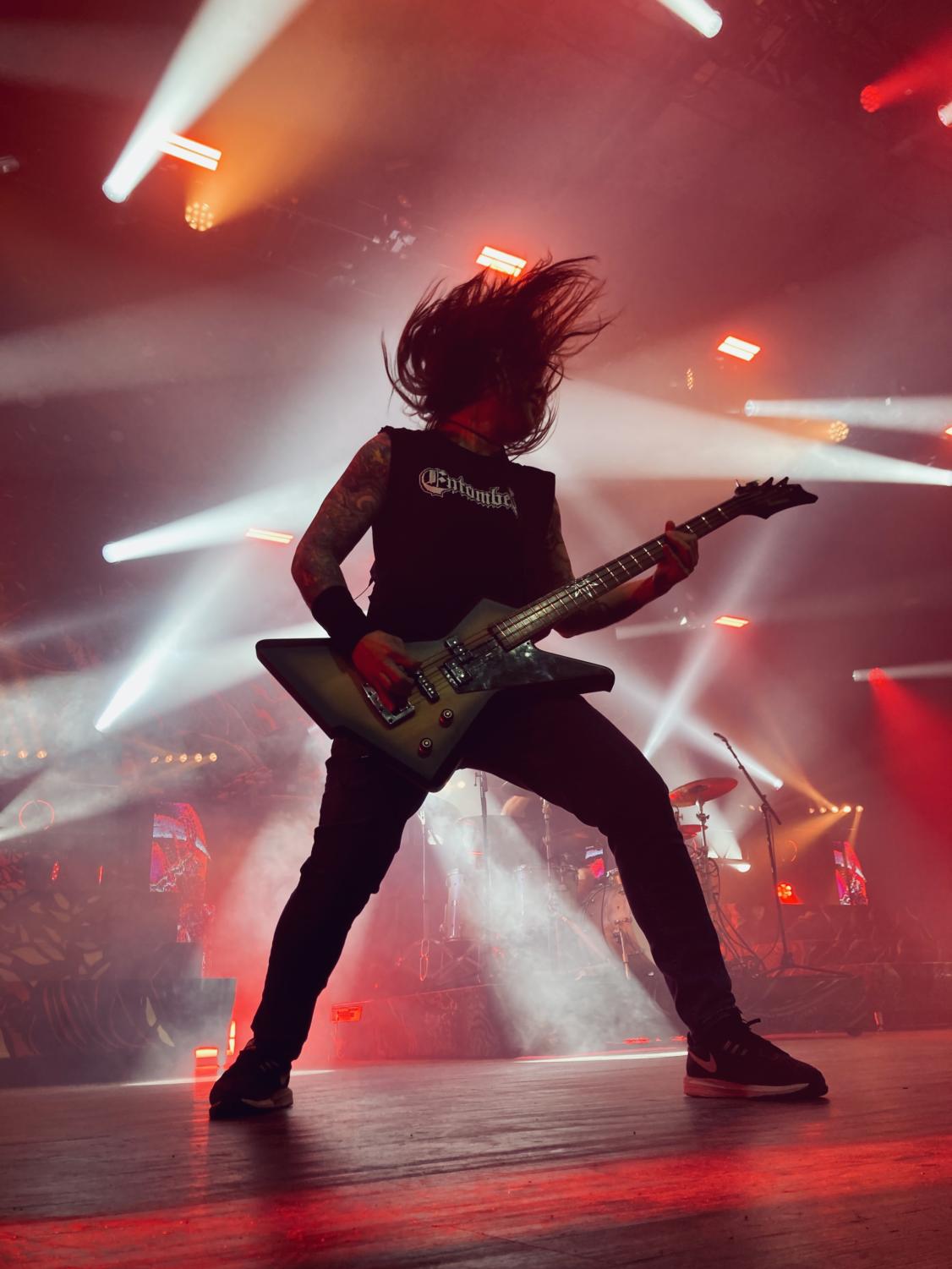 Jumping, yelling, and full-on-rocking, Jones sang alongside Leach for the band's final two songs. On the floor, fans ceased their mosh pit, and screamed alongside the duo, who delivered powerful renditions of "The End of Heartache" and "The Signal Fire."
Metalcore is decidedly not for everyone. It's brash, overwhelming, and loud. Like, really loud. But for both lovers of metalcore and the uninitiated alike, Killswitch Engage presents an inspiring, well-produced, and technically-skilled version of the genre. And for two hours on a cold Monday, they brought thousands of Chicagoans to life with a roar and bang. "You're alive! This is beautiful!" exclaimed Leach.