Whether You're in a Museum, Café, or Dorm, Art is Everywhere at UChicago
An overview of what to see and where to see it, UChicago art edition.
This article has been adapted and updated from a previous version published in September 2021.
Pablo Picasso once (allegedly) said, "Art washes from the soul the dust of everyday life." So, on days when you're feeling a little "dusty," why not heed these words and go see some art! Fortunately, there's no need to travel downtown to the Art Institute. UChicago offers a wide variety of places for you to both explore and create art right on campus.
Interested in looking at art by Picasso himself? Look no further than the north end of campus. Nestled between Campus North Residential Commons and Court Theatre is the Smart Museum of Art, the main art museum on campus. The Smart contains a variety of works from different time periods and artistic movements, including everything from Japanese prints that date back to the 17th and 18th centuries to modern and contemporary pieces by Edgar Degas and Andy Warhol from the 20th century. Though temporarily closed this summer for renovations, the Smart will reopen on Thursday, September 22 with new study rooms and exhibits. Starting in September, an exhibit called Monochrome Multitudes, which explores the myriad of directions artists have taken the practice of monochromatic art (also known as "the monochrome"), will be on display. The Smart will also have a smaller exhibit titled Museum as Classroom, which aims to support four fall courses ("Art and Feminism," "Power, Identity, and Resistance," "Media Aesthetics," and "Seeing Through Drawing") with art that relates to the classes' assignments and discussions. Both exhibits will be on display until January 8, and more details about visiting the Smart can be found on the museum's website.
In addition, the Smart Museum boasts its famous Art to Live With program, which allows students to borrow original works from the museum's collection to display in their dorm rooms. This program will begin with an Art-B-Q on Thursday, September 29, and will last until Sunday, October 2, when students will be able to select a work during the Art Match session. Doors open at 8 a.m. on October 2 so be sure to set your alarms (or even camp out and sleep over the night before) if you want to be the proud temporary owner of a Picasso or Matisse.
If works such as these are too recent for you, you might be interested in pieces that are a bit older…how about 4,000 years older. Such pieces can be found at the Oriental Institute (the OI), which sits at the end of the Main Quad on S. University Avenue. From clay tablets inscribed with cuneiform to a Human-Headed Winged Bull (Lamassu), the museum holds ancient artifacts from places such as Egypt, Mesopotamia, and Syria. From September 15 to March 12, the OI will display a special exhibit titled Making Sense of Marbles, which explores the place of archeological context and history through the display of the OI's Roman sculpture collection. Though the OI is known for their pieces from ancient history, they also have a few contemporary art exhibits on display with installations that show the connection between ancient and contemporary art. More details about visiting the museum can be found on the OI's website.
The Main Quad is also the place to find some other hidden gems including the Renaissance Society—or "The Ren" as it is more commonly known—which is located on the fourth floor of Cobb Hall. Founded in 1915 by a group of UChicago faculty, The Ren showcases experimental works that engage with new, innovative ideas and thoughts in the world of art and culture. The Ren not only has art exhibits, but it also hosts artist talks, lectures, screenings, and concerts, among other events. An upcoming exhibit opening September 10 (and running until November 6) titled Fear of Property looks at the different ways artists have conceptualized the idea of property and the many ways it has been used throughout history. Open Wednesday through Sunday, the Ren's exhibitions are free, and more details can be found on the gallery website.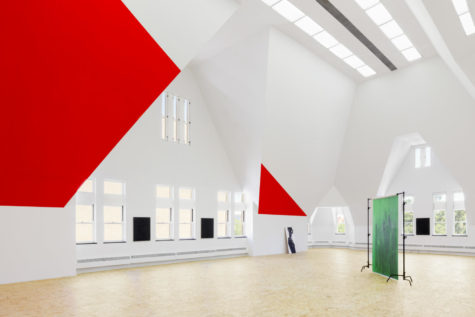 A short walk out of the Main Quad on Woodlawn and E 58th Street, and you'll find yourself at the Booth School of Business. Surprised? Booth actually has a large collection of modern art pieces, including works by German photographer Wolfgang Tillmans and Swiss artist Olivier Mosset. On your way to Booth, take a look (or a tour, if you wish) at the adjacent building, Frank Lloyd Wright's Frederick C. Robie House, whose well-known architectural style—known as Prairie style—was inspired by the American Midwest.
Farther north along Woodlawn you'll find the Neubauer Collegium for Culture and Society, which also holds exhibitions in its gallery. The current featured exhibit, which is open until October 7, is titled Slavs and Tatars: MERCZbau. This exhibit, an installation composed of a range of merchandise created by a Berlin-based artist collective, focuses on concepts such as migration and the connected histories of the cities Lviv, Ukraine and Wroclaw, Poland. The Neubauer Collegium also hosts a number of events and talks throughout the year. The Neubauer Collegium's gallery is open upon appointment, and more details can be found online.
In the mood to create some art? A hop, skip, and a jump across the Midway, and a wander down 60th Street, and you'll be at the Logan Center for the Arts. Located on 60th Street and Drexel Avenue, this may be the place where you're taking your Art Core class, but it's also a great place to create some art of your own. The Logan Center has many great places to work and create art, including practice rooms, the DelGiorno Terrace, and the Central Courtyard. Café Logan also offers a great spot to study and relax. Of course, the Logan Center is also home to art of its own, including a wide variety of student pieces created by various arts-related RSOs. From installations to concerts, it's one of the best places to be when it comes to viewing new, exciting art. Current and upcoming exhibits and events include the event All That Light: A Ten-Year Retrospective of the Artists-in-Residence (AIR) Program (2012- 2022), which will feature a performance showcase on Friday, September 9, and the exhibit Passing Through: Artists from DoVA 2012–2021 (October 7–December 11). Be sure to also attend Humanities Day on October 15, which features lectures, exhibits, and performances all devoted to different aspects of arts, literature, philosophy, music, linguistics, and language.
If you're up for a bit farther of a walk, the Arts Incubator on Garfield Boulevard and Prairie Avenue is a great space to find not only exhibitions, but talks, artist residencies, and community-based activities as well. It is also the center of the Art + Public Life (APL) initiative. APL works to strengthen ties between the University and South Side communities through the arts, artistic programs, and arts education, among other programs.
Of course, there are always new places to find art on campus. For example, another surprising arts location across the Midway is the new David Rubenstein Forum, whose art program, Art at the David Rubenstein Forum, showcases a small collection of historical documents and art. You can schedule a tour of these pieces on the Rubenstein Forum's website. Also, be sure to check out the new independent art gallery in Campus North. Once an empty storefront, this space, called Southspace, has been transformed by resident heads Clara and Christian Clarke and will be holding its third show, a photography exhibit titled Belarus: Faces of Resistance, since it opened in October 2021.
If all this talk of art has you wondering how you can further participate, why not join one of the many Art RSOs or publications on campus! From drawing to writing, there's a plethora of student groups that will allow you to pursue any and every artistic interest or passion no matter your skill level.
In addition to student groups, there are also many art-related activities and events that are held on campus year-round. One exciting student-run, collaborative event is the Festival of the Arts (FOTA), which is a campus-wide tradition celebrating art and artists in all forms. This week-long event includes all types of artistic expression from live performances to interactive activities, such as workshops and open mic nights. While dates for this year have yet to be determined, check the FOTA website or Facebook page for updates.
When the stress of day-to-day to-dos has you in a rut, take a walk around campus and engross yourself in some art. Whatever era or style you're interested in, the many exhibits, museums, and year-round student activities are sure to wash away any accumulating dust.