Hyde Park Food Trucks Encounter Regulatory Roadblocks
Failed City of Chicago inspections briefly shuttered many of South Ellis Avenue's familiar food trucks.
Wednesday, October 5, was a day like any other along South Ellis Avenue.
Then the fire department showed up.
The department, along with various officials from the City of Chicago's Department of Business Affairs and Consumer Protection (BACP), came to pay a visit to the food trucks that frequent South Ellis Avenue. These trucks station themselves in the heart of UChicago's campus during the early afternoon, providing lunch to students, faculty, medical workers, and locals. A variety of trucks show up every afternoon, each with something to offer. The Fat Shallot and Chicago Lunchbox are always busy. El Buen Taco #2 offers a large variety of Mexican lunch options. Tacos Cincuenta Arrobas specializes in huaraches, a larger, flatter taco with a thicker tortilla.
The officials who'd arrived, however, weren't there for lunch. They had come to inspect the trucks' safety systems and licenses. Sure enough, many of Hyde Park's favorite mobile eateries were soon unceremoniously escorted off the block.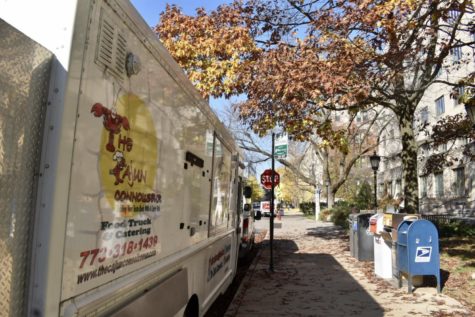 Kyle Kelly, the owner of the food truck Cajun Connoisseur, told The Maroon that this was the first time he had seen such an inspection since he began frequenting South Ellis Avenue seven years ago. At that point, the area was mostly just used for parking, Kelly said. Slowly, though, the trucks began to show up, offering their wares to hungry students eager to snap them up.
Even if one doesn't prepare food inside of their truck, a license from the City of Chicago is required in order to operate such a vehicle. This "mobile food license" must be renewed every two years. For many truck owners, that was where the problem arose.
"Because of the pandemic, so many offices were closed…All the processes were so slow," Virginia Velásquez, an employee at El Buen Taco #2, told The Maroon. "We had an application [that was sent in] March, and we didn't have any call back to continue with the process. So of course when they came in… my license was expired!"
Following the inspection, the staff of El Buen Taco #2 was made to attend a class about new propane regulations, submit some paperwork, and pay a $1000 fee for a new license. Despite the complications that arose from the visit, Velásquez stressed that she and the rest of El Buen Taco's staff did not have a problem with the process, which took them about a week, and praised the city's fire and health departments for checking in. "In my point of view, they did the right thing… they have to come, they have to check."
The city officials weren't just looking for a single license, however. The food trucks' kitchens were also subjected to a standard health inspection by the BACP. "Even though it's a mobile kitchen, we still need to have fresh water, we still have to have all the cleaning supplies," Velásquez said.
Perhaps the most extensive checks on the trucks are on their fire suppression systems. A food truck with an operational kitchen contains enough flammables to make a pyromaniac blush. "We have electricity, we have fire… we have propane tanks, we have gasoline, and the truck itself has to use diesel," Velásquez said. Kelly stated that the possibility of explosions is the top reason he has a problem with unlicensed trucks. "If something happens over here and one of these trucks blows up—and I'm not saying that they will, it hasn't happened, I pray it doesn't happen—propane is a very dangerous thing to deal with," he said.
Why, then, do some food trucks not get licensed in the first place, choosing instead to take to the streets in makeshift stalls that are often literally homemade? According to Thomas Brewer—founder of the food truck Whadda Jerk, another truck along Ellis Avenue which offers a variety of Caribbean street food—the answer is that licensing can be a very tedious process.
"There are a lot of regulations inside the truck as far as it's built," he said. "A lot of people don't get their truck built professionally. They just kind of put it together, and then they hit the street."
To get an official license, one's truck must be examined by the BACP. Brewer stated that truck owners typically fail this examination about four or five times before passing, showing just how time-consuming the licensing process can be. A few, like Whadda Jerk, pass on the first try. "Someone [built] my truck who knew what they was doing," Brewer proudly stated.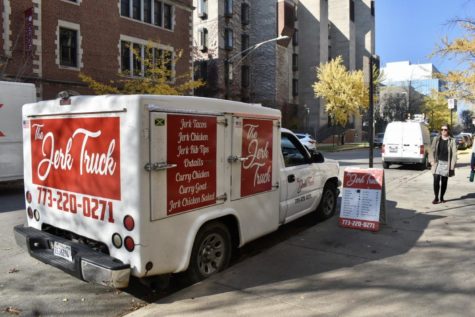 According to Brewer, it is usually not mom-and-pop trucks that try to skirt the licensing process. "It's not like the family struggling. It's the greedy people as well, that have multiple trucks," he said. "Sometimes they have three trucks out here [on South Ellis Avenue], and none of them are licensed."
Another reason some truck owners avoid licensing their vehicles, according to Kelly, is the issue of the food truck commissary. A commissary is a large shared space where ingredients are prepared and the trucks themselves are cleaned, serviced, and stored. The City of Chicago states that food trucks must legally join a commissary.
When he spoke to The Maroon, Kelly explained that he was having problems with his commissary, which Whadda Jerk is also a part of. The company was recently sold to ProLogistix, a freighting and warehousing company that Kelly worries will convert the space's kitchen area into more truck storage. "I'm waiting to see how that plays out. They said they're not going to do it," he said. "But, you know. People say one thing and do another."
Velásquez speculated that money is the biggest reason vendors don't get themselves licensed. The required classes cost a fee, as does the license itself. Additionally, she explained that illegal trucks typically don't use proper equipment, which they would then need to buy. The proper type of generator costs around $5000, according to Velásquez. "To make it worse, when you order [a generator]… it's a delay of 15 months, at least," she added.
These factors, along with some stringent local food truck laws—the most notorious of which stipulates that food trucks be GPS-tracked so that the city can ensure they are parked at least 200 feet away from restaurants—are part of why Chicago has a fairly tepid food truck scene. The Chicago Tribune reported in 2019, prior to the COVID-19 pandemic, that only about 65 food trucks service Chicago. For comparison, a 2017 article by the Chicago Reader pointed out that there were 2,600 permits for food trucks in California's Los Angeles County. Even in Minneapolis, a city where the winter months are colder than Chicago's, there are more than 100 trucks in operation.
The good news for Hyde Park's food truck community is that some trucks have trickled back to the area. But Velásquez stated on October 25 that according to the fire department, only two of the approximately seven trucks forced to leave South Ellis Avenue on October 5 have received new or updated licenses. El Buen Taco #2 is one of them. Some other vendors appear to have taken a different route, now parking their trucks on South University Avenue instead of South Ellis Avenue. This parking on South University Avenue began soon after October 5. While BACP informed The Maroon that South University Avenue is not a restricted area for food trucks, Kelly stated that none of the trucks operating on this street were licensed.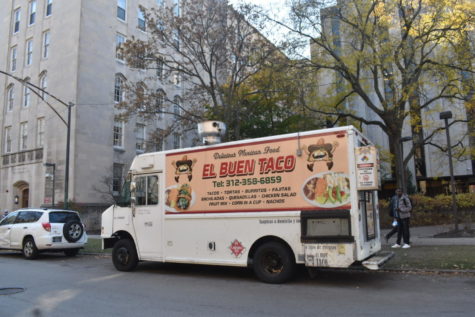 "I informed the city that they are over there," he said on October 21, citing fears of propane explosions. When asked his thoughts about the trucks on South University Avenue, Kelly added: "I can't say shit about them. I can only speak about myself." It should be said that soon after these comments were made, the number of food trucks on South University Avenue diminished. At time of publication, none were to be seen.
While Velásquez worried that an explosion might occur in one of these unlicensed trucks, she also expressed more empathy towards such vendors. "They have my best wishes," she said. "All the equipment is so expensive. They're just trying to make money."