Top-Ranked Maroons Win UAA Cross Country Championships
The women's cross country team has their sights set on a national title after a dominant performance in their conference championship.
The first-ranked UChicago women's cross country team won the University Athletic Association (UAA) conference championship meet on October 29, securing their first conference title since 2013. 
Harris student and Class of 2022 College graduate Anna Kenig-Ziesler finished third in the six-kilometer race with a time of 21:42.2. Third-year Maddie Kelly took fifth, finishing at 22:00.4. Both Kenig-Ziesler and Kelly received First Team All-UAA honors. 
Third-year Lucy Groothuis and fourth-year Frances Schaeffler came in eighth (22:10.3) and ninth (22:13.1) respectively. Rounding out the Maroons' top five was fourth-year Katarina Birimac, who took 11th with a time of 22:15.3. Groothuis, Schaeffler, and Birimac, along with second-year Sophie Tedesco and fourth-year Caitlin Jorgensen, were named to the All-UAA Second Team. Tedesco and Jorgensen placed 12th (22:19.0) and 13th (22:25.5). 
Schaeffler, a team captain, said the conference championships were always tricky for the Maroons because of the academic calendar. 
 "Historically, we have trouble at our conference meet because it lies during midterms. Even so, we knew that if we did what we always do, we could push through the fatigue," she said. 
"At the beginning of the season it was kind of a far-reaching goal," said Jorgensen, the other team captain. "But as the season progressed, we were more confident going into the conference meet." 
The Maroons ended with 36 points, beating runner-up Washington University in St. Louis by 10 points to claim the conference title for the third time in the past 20 years. "Saturday felt surreal. It was so great to share the win with my teammates knowing it was because of all the hard work we put in together," Groothuis told The Maroon. 
"It was fun to win the championship," head coach Chris Hall told The Maroon. "And what stood out to me is that it was such a great team effort. Our women have done such a wonderful job of working together, staying in packs, and moving together as groups all season long." 
Hall also noted that key athletes were missing from the team, including Claudia Harnett, last year's UAA Champion, MVP, and Rookie of the Year. Harnett was an All-American last year, placing 17th at the NCAA Championships with a time of 21:26.8. She hasn't raced this year due to a stress fracture.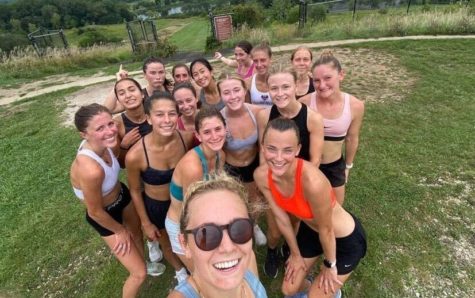 Hall called team chemistry "the most important thing" when it comes to success in long distance running. "Our sport is really hard. You're going out and working hard every day. What makes it fun is the personalities within our team and the fact that our kids enjoy coming to practice because they enjoy being around their teammates." 
Hall, along with assistant coaches Nicole Murphy and Justin McQuality, won UAA Coaching Staff of the Year at the end of Saturday's conference championship meet. 
"Chemistry is integral to any success," Groothuis agreed. "The dynamic that Frances, Anna, and I have cultivated through workouts and races together has pushed us all to new limits, [personal records], and race strategies. And the fun thing about distance running is that this energy that we create in our group can be easily transferred to our next groups and everyone draws from each other in practice." 
Schaeffler also believes team chemistry was key to how well the team has been performing this year. "Coach always stressed how we need to run in packs because that's where the energy comes from. Even during easy runs, we always stressed running together because it's not like track and field, where you're running just for yourself," she said.  
The team's championship victory comes after they were unanimously ranked No. 1 in NCAA Division III in the U.S. Track & Field and Cross Country Coaches Association's Week 6 Coaches' Poll. They maintained that ranking in the Week 7 poll, which was released on November 2.  
Hall and the team have their sights set on the NCAA DIII cross country championship on November 19 in East Lansing, Michigan. 
"You can't control what everybody else is doing, but we can control what we're doing," Hall said about his expectations for the national championship meet. "I think that ideally, we want to be among the top four teams in the country, but we now feel that on our very best day, we might have a chance at winning the title."  
Schaeffler is optimistic about the Maroons' chances in both the regional and national meets.  
"I think we could very well win both. We know what we're capable of, so our eyes are set on the national meet and making sure everything comes together for that," she said. 
"Regardless of what happens, I'm confident we are all going to put our best foot forward and make some team history, and have some fun while doing it," Groothuis said. 
The Maroons' next race is the NCAA Midwest Regional meet in Batavia, Illinois, on November 12.