Award-Winning Chef Thai Dang Brings Vietnamese Cuisine to UChicago
Dang's restaurants Dang Good Wings and Cà Phê Đá have been huge hits on campus since opening this year.
If you venture outside of the dining halls for food this quarter, you will probably see the long lines formed in Hutchinson Commons and the William Eckhardt Research Center—the two locations of chef Thai Dang's new restaurants, Dang Good Wings and Cà Phê Đá.
Dang is not new to the restaurant scene—his restaurant HaiSous Vietnamese Kitchen has received many notable recognitions, including two nominations by the James Beard Foundation for Best New Restaurant in 2018 and Best Chef: Great Lakes in 2019, along with several consecutive Michelin Bib Gourmands.
He attended L'Academie de Cuisine in Maryland, where he learned French cuisine and culinary techniques. He then moved to Chicago, where he worked for Michelin-starred restaurants such as L20, RIA, and Balsan at the Elysian Hotel Chicago before co-opening his first restaurant, Embeya, in Chicago's West Loop in 2012. After a trip back to Vietnam to find new inspiration, Dang opened HaiSous in the Pilsen neighborhood in 2017.
Dang's passion for the culinary field started early in life. He was born in Vietnam as the youngest of nine children, and his family arrived in the U.S. as refugees in the late 1980s when he was only seven years old. His experiences as an immigrant in a family-oriented household are what encouraged him to pursue his interest in cooking.
"My mom wanted us to leave Vietnam for a better life. Having such a nurturing and supportive mother and that freedom to cook inspires me because it allows me to think outside the box but also be proud of who I am and where I come from," Dang said. "And of course, being Vietnamese, that entrepreneur in our blood, our desire and sheer will to want to do something for ourselves or our family outweighs anything."
When creating new dishes, Dang likes to combine ingredients and techniques from many different cultures. "Authenticity is so subjective because we are more alike than we are different," Dang said. "There is so much borrowing from one culture to another. The word 'authentic' just doesn't have a place in America because we are so diverse."
Dang Good Wings, which opened in Hutchinson Commons in August, serves fried chicken on a bed of fries, but these aren't just any wings—you get to choose between Vietnamese and Asian fusion–inspired sauces such as caramelized fish sauce, honey sriracha sauce, and Thai chili buffalo sauce. Each one provides a unique burst of flavor with a little hint of spice.
"We try to provide something that students can relate to, and it's cool to see Asian students have a sense of pride in what we do," Dang said. "But we also tailor to so many different palates, so we have to be adaptive to really care about everyone here."
Dang's favorite dish from Dang Good Wings is the caramelized fish sauce wings. "I came up with [the caramelized fish sauce] years ago, and it just became a big hit. It won multiple awards years in a row, and I felt really proud," Dang said. "When other Vietnamese people have it, they are so proud of it too. They just can't believe it."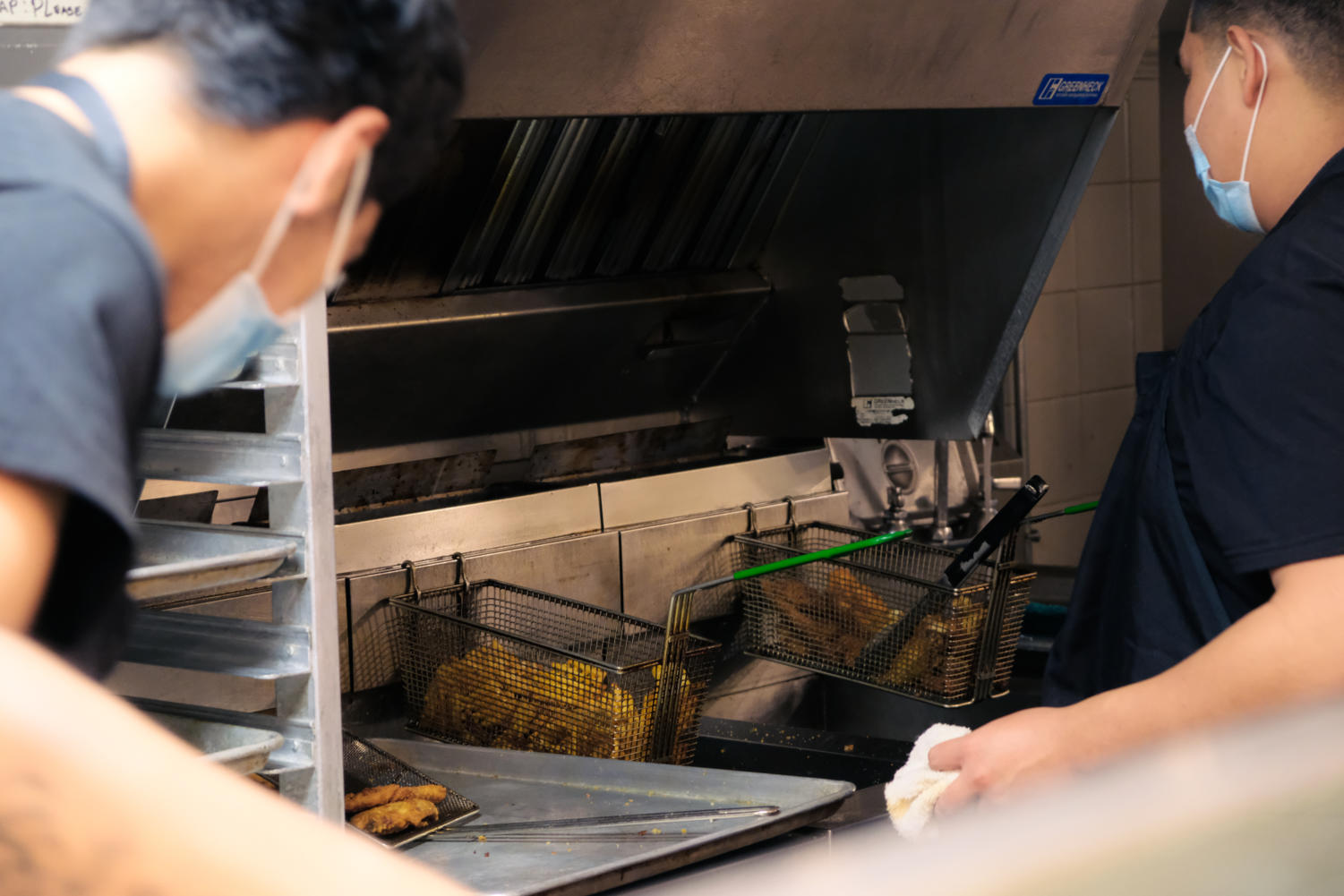 Cà Phê Đá, in the William Eckhardt Research Center, is a cafe that showcases classic Vietnamese dishes like pho, papaya salad, and banh mi, as well as specialty coffee drinks like vanilla egg custard coffee and ca phe sua da, which is an intensely brewed coffee concentrate mixed with sweetened condensed milk.
Dang's favorite menu item at Cà Phê Đá is the Vietnamese coffee, which is imported straight from Vietnam. "You can't go wrong with Vietnamese coffee. The coffee is roasted by my sister-in-law's family in Vietnam, and we get it shipped here on campus to serve hundreds of people."
Another popular dish at the cafe is pho, a Vietnamese soup consisting of bone broth, rice noodles, and thinly sliced meat. While this dish usually takes a significant amount of time to make, Dang has perfected his recipe and execution to be able to keep up with the high demand and constant rush of college students. "What takes 10 to 15 minutes at a restaurant, I'm serving within a minute," Dang said. "We produce pho faster than McDonald's can give you a burger. Isn't that crazy?"
Dang also places a lot of importance on his partnerships with other Asian companies. Dang formed a partnership with Happy Lemon, a Taiwanese tea company that is now available at Cà Phê Đá. "Happy Lemon is a husband-and-wife team that took a chance at a franchise, and I believe in their work, so I partnered up with them," Dang said. "And now you look around and every table is drinking Happy Lemon bubble tea."
At Dang Good Wings and Cà Phê Đá, the sriracha is provided by first-generation Vietnamese Americans who created their own company, Fix Hot Sauce, for which Dang is a brand ambassador. "These long-term partnerships bring in a lot of value; it creates an ecosystem that supports one another, especially being Asian entrepreneurs," Dang said.
Dang first came to UChicago last year to do a Lunar New Year pop-up buffet in Woodlawn Dining Commons. He also held a small cooking class for students. "I'm very fortunate and grateful to be here and be part of the University. It's a great honor to operate my concepts here at one of the top universities in the country."
His food has already become a big hit on campus. "As a whole, the students, staff, and faculty here have just been killing it. It's amazing—the lines around lunchtimes are just nonstop," Dang said. "We're just getting our butts kicked, and it's such a great feeling."
Dang can be found in the kitchen at Cà Phê Đá almost every day and places particular emphasis on hospitality. "My wife and I are here to greet people and to show our team that everyone that comes here is smiling, and that's why we're open. So we have to create this great environment that supports it," Dang said.
Dang hopes that the UChicago community continues to try his food as an introduction to Vietnamese cuisine. "It's just really awesome Vietnamese food executed properly," Dang said. "You just got to come in and give it a shot."