"Victory for Team Normal": Rep. Liz Cheney Expresses Post-Midterm Optimism at IOP Event
Rep. Liz Cheney discussed midterm results, the dangers facing peaceful transfers of power, and the January 6 attack.
Outgoing House of Representatives member Liz Cheney (R-WY) spoke about the importance of defending the nation's democracy on November 11 during an Institute of Politics (IOP) speaker series event at Mandel Hall moderated by Dean at the Harris School of Public Policy Katherine Baicker.
Cheney has served as Wyoming's at-large congressional representative since 2017 but recently lost the Republican primary for her seat after she voted to impeach former president Donald Trump in 2021 following the events of January 6. Cheney was also ousted as the House Republican Conference chair, the third most powerful position in the Republican Congressional Caucus, as a result of her impeachment vote and subsequent cooperation with Democrats in investigating the events of January 6.
Born in Wisconsin in 1966, Cheney, the daughter of former vice president and Republican power broker Dick Cheney, received her J.D. from the University of Chicago Law School in 1996.
Cheney, who was introduced by President of the UChicago College Republicans and third-year mathematics major Chad Berkich, began the conversation with Baicker by reflecting upon last Tuesday's midterm elections and the underwhelming performance of Republicans.
"I think, in terms of the election, the fact that we are here on Friday and that we do not know which party will control the House or Senate tells you a lot about defying expectations and the extent to which it was a victory for team normal," Cheney said. "I think it was a really important and frankly hopeful outcome for democracy."
Most pollsters predicted a "red wave" for the 2022 midterm elections that would have seen Republicans win control of both the House and the Senate. However, the victory of Senator Catherine Cortez Masto (D-NV), called the day after Cheney's IOP appearance, secured Democratic control of the Senate. Control of the House was called in the Republicans' favor on November 16. Across the eight most competitive Senate races, Democrats on average performed about three percentage points better than Real Clear Politics' final polling averages.
Prior to the midterms, Cheney endorsed a select few Democratic candidates who were in critical races against Trump allies. With one exception, all of the Democrats endorsed by Cheney won their races this year. Although Cheney saw these results as progress, she emphasized that there is still much more work to be done to end Trump's political influence.
"I think we have a long way to go," Cheney said. "We certainly have a threat that we have never faced before in this country in terms of a former president who tried to overturn an election, tried to prevent the peaceful transfer of power, who is still saying things that he knows caused violence on the 6th, and for whom there is still tremendous loyalty to in the Republican party. I think we have a lot to do, but the outcome this week is a step in the right direction."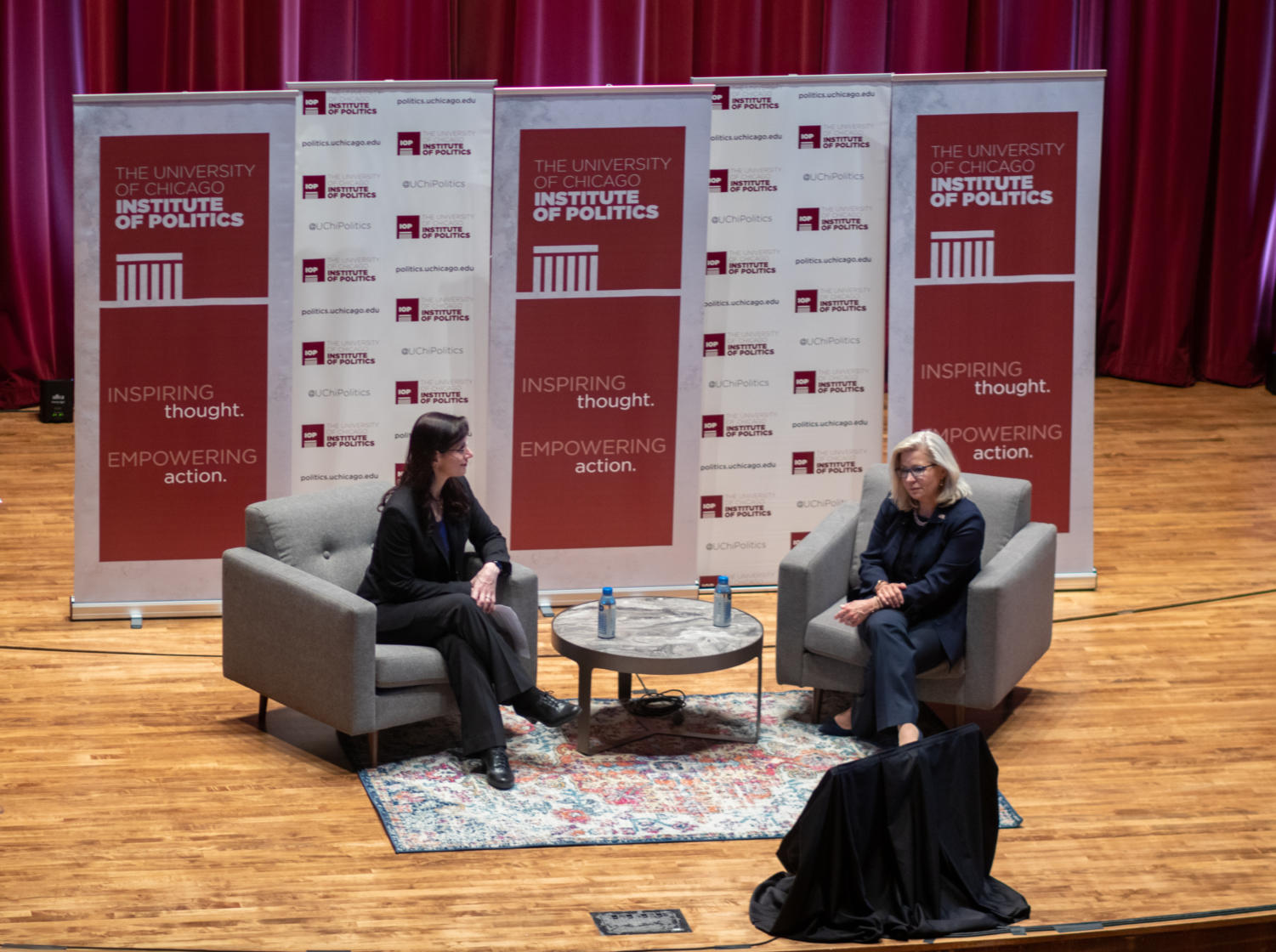 Cheney then spoke about the danger that threats to the peaceful transfer of power and constitutional democracy could become commonplace in the United States.
"I think elected officials need to understand that words matter," Cheney said. "When you see again and again people accepting things that are indefensible like January 6, that can very easily become the new normal. It can become legal. I think that is a big danger, and we need to make sure that we use our votes to encourage those who will stand up for the Constitution."
In July 2021, House Speaker Nancy Pelosi appointed Cheney to the House Select Committee to investigate the January 6 attack on the United States Capitol. In September 2021, she became vice chair of the committee.
"I think what we have done as a committee in terms of our hearings has been to put forward for people the evidence for the multi-part plan that Donald Trump oversaw and directed to stop the peaceful transition of power," Cheney said. "I think it is really important for people to go back and watch the hearings if they haven't. We need to make sure that we don't become numb to what Donald Trump did."
Cheney also addressed the role of social media in helping to foment the political radicalism that led to January 6. She stated that she is not in favor of removing the federal legal protections that exempt social media companies from civil liability stemming from third-party content on their platforms. However, she does believe that if social media companies use algorithms that push users toward ideological extremes, there should be more transparency and accountability. She also stressed the need for personal accountability in fact-checking information consumed online.
"I think our laws haven't caught up with the role social media is playing in our lives, and when you hear that the leaders of the social media platforms aren't letting their own children onto the app, that tells you everything that you need to know," Cheney said.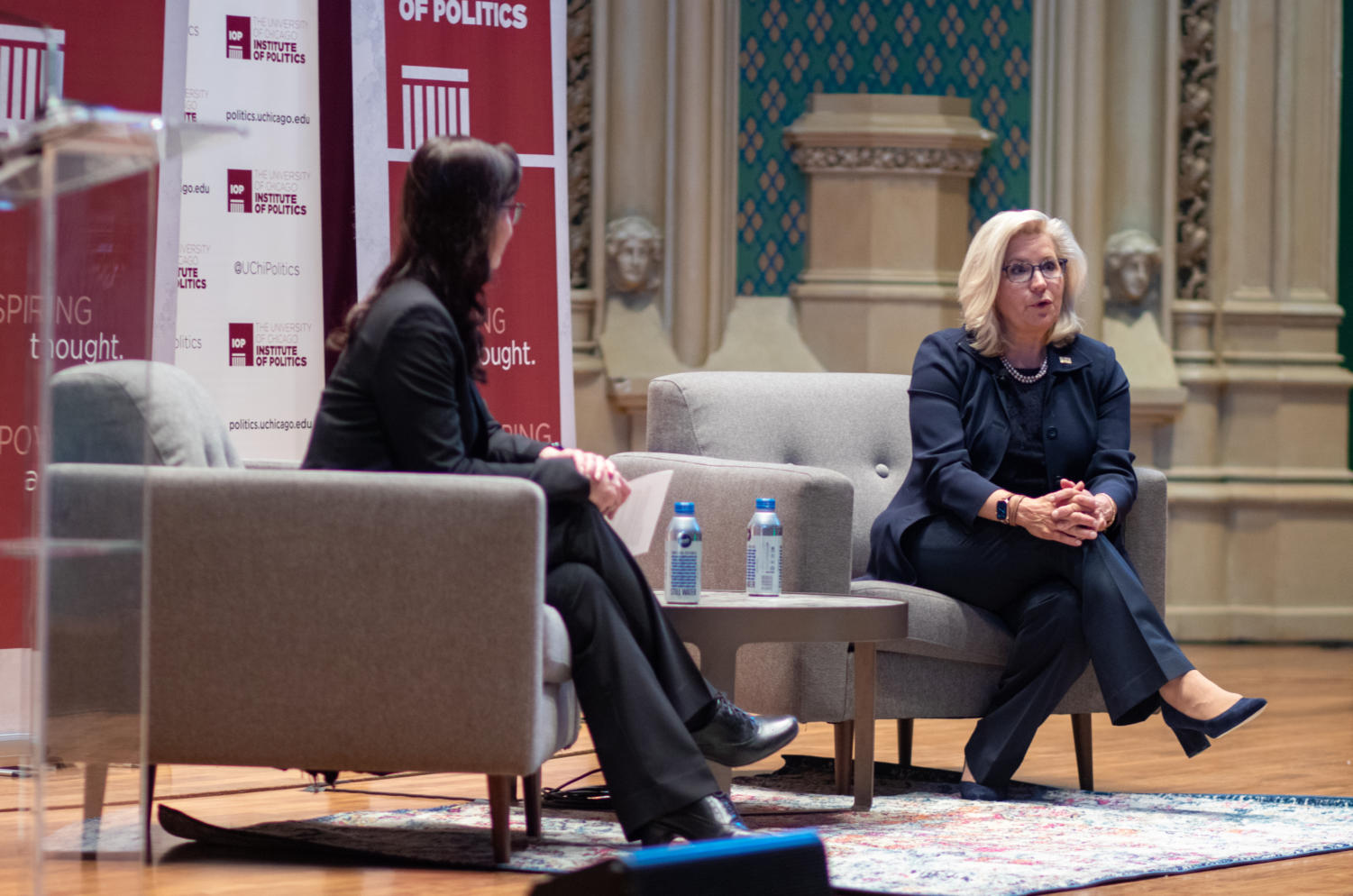 Finally, Cheney offered advice to students who are hoping to drive positive change in the political sphere.
"My advice is to go do it," Cheney said. "It can be easy to sit back and be intimidated by all the different pieces of running for office, but what I have learned since January 6th is that having good, committed, responsible people in office is necessary for the survival of the republic. So if you are at all interested in running, I don't care if you are a Democrat or Republican, if you are smart, good, and committed to fighting for the Constitution, please run for office."
After finishing her conversation with Baicker, Cheney took questions from students in the audience. She notably addressed two questions concerning a conspiracy theory about an Arizona man named Ray Epps. Specifically, prominent conservatives such as former president Donald Trump, Fox News host Tucker Carlson, Rep. Marjorie Taylor Greene (R-GA), and Rep. Thomas Massie (R-KY) have all claimed that Epps represents one of many federal agents deployed to the Capital on January 6 with the goal of instigating violence. In response to questions regarding Epps, Cheney emphasized that the committee has found no evidence pointing towards Epps being a federal agent. Cheney also answered questions regarding her foreign policy stance on China and the regulation of social media.
The event, originally scheduled for October 13, was moved twice, once to October 24 because of "an unforeseen and unavoidable scheduling conflict" and later to November 11 because of a flight cancellation.
Cheney will serve as Wyoming's congressional representative until January 3.