At Vigil for China Fire Victims, Attendees Support Movement from Abroad
Over 100 people gathered on the quad on Sunday to stand in solidarity with protestors against China's COVID-zero policy.
Editor's note: The Maroon granted anonymity to some sources in this story who raised concerns over retaliation and personal safety.
It started with a simple, black flyer: "Global Vigil: Remember the Urumqi Fire." When Rik, a first-year undergraduate at Northwestern University, first came across the candlelight vigil on Instagram, he immediately decided to travel into the city. "I wanted to meet the fellow organizers," he said. "I wanted to be part of the community."
More than 100 community members gathered on the main quad of the University of Chicago on Sunday night, mourning the 10 victims of an apartment fire in Xinjiang, China. The fire, which broke out in a residential high-rise in Xinjiang's capital Urumqi, has become a focal point for those protesting China's zero-COVID policy. COVID-19 lockdowns forbidding residents from leaving their homes have been in place for more than 100 days across the Xinjiang region, the home of many of China's ethnic minorities, including the Uighur people. While local officials continue to be circumspect, many in China believe that stringent lockdown measures, including a roadblock and the building's closed fire exit, delayed emergency responders from responding to the fire.
The tragedy has sparked mass demonstrations across major cities in China against the zero-COVID policy. Thousands of protestors have demanded that the government lift COVID-related restrictions, with some going as far as to challenge China's leader, Xi Jinping, and the Chinese Communist Party. The movement has also spread throughout the Chinese diaspora abroad.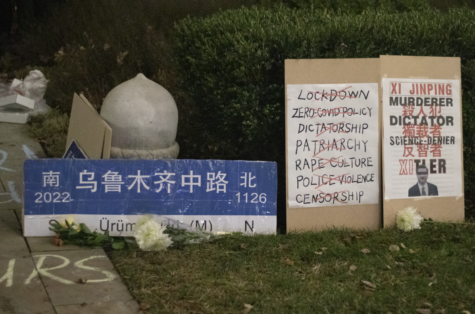 By 7 p.m., the scheduled start time, those on the quad stood in silence around candles and bouquets they had brought to the vigil. The organizers started to play background music—such as popular Chinese songs from the 1980s and Western songs about revolution like "Do You Hear the People Sing?"—to which the growing crowd started to chant along. Some brought signs with slogans on them or held up blank sheets of paper, a symbol for censorship seen across protests in China.
A graduate student from Ohio State University who was visiting Chicago during Thanksgiving brought a printed road sign of a street named "Urumqi Road" in Shanghai. According to videos spreading online, the original sign was removed after a large-scale demonstration on the street, after which hundreds were detained.
"I grew up in Shanghai and frequented the street," the student said. "When I saw the police taking those protestors away, I felt devastated. I hope to do something to pay respect to the protestors."
As the night went on, organizers passed a microphone among the participants. "We gathered here not only to mourn the victims in the Urumqi fire," one speaker said, listing social injustices in China that have made headlines during the past three years: farmers in Korla, Xinjiang, who saw mass deaths of their livestock during the lockdown; migrant workers who caught COVID-19 but were not treated after being forced into centralized quarantine; 38 factory workers, many of them women, who were killed in a deadly fire in Anyang, Henan. These stories spread across Chinese social media and internationally on Instagram and Twitter, though they were eventually censored and scrubbed in China.
Later on, speakers chanted demands like "Free press! Free speech!," "Democracy, law, and freedom!," and "For tomorrow!" Many shouted slogans in Mandarin, such as "We don't want PCR tests; we want food! We don't want a dictator; we want elections!" Those assembled also called for the Chinese government to release an unnamed protestor who in October hung large banners from a bridge in Beijing with slogans calling for Xi Jinping to step down. The act of defiance drew widespread attention both within and outside of China because of its brazen nature and its proximity to China's National Party Congress—an event that occurs every five years in China and is often preceded by heightened security and censorship efforts.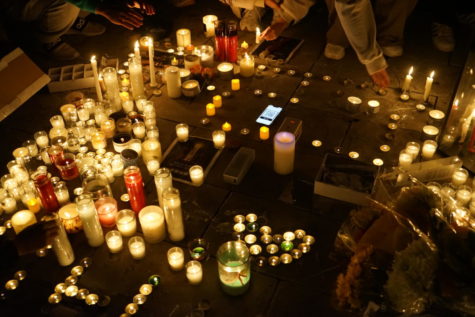 "The protesters in China faced much higher risks than us," a graduate student who made the flyer advertising the vigil said. "Because we are fortunate to stay here without risks or police throwing tear gas at us, we are responsible for doing more."
The student who helped organize the event said the number and diversity of people who attended were beyond expectations. "We have friends from different programs, from the local church, and from Hong Kong," they said. "People may stand differently on the political spectrum, but I was touched to have such a time and space that we can agree with each other and stand together."
Rik said that fellow students who did not seem to be politically active in their everyday lives showed up on Sunday. That showed him a sense of belonging. The vigil attracted the attention of students who were passing by as well, many of whom stopped and participated out of solidarity with the protestors. "The exposure, I believe, is part of the goal," Rik said.
One of the speakers at the vigil identified as a social worker from Hong Kong. "Sometimes the work we do might not intersect all the time, but I believe that we all share the same universal values like democracy and freedom and, most importantly, just human dignity," they said. "We really want to show our support to you guys."
The vigil was not the only event in Chicago in which people expressed solidarity with protestors in China. On Tuesday evening, almost 200 protested in front of the Chinese consulate at the corner of West Erie and North Clark Street. At universities across the country, such as Columbia, Harvard, and Duke, international students and members from surrounding communities have organized and participated in similar events.