"We Call It The Study"
As UChicago's first on-campus hotel option, The Study plays into a desire for an all-inclusive package of intellectuality and high culture. Yet the hotel sends a conflicting message when part of its appeal is its separation from the local community.
Caught with a Hand in the Cookie Jar
It's Halloween night on Monday, October 31, and I'm walking down South Woodlawn Avenue to meet my uncle and grab a drink at The Study, a boutique hotel located along the Midway Plaisance on south campus. Since its opening in 2021, The Study at University of Chicago has provided an on campus lodging option to UChicago visitors, like parents and visiting scholars. The hotel is part of a larger organization of Study Hotels, with other locations at Yale University, University of Pennsylvania, and Drexel University, plus one opening in May 2023 at Johns Hopkins University. When I arrive at the circular driveway, the doorman ushers me inside. It's 9 p.m., and the lobby is empty except for the large armchairs and the bookshelves lining the walls. The lighting creates a sepia-toned glow, and music—the upbeat kind you'd play at a wedding—plays quietly in the background.
Before I can sit down, the doorman asks if I've had any Halloween treats tonight and brings me over to the front desk where I meet the receptionist, who presents me with a jar of perfectly organized gingersnap cookies (the question was rhetorical). The three of us get to talking. I learn that they've worked at the hotel for a few months and live in different neighborhoods on the South Side. By the time my uncle arrives and I walk into Truth Be Told, The Study's gastropub-inspired restaurant and bar, I've still got the taste of gingersnap lingering in my mouth.
What I didn't know at the time was that gingersnaps are a staple at all Study locations. Paul McGowan, president and founder of Hospitality 3 real estate development company and Study Hotels, discovered a kind that he liked when opening the inaugural hotel at Yale and decided to keep it for all future sites. Before founding Study Hotels, McGowan was the senior vice president of design and construction at Starwood Hotels and Resorts for four years. After stepping down from this position, McGowan was still involved in projects with Starwood as an owner representative and developer for a W Hotel in Vieques, Puerto Rico; a W Hotel in Mexico City; and a St. Regis in Kauai, Hawaii. McGowan attended college at Northeastern University in Boston.
McGowan explains that the gingersnaps are purposefully arranged in a "Kardashian cookie stack," which comes from celebrity and influencer Khloé Kardashian's method for perfectly aligning cookies in a two-gallon glass jar. A jar of satisfyingly stacked cookies inspired by reality TV connotes 21st century chic—a vibe that is meticulously planned and executed.
The Study Hotels, recently nominated for the Travel + Leisure's 2023 World's Best Awards, fills a niche in the university tourism sector. Most guests I talked with said they had wonderful stays (some even have their next visits booked for this winter). The hotel understands the kind of bedsheets, brands, and aesthetics that will draw in its audience. I know this because I've stayed at hotels like The Study, where the experience is entangled with my class, race, and education.
Following a historical tradition of grand hotel development around UChicago, The Study is the University's first on-campus hotel option that is open to the general public. It therefore it makes sense that its branding and design focus heavily on the University itself. However, The Study also exists in another community: Woodlawn, a neighborhood which has been affected by and has fought strongly against gentrification from UChicago since the early 20th century. Over the past year, the hotel has worked on creating positive economic benefits for its surrounding communities. Yet even as The Study bolsters the local economy, it sends a conflicting message when part of its appeal is in its separation from the local community. If we believe that UChicago creates a bubble for itself within the larger South Side community, The Study is a symptom of that very same bubble.
Even though the hotel is a part of our campus bubble, it's not trying to be a new Hallowed Grounds Cafe—i.e., a place for young people to hang out. The Study's whole concept plays into a desire for an all-inclusive package of intellectuality and high culture, often sought after by parents and more senior university affiliates. It monetizes an aesthetic of old-world academia, precisely at a time when elite schools like UChicago are attempting to distance themselves from those impressions. In doing so, The Study sends a message about the kinds of values it holds and the clients it seeks to serve.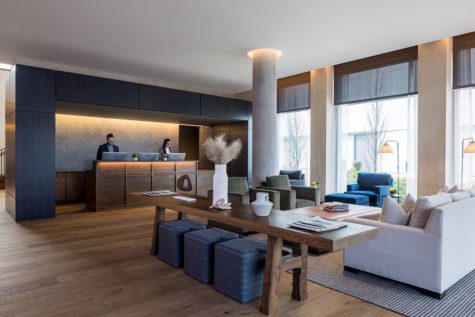 Checking-in: The Study's Arrival at UChicago
McGowan first had the idea for Study Hotels while browsing potential colleges with his daughter.
After learning about an underperforming hotel on Yale's campus, "I just couldn't stop thinking how a prominent university like Yale, with all the depth of character and alumni, could not have a quality hotel on campus that encouraged people to come back more frequently," McGowan said.
Despite opening the Yale location in 2008, in the middle of a financial crisis, McGowan was committed to creating a relaxed environment for guests—one where they weren't charged for bottled water or Wi-Fi.
"I wanted it to be comfortable," he said. This sentiment is where Study Hotels' motto, "read, rest, reflect," originates.
Following the Yale location's success, the hotel expanded to a second location situated just between UPenn and Drexel's campuses in Philadelphia. UChicago put out a call for hotel proposals south of the Midway. In 2015, the University selected Hospitality 3, McGowan's real estate development company, which was tasked with creating a new Study. Construction for The Study began in January 2020 on the site of a former University-owned administrative office building. After a soft opening in September 2021, the hotel officially opened in January 2022. UChicago now leases this land to Hospitality 3 long term.
Angie Marks, Associate Vice President of Commercial Real Estate Operations at UChicago, wrote in an email to The Maroon that "the University does not endorse individual commercial enterprises," but works with various local businesses that benefit the university's affiliates and visitors. "One of the factors in the selection of Hospitality 3 was the strong track record Study Hotels has built in collaborating with academic institutions…and local communities to create a distinctive hospitality experience," Marks wrote. UChicago felt that between Study Hotels' reputation, UChicago Medicine, and new conferences hosted by the recently established David Rubenstein Forum, there was enough need for an additional hotel in the community.
A Renaissance of Grand Hotels
In recent years, UChicago has helped bring two other hotels to the neighborhood. These include Hyatt Place Chicago-South/University Medical Center in 2013 and The Sophy in 2018, both of which are significantly closer to Hyde Park's hub on 57th Street than The Study.
Although it is true that before the 2010s there was a dry period for Hyde Park hotels, the late 19th and early 20th centuries reveal a golden age of grand hotels in the neighborhood. In July 2021, Hyde Park historian Patricia Morse gave a Hyde Park Historical Society talk on grand hotels—defined by their signature service amenities, public gathering spaces, and luxury—to mark the opening of The Study.
UChicago was founded in 1890, three years before the World's Columbian Exposition held in Jackson Park and the Midway Plaisance that celebrated the 400th anniversary of Christopher Columbus's arrival in the Americas. Campus building construction coincided with the neighboring construction of grand hotels to prepare for the impending tourist boom on the South Side. In the early 20th century, the same hotels continued to draw in business from wealthy Chicagoans wanting an urban escape with proximity to downtown and the lakefront. One particular hotel, The Del Prado, sat at the current location of International House on the north side of the Midway. The Del Prado was a member of the Jackson Park Hotels Association, and in 1921 one of ten Hyde Park accommodations advertised as Chicago's Residential Hotel Center. During the school year, the hotel hosted visiting professors, prospective students, academic conventions, and the original Big Ten football teams (UChicago was a founding member of NCAA Big Ten Football Conference). The Del Prado was also the predecessor to The Quadrangle Club, a membership-based club and hotel for University affiliates.
In the summer months, the Del Prado attracted wealthy white southerners looking for a cooler climate. "They were known by the locals—because there was a bit of a culture clash—as the 'yellow fever colony,'" Morse said. Yellow fever, a mosquito-spread illness, is most often found in the tropics and subtropics. "It was using a stereotype of the South as backward and disease ridden," Morse wrote in an email to The Maroon. "[Although] they were not entirely appreciated, they brought their money," she said.
Indeed, Hyde Park's economy thrived from the employment and lucrative opportunities in the summer resort business. However, urban renewal initiatives beginning in the 1950s sent tourism away from Hyde Park, greatly affecting its hotel businesses. During this period, some hotels were torn down, and thousands of hotel jobs were lost. UChicago bought some of the remaining hotels in the 1970s for use as student housing, while others were rehabbed as elegant rental apartments in the early 2000s.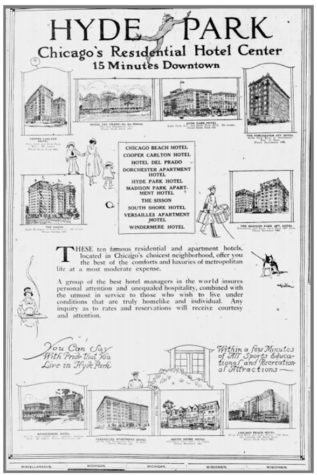 A Focus on Campus
For the Study Hotels, the universities are the destination, more so than the surrounding communities. The hotel's university-centric model assumes that when people come to New Haven, it's usually to see Yale. And when people go to University City in Philadelphia or Hyde Park in Chicago, the big draw is the schools themselves, whether or not you're affiliated with the institutions.
As McGowan puts it, prominent universities like UChicago provide a stable setting because "you want to be in markets that aren't so rate sensitive, at prominent or established institutions that have been around a long time that have active alumni, people [coming] back frequently."
Bryn Larsen, A.B. '92 in public policy from Chicago and parent of a second-year, was stunned by the views from her room. "I could literally see the sun rise on Rockefeller," she said. "I could see all the way up to downtown."
Schools that are too small, too remote, or in already expensive real-estate markets are easily eliminated. In each of its locations, Study Hotels are a part of the main act: the campus.
"It's a priority for us to be on campus." McGowan said. "Our whole concept is about immersing [ourselves] in the university community."
This concept benefits the hotel because it makes The Study the premiere location for visiting the school, while also providing its guests with the convenience and fun of experiencing (or reminiscing about) the good old college days. Multiple parents described the proximity to their children's dorms as a main reason for staying at The Study as opposed to the hotels closer to 53rd Street or downtown Chicago. This makes sense, as four of the seven major dorms on campus—International House, Renee Granville-Grossman, Burton-Judson, and Woodlawn—are all on the southern end of campus.
Supporting Local Community
One promising part of The Study's location is the possibility it has of benefitting the surrounding communities of Woodlawn and Hyde Park. Before attending UChicago, Arden Frantzen, a UChicago second-year who stayed at The Study this fall with her family, had heard from a friend who went to the school that his family always stayed downtown because it seemed safer and there was more to do. However, she suspects The Study might convince some of those families to stay in the neighborhood instead.
Angie Marks agrees with this assessment, writing that "the hotel will draw more people to the Woodlawn neighborhood and keep University visitors and the dollars they spend on lodging, dining, and shopping in the community. Those visitors have typically funneled to downtown businesses and lodging for lack of more local options."
A full year into business, The Study is creating a positive impact on the South Side through job opportunities and community engagement. Out of 90 total employees, over half live in surrounding neighborhoods, and a fully-staffed hotel would create 150 permanent jobs. Additionally, the hotel's creation of 300 local construction jobs met the University's minority- and women- owned business enterprise and workforce goals.
"The Study has made a commitment to pay a living wage, hire locally, and ensure its employees reflect the hotel's diverse surrounding communities," Marks said.
Jason Smith, guest services manager at The Study at UChicago, highlighted the community engagement work The Study has done, including a partnership in March with My Very Own Library in honor of Read Across America month and supporting Hyde Park Fest.
Additionally, Smith said, "[The Study is] exploring a program with the Art EXPO festival as part of a South Chicago art showcase in April 2023."
In general, McGowan is committed to conducting serious research on each community where he opens a hotel. For him, this part of the job never stops, and he believes there aren't many other hotels that make the same level of investment in their communities.
Politics of Placement: Gentrifying Woodlawn
The Study at UChicago's location also has more complicated effects: In each community where the hotel chain has situated itself, the "town and gown" relationships are historically fraught.
An unnamed first-year student put it this way: "[These are] top tier universities where people think twice about staying off campus, or wealthier families think twice."
With the Barack Obama Presidential Center set to open soon in Jackson Park, there will surely be demand for a hotel south of the Midway. Amidst concerns of increased gentrification in Woodlawn, The Study's location within the campus offers a compromise. The Study exists between two campus buildings, on the site of a demolished campus building; it exists in a bubble not created by itself, but by the University as a whole.
The fact that The Study exists within the bubble of the institution also means that its guests can have a "comfortable" experience in multiple senses of the word. The hotel implores its guests to "read, rest, and reflect," while also giving them a false distance from the community they are located in. The same unnamed student noted that many of the first-years they talked to at the hotel seemed to already be skeptical of the neighborhoods and city where they were soon-to-be citizens.
This student mentioned they were excited to get a U-Pass, the CTA card included as part of housing. "The vast majority of kids were like: 'You want to take the CTA? It's unsafe, it's not managed by UChicago, it goes off campus and into Hyde Park,'" they said.
Yazan Baghdady, another first-year student who stayed at The Study before moving in this fall, noticed that guests were "almost all white," while many of the restaurant and hotel staff were primarily Black. Many other former guests I spoke with mentioned that they ate, if not all meals, then at least every breakfast, at The Study's restaurant, Truth Be Told. This pattern is a testament to the hotel's quality service and convenience, but it also takes away potential business from other Woodlawn dining institutions, including Robust Coffee Lounge, Little Jamaica Jerk Cuisine, and Daley's Restaurant.
The Study also adds more commercial real estate to UChicago south of the Midway amidst continuing gentrification of the Woodlawn neighborhood. In 2018, DePaul University published a study from their Institute for Housing Studies, "Analyzing Neighborhoods with Intensifying and Emerging Housing Affordability Pressure." Woodlawn was one of the Chicago neighborhoods in this study which experienced a value shift in real estate from a low-cost area in 2016 to a moderate-cost one in 2017. The study states that "recent price appreciation and their strategic locations near stronger markets, transit, and proposed development, may indicate future lost affordability and possible speculative investment activity." Along with the University's presence, Woodlawn has access to the CTA Green Line and Metra into downtown, and it will eventually become home to the Barack Obama Presidential Center in 2025.
Moreover, Woodlawn has a strong history of community activism that has previously clashed with UChicago's plans of expanding further south of the Midway. "In the 1920s and 30s, local landlords working with the University of Chicago exploited restrictive covenants, keeping Woodlawn predominantly white and insular until after World War II," UChicago's Chicago Studies department wrote. These covenants were opposed by activists and found to be illegal after the war. When urban renewal, an effort to fight poverty, crime, and white flight from urban centers came to Woodlawn in the 1960s, it was also met with much pushback from local activists. During this time, community organizations protested UChicago's southward expansion. "[They] eventually struck a compromise, allowing the campus to expand south one block, from 60th to 61st, between Stony Island and Cottage Grove," the Chicago Tribune wrote. "In return, the school agreed to create housing for hundreds of displaced families."
Today, Woodlawn continues to be a stronghold for community activism, with organizations such as Woodlawn East Community And Neighbors, Obama Community Benefits Agreement Coalition, and Southside Together Organizing for Power leading the way. One recent victory included passing the Woodlawn Housing Preservation Ordinance in 2020, which helps to rehabilitate affordable housing and prevent current residents from being displaced.
McGowan explains that the choice of hotel location relied mainly on availability of on-campus land, as well as proximity to the Rubinstein Forum. "[Recent] Campus South development projects have involved the redevelopment of preexisting University buildings and undeveloped University-owned land," Angie Marks said. The Study at UChicago doesn't physically further University expansion, since no campus buildings currently exist past 61st Street. Nevertheless, its existence and the increased construction on Campus South in the last few decades add commercial property that helps to tilt the scales of campus more to that end.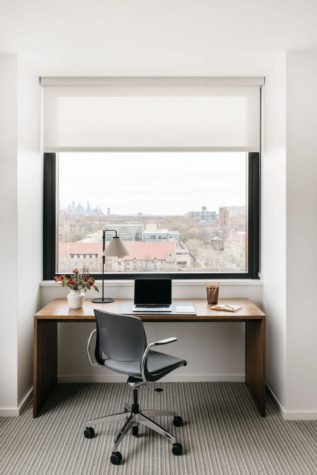 Moving Toward Corporatization
The increasing corporatization of college campuses generates a need for a high-end hotel like The Study at an elite school like UChicago. Writer Nicolaus Mills defines the corporatization of university life in a Dissent Magazine article: "In the eyes of college administrators, students, especially those who are not on scholarship, have become customers who need to feel satisfied with the campus experience bought for them at prices that now top $50,000 per year at many elite schools," he wrote.
At UChicago, a school whose sticker price was recently ranked ninth most expensive in the country by CBS, University affiliates' expectations for new amenities and perks are higher than ever. While the University retains its focus on the "life of the mind" by encouraging and funding intellectual inquiry, it has also increasingly promised students pre-professional and quality-of-life perks. These offerings include international career treks, more than 4000 paid Metcalf internships, a Lyft Ride Share program, and a Saturday night meal swipe program.
"You're paying to go to a school that is a brand," Frantzen said, "I think that's just American universities right now."
Universities are also faced with a demand for more amenities for their affiliates: parents, alumni, dignitaries, and visiting professors. These people want to feel that they are also benefiting from the elite experience that a school like UChicago offers. Study Hotels encourage them to view their stay on campus as a destination vacation. "I like to think that I'm our customer," McGowan said—meaning the type of customer who "still wants to read, wants to learn, take tours and see things in a place that feels good to me." Being a full-service model, the hotel includes amenities like a gym, restaurant, event space, and a book study.
While the hotel is still in its initial growth phase—McGowan explains that hotels generally take two to three years to stabilize—McGowan plans to add exclusive tours to various UChicago institutions as a perk of the Study Hotels experience.
One first-year parent, Tricia Bruce, recalls the perks The Study provided this past family weekend: "They had a full spread out for the parents in the afternoon—charcuterie boards, fruit, alcohol." This was, of course, in addition to the gingersnaps in the lobby.
What The Study Stands For
The Study benefits from the clout of the University by adopting a specific aesthetic of intellectuality and of affluence: It checks the boxes of the brand UChicago wants to cultivate for itself, while also representing a reputation the school often attempts to abandon.
McGowan didn't design The Study to be any regular hotel—he and his team put in a serious level of research about the universities they're affiliated with to bring more character into the hospitality experience. Among Study Hotels, there exists differentiation in styles, and yet they all promote a similar image of their universities being bastions of high culture. The Yale location has hosted book signings and an NPR podcast in its lobby and houses the Aisling Gallery. The UPenn/Drexel location displays museum cases from university-affiliated institutions: the Penn Museum, Weitzman National Museum of American Jewish History, and The Academy of Natural Sciences of Drexel University. McGowan also reports that Hospitality 3 has considered a concept called Study Lofts for future development, an idea first considered for the Yale location. This idea would take apartments for rent near prominent universities and advertise them for an older, retired population (like professors or alumni) who want to immerse themselves in the intellectual and youthful energy of universities.
The hotel represents the university's brand in a minimalist, subdued manner. It looks to be inspired by something you might find on a dark academia Pinterest board. Instead of approaching hotel design as a kitschy UChicago theme, McGowan wanted it to connect to its location in subtle cues. The hotel pays homage to the greens of the sprawling Midway and blues of the lakefront with multiple glass walls and large windows. Instead of, say, displaying UChicago banners in the lobby, The Study provides helpful service to UChicago affiliates by ensuring its staff are knowledgeable about the institution as a whole.
McGowan didn't set out to create a brand, and even though Study Hotels is expanding, he doesn't intend it to be more than 10 to 15 locations. "That's just because it's a little more grown up," he said. "Without being luxurious, it's very comfortable."
Since the Study Hotels brand debuted, other hotel chains have broken their way into the university hospitality market, like Graduate Hotels, founded by Ben Weprin of AJ Capital Partners in 2014. This hotel chain is now located in over 30 college towns including Ann Arbor, Michigan; Bloomington, Indiana; and Evanston, Illinois.
While Study Hotels don't scream American-collegiate, Graduate Hotels appear to relish in some more unabashed school spirit. Graduate Hotels are not necessarily located on the college campus, instead centering themselves around the college towns as a whole. Instead of adopting the names of their neighboring universities, Graduate Hotels go by the names of the towns; as in "Graduate Evanston," not "The Graduate at Northwestern University."
Additionally, 10 out of 14 Big Ten football universities have a Graduate located near campus. Suzanne Carter, a first-year parent, stayed at The Study this past family weekend. For her job as a college counselor, she has done fly-outs to multiple schools where she's stayed at Graduate Hotels. Recently, Carter forwarded The Maroon an automated text from The Graduate in Athens, Georgia, inviting her to a tailgate for the University of Georgia that read "Rival Replay: Party like it's 2003 at Graduate Athens."
Carter, who is also a college counselor, thinks that The Study is "allowed" to be more minimalist because UChicago doesn't have to sell itself so obviously, an opinion supported by the fact that the college's yield rate was 80% in 2022, one of the highest in the country. By nature of the other study locations at Yale and UPenn, UChicago gets a seat at the adults' table. It's an unofficial Ivy. As McGowan describes it, it's earned its place as a "prominent" university.
Who The Study Serves
Prominent universities represent intellectual engagement and serious academic inquiry, and they also often maintain a high level of institutional wealth. As of June 2022, UChicago has a $10.3 billion endowment and, as previously mentioned, one of the most expensive sticker prices of any university in the country. As Frantzen puts it, The Study represents UChicago in a "dark academia, glamorized intellectual philosophers eating gingersnaps and drinking tea" way. But it goes further than this—the hotel is representative of our school, and the other elite universities where it is located, in the air of wealth it creates for its patrons.
When I asked UChicago parents and students to talk about The Study, everyone wanted to talk about the books in the Living Room (the lobby of the Study), which the hotel buys in bulk from the Strand Bookstore in New York's East Village. The majority of books aren't ancient looking—they weren't hand-sewn or bound together. Instead, the collection consists of many art history and travel reads with titles like Leonardo Da Vinci and the Splendor of Poland by Dorota Folga-Januszewska and Laurie Winters. The books are propped up and never obscured by the tasteful agate bookends and modernist sculptural spheres. Oftentimes at hotels, a wall of books is simply decorative, something to communicate good hospitality, while the amenity is never presented. At The Study, you get the sense that the books are legitimately for your reading enjoyment.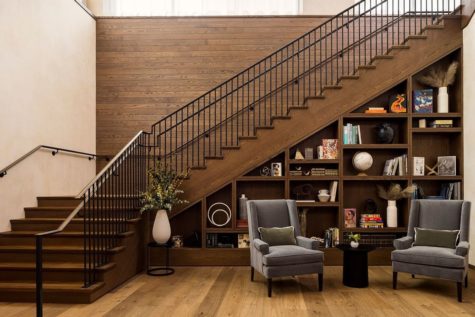 This fixture of The Study, the thing that gives it its name, is also possibly the biggest indicator of a socio-economic prefix at the hotel.
"We call it The Study because I wanted to play with that term a little bit, make it reminiscent of a study at your grandparents' home, a place where there's no television and you can read, rest, and reflect," McGowan said.
The name implies, among other things, that you have grandparents who live in a house with a study—a room dedicated to its floor-to-ceiling bookshelves; its displayed collectables; its trinkets of all shapes and sizes.
While the hotel is not exclusionary, it is marketed toward a certain portion of university affiliates. McGowan said the hotel is for "the wider community, visiting professors, dignitaries, parents, alumni, prospective students and families, anyone with an affiliation to the university." Realistically, people will stay at The Study if they can pay for a rack rate between $200 and $400 for a single night's stay, which also often doubles on high demand weekends.
In a past Maroon article on The Study Hotels' opening at UChicago, McGowan is quoted explaining the Yale Study location as a hotel "tailored to the personality and history of a "well-educated, successful" clientele."
Steven Holmes, a parent of a first-year, found this description particularly striking. Holmes himself was a first-generation, low-income student from Canada. He believes McGowan and his team have done an important job opening a hotel with such easy access to campus, "but the way in which the hotel expresses what it's about does open up questions about what it means to be 'educated' and 'successful,'" he said.
While sitting in the Living Room during his stay, Holmes tried to imagine what this experience would feel like for a first-gen student. "Having been that first-gen student, I'm pretty sure it would feel intimidating," he said. "I remember sitting there thinking the atmosphere exuded wealth." As a college student, Holmes felt "excited to be at a competitive university, but crushed under the weight of being a poor, working class kid surrounded by people who understood 'elite' to mean wealthy and privileged," he said.
The Study Hotels' logo showcases a pair of reading glasses which are half-folded, as if someone had just set them down after a leisurely read. Like those glasses, Holmes sees The Study through different lenses; as a former FGLI student who himself is Ivy League educated, he feels the hotel's and the University's exclusivity while also experiencing them as a proud parent who is thrilled to see his daughter obtain a UChicago education.
When The Study at University of Chicago invites guests to draw a cookie from the cookie jar, they also invite them to relish in the prestige of higher education, a prestige that is often exclusionary in effect.