New Study Abroad, Direct Enrollment Programs in Paris, Berlin, Vienna Launched
Students and faculty reflect and share insight on the new programs released
The University is launching five new faculty-led study abroad programs and two direct enrollment programs with Central European University and École Polytechnique for the 2023–24 school year, bringing its number of study abroad and direct enrollment programs to 70.
The new quarter-long faculty-led programs are Music in Western Civilization, taught in autumn quarter at the UChicago Center in Paris; and Jewish Civilization, taught during spring quarter in Vienna. Both of these programs fulfill the civilization studies requirement in the undergraduate Core. The Music in Western Civilizations courses include "Music in Western Civilization I", taught by Professor Anne Walters Robertson; as well as "Music in Western Civilization II" and "Going to the Opera in Paris, 1650–1848", both taught by Professor Robert L. Kendrick. The Jewish Civilization course introduces students to the social, political, intellectual, and cultural history of the Jewish population of Central Europe.
There are also three new September offerings: 19th Century French Art in Paris Museums; North African France: Decolonization, Immigration, and Postcolonial Identity, also taught in Paris; and Conflict, Community, and Sustainability, taught in Berlin. The 19th Century French Art course will be taught by associate professor of art history Martha Ward. The North African France course will be taught by assistant professor of French and Francophone studies Khalid Lyamlahy. The Berlin course will be taught by assistant professor on the Committee on Environment, Geography and Urbanization Evan Carver.
The two new direct enrollment programs are with the Central European University (CEU) campus in Vienna and the École Polytechnique in the Parisian suburb of Palaiseau. Students can enroll at CEU for the academic year or autumn quarter, while Polytechnique only takes full-year enrollment.
Location changes in 2023–24 include that the autumn Gender and Sexuality in World Civilizations and winter Economics program will take place in London and that the winter Colonizations and spring Human Rights programs will now take place in Paris.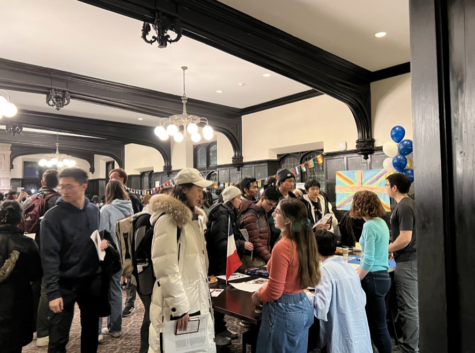 The Study Abroad Office promoted the new programs at several events during the winter, including at the 2023 Study Abroad Fair on January 11 in Reynolds Club. There, Assistant Director of Study Abroad Kylie Poulin and other staff presented the new study abroad options to students.
"All of our office's programs are represented together in one room, and students can access both study abroad staff and program alums to ask questions and hear about on-site experiences," Poulin said.
"Our digital communications go out to the entire student body, and our coordinators make efforts to visit classes on campus during autumn and winter to promote programs of interest to class populations," Poulin said.
Poulin said that the fair also helps students interested in multiple programs to learn about each one and assess their options—or even consider if they can study abroad more than once while at UChicago.
"The fair is really a one-stop shop for anyone interested in study abroad," Poulin said. "With each new program comes new opportunities to fulfill Core or major credits. Many of our programs, like the new Berlin September course focusing on community and sustainability, address current issues and developing academic investment in areas like Environmental and Urban Studies."
Poulin said that the growth of the program portfolio is a reflection of both the demand for study abroad in the College and the enthusiasm of the College's faculty to support learning in international contexts. "Myself and my colleagues were especially excited to gather together study abroad alums and prospective students in one room once again to share our enthusiasm about travel and learning abroad," Poulin said. "We have greatly missed the energy and creativity our student body brings to face-to-face events like this."
Poulin attended high school in Paris, France, and studied abroad at the University of Oxford as an undergraduate student at Indiana University Bloomington. She said the lessons she learned from studying outside the U.S. have stayed with her since.
"Study abroad is exciting, challenging, and undeniably formative," Poulin said. "I often tell students that you will remain the same person throughout, but you will discover parts of yourself in relief against new thoughts, cultures, and people that you have not yet known existed."
Among those who attended the Study Abroad Fair on January 11 is Louis Dimodica, a first-year student who attended due to his interest in both the new and recurring programs. "The September programs offered are absolutely fantastic," Dimodica said. "The Florence program especially seems like a great opportunity to really explore a smaller section of Italy without spending an entire quarter away from Hyde Park."
Dimodica said that he would like to see the University continue to offer more diverse programs. "More study abroad programs in Latin America, sub-Saharan Africa, and southern and Southeast Asia would give students a better opportunity to explore some less popular regions of our globe," Dimodica said. "It seems that a three-week September program would be the perfect way to add those opportunities."
"I love learning about other peoples, cultures, and histories. Our world has fascinating variations, and each person comes from a unique background," Dimodica said. "Studying abroad provides the opportunity to spend longer than a vacation in extremely fascinating places with incredible cultures worth discovering on a deeper level."