Chasing the "One That Got Away" in "Somebody I Used to Know"
What if we got another chance with "The One That Got Away"? Arts Reporter Miki Mukawa reviews Amazon Prime's new film "Somebody I Used to Know" and interviews co-writers Alison Brie and Dave Franco in a college roundtable.
"In another life, I would be your girl," sings Katy Perry in her iconic 2010 hit "The One That Got Away." But what if we got another chance in this life?
That's the question that Somebody I Used to Know, a new Amazon Prime rom-com, attempts to answer. Cowritten by married duo Dave Franco and Alison Brie, the film follows Ally (Brie), a reality TV producer who's finally made it big in Hollywood. Or at least that's what Ally's entire hometown (including her ex-boyfriend, Sean) thinks when she returns home.
In reality, her show's just been dropped, and Ally is utterly lost in life. "When we meet [Ally] in the movie," Brie explained during a college roundtable discussion, "we sort of find her in this place where she's put everything into her job, but she's actually not really fulfilled by it, nor does she have these [romantic and familial] relationships in her life." But when she runs into Sean (Jay Ellis), her "One That Got Away," she asks herself: what if he's the answer? It's the search for that answer, and the undeniable spark between the two, that drives her to pursue him—even after she finds out Sean is engaged to Cassidy (Kiersey Clemons).
Brie and Franco always knew that they wanted to work on a project together. "Even though I wasn't a writer or producer on The Rental," Brie said, referring to her husband's 2020 directorial debut, "I did feel like a coconspirator, you know, a real collaborator on set together." The pandemic (or when "the world ended," as Franco described it) was an opportunity to finally work on an idea they had mulled over for so long.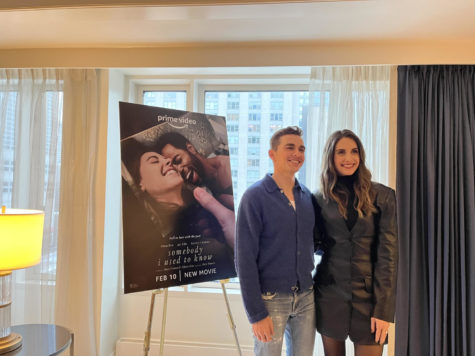 Brie was already interested in the idea of "relationship amnesia" because of her and her friends' past experiences of on-again, off-again relationships. People "only remember what was great about it, sort of romanticize it in some way," she said. But another motivator, one greatly tied to the theme of the film, is about timing. It was during a visit to Franco's hometown of Palo Alto that they found themselves continually running into old friends and family that inspiration struck. "Confronting who you were back then compared to who you are now, and if you're happy about the path that you've ended up on," Franco said, giving a tagline inspired by this trip. He hopes that one of the main messages of Somebody I Used to Know is that it's never too late to find your happiness—it's what his father, who returned to his passion for painting in the final years of his life, did. "I have never seen him happier," he recounted with a smile.
Throughout the interview, it was obvious how well Franco and Brie fit each other—as co-writers, co-producers, and partners. They seamlessly finished each other's sentences and attentively nodded, listening to one another when building on each other's thoughts. Having watched them interact, it suddenly makes sense why this particular film now exists. The decision to make a rom-com wasn't a difficult one; it was an ode to the movies they had been watching during the lockdown, when the script was written, and it was a way to "infuse it with [their] collective sense of humor." But beyond the typical rom-com aspects of the plot, it's ultimately about finding yourself: something Franco and Brie can reflect upon because of the people they are now. "When you're younger, you're working towards something," Brie explained. "You land in a spot, and you assess it." That's the place that Ally finds herself in. Who is she, as a friend (for example, to Benny—played by her Community co-star Danny Pudi), as a daughter, as a partner, and most importantly, as herself?
Toward the end of the roundtable, Brie let us in on a love lesson she's learned. "If I'm secure in myself, and if I meet a person who's also secure in who they are and what they do, then we can coexist and support each other." But that was something she found with the "right person," she emphasized as she smiled and placed a hand on her husband's. It is on this journey that we follow Ally: discovering whether her "One That Got Away" is the right person.
We love romantic comedies because they feel like a comforting, warm hug. Or we hate them because they feel like piles of brainless mush. Somebody I Used to Know may be of this genre, but at its heart it is a story of self-discovery—one even rom-com haters can probably appreciate.
Somebody I Used to Know, rated R, is available on Amazon Prime Video.