UCAD Relaunches Reparations Campaign with Rally Through Campus
Protestors joined activists from the Obama Community Benefits Agreement Coalition to demand greater University accountability and action in regard to South Side rent increases.
Roughly 40 people demanded the University pay reparations to the South Side at a protest organized by UChicago Against Displacement (UCAD) on February 15. The gathering was part of a "relaunch" of UCAD's campaign to demand reparations.
According to its mission statement, UCAD is a student-led organization that advocates for marginalized communities in the South Side. The group claims University policies are responsible for the displacement of South Side residents.
The march began in front of Woodlawn Residential Commons.
"Woodlawn represents or is symbolic of the way that UChicago isn't respecting its boundaries or the people around them in their community," an organizer told the group as the rally kicked off.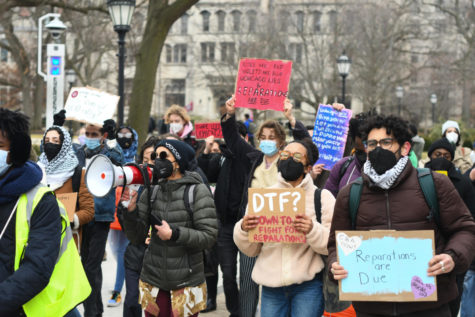 The protestors then marched north on South Woodlawn Avenue towards the main quad. After briefly stopping there, they continued to the Regenstein Library. Along the way, the demonstrators chanted various slogans demanding reparations, including "No more displacement, reparations now" and "Hey Pauli give us our money," a reference to University President Paul Alivisatos.
At the Regenstein Library, activists from the Obama Community Benefits Agreement (CBA) Coalition, a group of community organizations fighting potential gentrification and displacement in the area around the planned Obama Presidential Center, spoke to the protestors. UCAD is part of the CBA Coalition.
"Not only does [the University] have a connection to slavery, it has its own form of removing [and] institutionally forming policies to further remove and displace Black and brown people from the South Side of Chicago," CBA activist Yaa Angie said in their speech.
In an email announcing the event, UCAD demanded that the University spend $20 million annually on rental assistance and STEM programs, recommit to not expanding into Woodlawn or Washington Park, expand its employer-assisted housing to low-income neighborhoods, provide $1 billion in grant funding for affordable housing, and increase transparency about University-owned land.
"This is especially crucial at this moment as the Obama Center in Jackson Park increases land values and, in turn, rental prices," UCAD wrote in its release. "As residents deal with the economic hardships and an exacerbation of the homelessness crisis caused by COVID-19, these rent increases will only serve to further displace Southside residents."
After the event, a UCAD organizer who spoke on the condition of anonymity told The Maroon that group members hope to use their position as students to amplify the perspectives of South Side residents.
"Overall, I am really hoping that the University hears this and takes it to heart, especially because they might not listen to community members," the organizer said. "Since we are current students of a variety of levels at the University, hopefully they'll be more willing to listen to us."