63rd Annual UChicago Folk Festival Roars Back to Passionate, Collaborative Life
After two years of virtual performances, the UChicago Folk Festival returned on campus for a much-anticipated revival.
The Po' Ramblin' Boys usually bypass Chicago when driving through the Midwest, but, for the UChicago Folk Fest on February 10 and 11, the Grammy-nominated folk band made the city their destination. "It took us a long time to get here, cause your traffic is really bad," quipped the band's mandolinist C.J. Lewandowski, "[But] we're here, and we're gonna have a good time."
The 63rd Annual UChicago Folk Festival featured evening performances on Friday and Saturday night at Mandel Hall and a variety of free workshops in Ida Noyes Hall on Saturday. The festival is a time-honored tradition well-known even beyond UChicago's campus. When the festival was first founded in the early 1960s, it was applauded by a New York Times critic for "putting the folk back in folk music" at a time when "the popularization of folk music [had] led to many [species] of dilution and hybridization."
The festival is organized every year by the UChicago Folklore Society, a motley crew of undergrads, alumni, and members of the surrounding community who are passionate about folk music. In the '60s, the Folklore Society would take road trips across the country to discover and recruit musicians for the festival. Today, the performers are sourced through the Folklore Society's alumni network, word of mouth, and something co-president Nick Rommel describes as "YouTube rabbit holes"—i.e., allowing himself to get lost on the internet finding cool videos and looking into artists.
This year's festival was especially exciting for Rommel, who cut his teeth as co-president while the festival was still being held over Zoom. While donors were generous enough to allow the event to continue over the pandemic, Rommel said the virtual fest lacked "feeling," and I understood what he meant. Perhaps more than the performances, it is the passion of the people attending and the way they interact that give the Folk Festival its charm. Among my favorite moments were catching bits of ardent conversation about vocal harmonies and coming across impromptu jam sessions that broke out among strangers in every nook of Ida Noyes.
The festival has hosted a number of influential names in folk music, including the Stanley Brothers, the New Lost City Ramblers, and Elizabeth Cotten. Bob Dylan famously auditioned for a spot onstage in the '60s but was rejected. This year's performers varied in their folk styles, featuring everything from old-time fiddle, to Louisiana Cajun, to traditional Irish music.
The Balfa Toujours kicked off Friday night's concert with a mix of songs in French and English that got the audience out of their seats and into the aisles dancing. Next was husband and wife duo Donka and Nikolay Kolev, who played Bulgarian folk music on traditional instruments. The tinny, whisper-like sound of Nikolay's gadulka—a Bulgarian string instrument whose name means "to make noise, hum or buzz"—surprised the crowd at first but had the audience on their feet sending the Kolevs off stage with a standing ovation.
Next to perform was a trio playing son huasteco music, a traditional Mexican music style known for its flamboyant violin parts. The trio had so much fun on stage that they ignored their two-minute warning to wrap it up ("one more song, un poquito," promised violinist Juan Rivera). Henry Barnes and Conner Vlietstra were next on stage and provided old-time folk music history interludes between their own old-time numbers.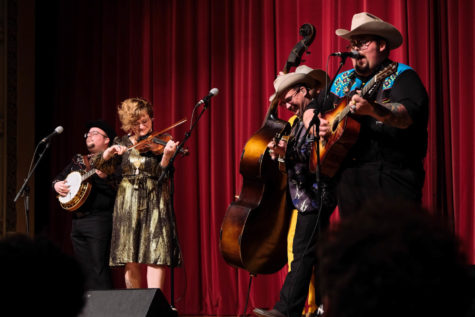 The Po' Ramblin' Boys closed the night festooned with shimmery fabric and cowboy hats. The five-piece band moved around on stage with such ease that I figured their movements were rehearsed. But when I caught up with the band at the end of the night, I found that the contrary was true. They tend to bump into each other more if they plan their movements than if they "let it go natural."
This was the first time in two years that the festival resumed in-person activities after transitioning to online festivities in 2021, and there was a palpable enthusiasm among the festivalgoers.
"It's kind of like a living organism," Rommel told The Maroon. "It sort of feels like it has a life of its own."
At one point, I spoke to fiddle player Mitzi Lebensorger, who was jamming on the second-floor stair platform, a "traditional spot" for spontaneous jam sessions. She has been coming to the Folk Fest regularly for 20 years but remembers first coming as a teenager in the '70s. "I remember I asked Barbara Silverman what shoes she was wearing," Lebensorger mentioned with a chuckle, "I just liked them." Names big and small hang out and enjoy music together at the UChicago Folk Festival, with performers casually milling around to talk about their set or express excitement about the Western store in Chicago (I'm looking at you, Po' Ramblin' Boys). So why not ask a renowned folk musician where they got their kicks?
Joining Lebensorger on the staircase was a cellist, a mandolinist, and Lebensorger's nine-year-old nephew Zale, wielding his own fiddle. Zale has attended the festival for a few years now, but this was the first time he had an instrument of his own to play. Sitting on the bench, his legs weren't quite long enough to tap his foot in-time with the rest of the group.
Other workshops included quilting, Scandinavian music, and international folk dance. I started the day with a Jug Band workshop led by Jonas Friddle. Plastic kazoos were handed out to those without instruments. The workshop's makeshift band ranged from elementary-school-aged children to seasoned musicians who were all involved and enjoying the fun.
As a fourth-year in the College, I regret that this was my first time attending the UChicago Folk Festival. It was such a joy to play and hear music in a space filled with people equally passionate about their love of folk. Though I graduate in the spring, I'm reminded of a lyric we learned in the Jug Band workshop: "You may leave, but this'll bring you back."