Love, Identity, and Pink Jumpsuits: A Review of Steppenwolf Theater's "Chlorine Sky"
Associate Arts Editor Miki Mukawa reviews Steppenwolf Theater's "Chlorine Sky," adapted from Mahogany L. Browne's book of the same name.
High school: the universal experience that, no matter how long it's been, seems to follow us throughout our lives. A plethora of popular media centers around the high school experience (think Gossip Girl, Euphoria, or Outer Banks). Steppenwolf Theater's Chlorine Sky, based on the novel of the same name by Mahogany L. Browne, is a play similarly steeped in this experience but with a particular focus on high school friendships. The play, which ran at Steppenwolf from February 14 to March 11, follows Sky (Akili Ni Mali) as she reckons with a "friendship breakup" with Lay Li (Destini Huston) and what that split means for Sky's identity.
The first thing that stands out about this production is how, on a visual level, it's simply fun to watch. The set is a literal skatepark bowl, and the production's use of projections to create swimming pools and pull-out beds hidden in the bowl's curves transports the audience between various settings. Here, Chlorine Sky's actors truly shine, too; as Mali and Huston interact with the space and with each other, we're invited to visualize the rest of Lay Li's teenage bedroom, even against the concrete backdrop that sits in front of us. When Sky develops a crush on a boy, the show layers physical, choral movement with its verse dialogue, beautifully (and comedically) expressing that feeling of first-love butterflies that can't quite be described with mere words.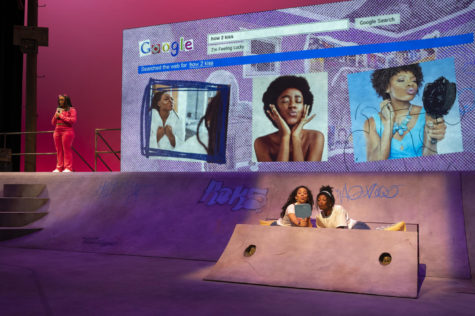 While Chlorine Sky is a production of Steppenwolf for Young Adults, it was immediately clear that the show isn't just for kids. Sure, there are some lesson-teaching lines that are a little too on the nose (though this could be in part because the show is performed entirely in verse), but the message is still one that resonated for me, as a college aged audience member. Most of Sky's life has been dictated by Lay Li, so when the two best friends "break up," Sky is forced to reckon with the reality that she doesn't know who she truly is. The only thing that seems uniquely Sky's is her love of basketball, which anchors her to the confident, self-assured version of herself that she strives to be. In her independence, Sky navigates romance, familial relationships, and new friendships. Chlorine Sky seems to continually ask, "How do we come into our own?" and "How can we love somebody else before we've accepted ourselves?"
Those questions are ones that many coming-of-age stories pose. What makes Chlorine Sky unique is how much the play is grounded in time, place, and context. References are made throughout the dialogue to late '90s Black pop culture: Essa (Tiffany Renee Johnson), Sky's sister, wears a bright pink Juicy Couture jumpsuit, and songs like Lauryn Hill's Nothing Even Matters and Tupac's California Love are used as scene transitions.
This strong '90s aesthetic further elicits memories of coming into your own for Chlorine Sky's adult audience, who could be heard laughing especially loud at the script's pointed references. The show provides an avenue for nostalgia—recalling childhood and allowing audience members to reflect on their personal journeys to adulthood. But it's even more effective for its Gen Z audience. Often, contemporary stories set in high school can feel out of touch. In the eyes of such narratives, Gen Z teenagers are frequently depicted as self-absorbed social media addicts. Chlorine Sky takes a refreshing approach by connecting with its target audience through the exploration of themes of belonging, identity, and self-expression in the past, free from the looming presence of social media. Sky's story feels real because the show isn't trying to talk about something it doesn't understand—the show's creative team isn't trying to portray the trials and tribulations of growing up as a teenager in the digital age, which they themselves likely never experienced. We empathize with Sky's pain when she's made fun of for opting to wear basketball shorts instead of trendy flared jeans and her joy when she's invited to take a picture with a friend's digital camera. This authenticity and rawness make Chlorine Sky a show to remember and a hopeful model for Steppenwolf's future entries into young adult theater.