IOP Fellow Profile: Former Nevada Governor Steve Sisolak
Steve Sisolak reflects upon nearly three decades working in government and the role of young people in fixing current societal issues.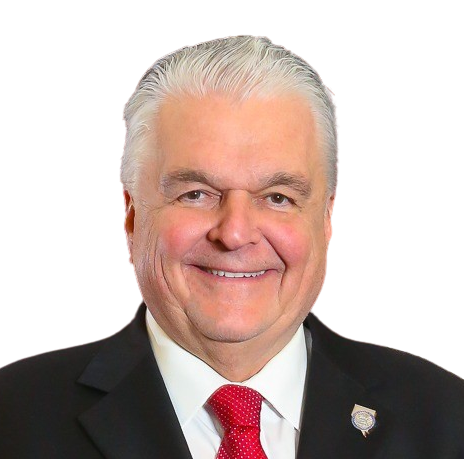 For the fifth installment of a multipart series profiling each of the Institute of Politics's (IOP) Pritzker Fellows for the winter and spring quarters, The Maroon spoke with former Democratic Governor of Nevada Steve Sisolak about his experience working in state government and his advice for students hoping to work in politics.
Sisolak grew up in Wauwatosa, Wisconsin and graduated from the University of Wisconsin-Milwaukee in 1974 with a Bachelor of Science in business. He then moved to Nevada and earned an M.B.A. from the University of Nevada, Las Vegas in 1978.
Following his studies, Sisolak was a partner at two telemarketing firms, the American Distributing Company and Associated Industries, which sold promotional items to businesses.
After an unsuccessful bid for the Nevada state senate in 1996, Sisolak was elected in 1998 to the Nevada Board of Regents, which oversees policy and budgets for the state's higher education institutions. During his tenure, he advocated against raising tuition and other student fee hikes.
"I ended up winning the seat on the Board of Regents and loved it," he said. "Working with students, going onto campus at the university or community college, sitting down with the student union and talking to people.… I really enjoyed it," Sisolak said.
Beginning in 2008, Sisolak was elected to three terms in the Clark County Commission. While serving as a county commissioner, Sisolak appreciated the breadth of skills and knowledge he was able to obtain.
"You're helping people with zoning, neighborhood issues, casinos, gaming, the environment, anything," he said. "The County Commission touched everything…from the metro and police department to the hospitals and the airport to water reclamation. So you learned a lot of different things."
In 2018, Sisolak was elected the 30th governor of Nevada and was in office during the COVID-19 pandemic. He described encountering significant pushback on policies enacted during the pandemic to slow the spread of the virus. Namely, in March 2020, Sisolak ordered all casinos, bars, and dine-in restaurants in Nevada to close, which many business owners claimed caused severe economic damage to the state.
"We had to make really, really hard decisions that ultimately I own and take responsibility for," he said. "I don't regret them. People say to me, 'Would you have done anything different?' And it's a thought-provoking question, but it's not fair because it's hard for me to say."
After serving one term, he lost his 2022 reelection bid to Republican Clark County Sheriff Joe Lombardo. Sisolak was the only incumbent governor to lose reelection in the 2022 midterm elections.
Sisolak decided to become an IOP fellow because he felt it was the best way to bring about meaningful change while out of office.
"When I lost [the] reelection in November, it's kind of a letdown," he said. "You feel discouraged since you put a lot of time into a great campaign. I wanted to find something to occupy my time while still feeling like I'm making a contribution and to kind of get energized again.… The idea of working with the kids is what made a big, big difference for me. You guys are so full of energy and so full of enthusiasm. I look at your face, and I see the future."
Sisolak emphasized the role of young people in tackling societal issues and lamented that his generation was not able to do more to address issues such as school violence.
"Our education system is broken and our healthcare system is broken," Sisolak said. "These are real world problems that [young people are] going to have to fix. Before my dad passed away 25 years ago, I remember him saying to me, 'Try to leave the world a little better than you found it, sleep a little better.' My generation did [young people] a huge disservice. We did not leave society and the world a little bit better than we found it."
To Sisolak, the ideal politician has "two ears and one mouth," meaning that they are "supposed to listen twice as much as [they] talk." He sees this characteristic as crucial to accurately representing the opinions of thousands of Americans.
"You need to be able to listen to people and take as much input as you possibly can," Sisolak said. "And you need to be able to be willing to put in the time. It takes a lot of time, and it's tough."
Sisolak highlighted his belief that being a good politician by intently listening to constituents often comes with the tradeoff of having less time to spend with family.
"If you have kids at an elementary age, it's a tough time to not be home with your kids," he said. "[Being a politician] takes so much time. You miss dance recitals and soccer games and basketball games, and you can't get them back. You don't want [your children] to suffer as a result of what [your] aspirations and dreams are, so I would say hold off [on running for office] until your kids are doing okay or if you know your spouse is willing to make an enormous sacrifice."
Reflecting upon his time spent as a fellow, Sisolak feels encouraged by the strong questions asked by students and hopes to share some of the political wisdom that he has garnered through more than two decades working in government.
"[I am] taken aback by the great questions that people have as it relates to politics, to government and to policy," Sisolak said. "To be able to nurture that just a little bit and to provide [students] with some insight that I've learned through 25 years in government and in elected office, if I can share that in some way and help people become better, I'm happy to do it."