U of C prof starts an outdoor, cross-cultural Conversation
Curated by University of Chicago art history professor Wu Hung, A Conversation with Chicago: Contemporary Sculptures from China exposes a wide audience to contemporary Chinese art.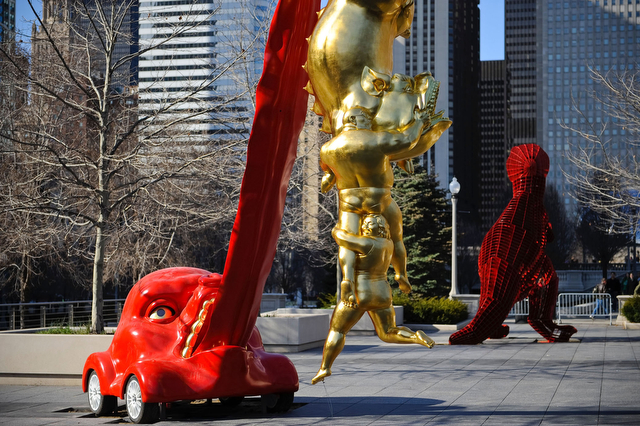 Millennium Park finally has its own dinosaur. Flanking the Bean along with—among other things—an oil pump and a dragon-like car, the giant red dino has come to the park as part of University of Chicago art history professor Wu Hung's new exhibit, A Conversation with Chicago: Contemporary Sculptures from China.
Featuring four works by leading Chinese sculptors and installation artists, the exhibition addresses issues of globalization, materialism, and the energy crisis. Hung, who has curated exhibits in numerous museums and galleries, including the Smart Museum of Art, says Conversation is an opportunity to expose a wide audience to contemporary Chinese art.
"There's a very limited audience in museums and galleries," he said. "But this exhibit is very open. I cannot really define my audience. There are just so many people. For me, it's a challenge. Contemporary Chinese art has very interesting works, and it's exciting to introduce those works to an American audience."
The theme of the exhibit is conversation, and Hung explains that part of the exhibition's goal to make people more aware of others' perspectives. "If you don't travel, you don't know the world that much," Hung said. "So many people only know as much about the world as it is in their local newspaper. What I want to do is open up the window, so that people can see the world outside."
Conversation features sculptures that are ominous, humorous, and sometimes a little bit of both. Shen Shaomin uses authentic materials to construct "Kowtow Pump," a mock-oil derrick that looks both real and unreal. Although the piece seems ready to begin pumping oil, its ghostly off-white paint job, overlaid with splotches of paint in militant shades of brown, light green, and dark green, gives the work an unreal, eerie quality. "Kowtow Pump" is both imposing and creepy, and certainly makes you stop and stare, even if you are not disturbed by the fear of the consequences of the energy crisis that such an image may inspire.
The three other sculptures in the exhibition, located on the opposite side of the Bean, are as much in conversation with each other as they are with the audience. The first in this line of sculptures is Sui Jianguo's "Windy City Dinosaur," a big, red, hollow toy dinosaur made of a wire-like frame covered with the bolded inscription, "Made in China." During a sunny day in the park, the sculpture's impact is heightened by the children who play on and around the sculpture without noticing the inscription.
Chen Wenling's "Valiant Struggle No. 11," features a car with a Chinese license plate and a dragon's face painted red and gold. The dragon's red tongue extends from its mouth, holding three golden suspended figures—a pig embraced by a fat man who is embraced by a fat woman in turn—who cling to one another on the verge of being consumed. The scene is comical but also troubling; a hanging pig, a Chinese symbol of wealth, conveys an overwhelming feeling of panic and greed. The final sculpture, Zhan Wang's "Jia Shan Shi No. 46," emulates the classical Chinese symbol of knowledge, the Scholar's Rock, but this time the Scholar's Rock is steel and glistens in the sunlight. It is up to the viewer to decide whether such a thing is beautiful, disturbing, or both.
But Conversation does more than simply open up a window into contemporary Chinese art. It also provides viewers with a window into their own world. The four works force viewers to face important global problems and acknowledge their own opinions about these issues. Instead of telling us precisely what to think, the artworks successfully accomplish the difficult task of raising questions they refuse to answer—questions about such issues as the energy crisis, the conflict between tradition and modernism, the image and role of China in the modern world, and the relationship between economy and society.
Professor Hung says that he deliberately chose contemporary Chinese art that addressed contemporary global problems because he thought such controversial works would lay the foundation for worthwhile conversation.
"We all belong to this contemporary world," he said. "We share these issues. But we have different perspectives and positions, and we look at things from different angles, so we see things differently. Art like this lets us discuss our differences. People who come to see this exhibit may have different interpretations. But, hopefully, this art will allow them to bridge the gulf and establish a channel for communication and conversation."
Even if different viewers come away with different interpretations of what they've seen, Hung maintains that the conversation has not been a failure.
"I want people to be able to come away with different interpretations," he said. "Some children might go to the exhibit, and all they see is a big toy dinosaur. But people who are older can think about the deeper issues, and come away with their own thoughts about these things. You don't have to be a philosopher to go there and enjoy the exhibit. But if you want to think more, you can think about these issues."