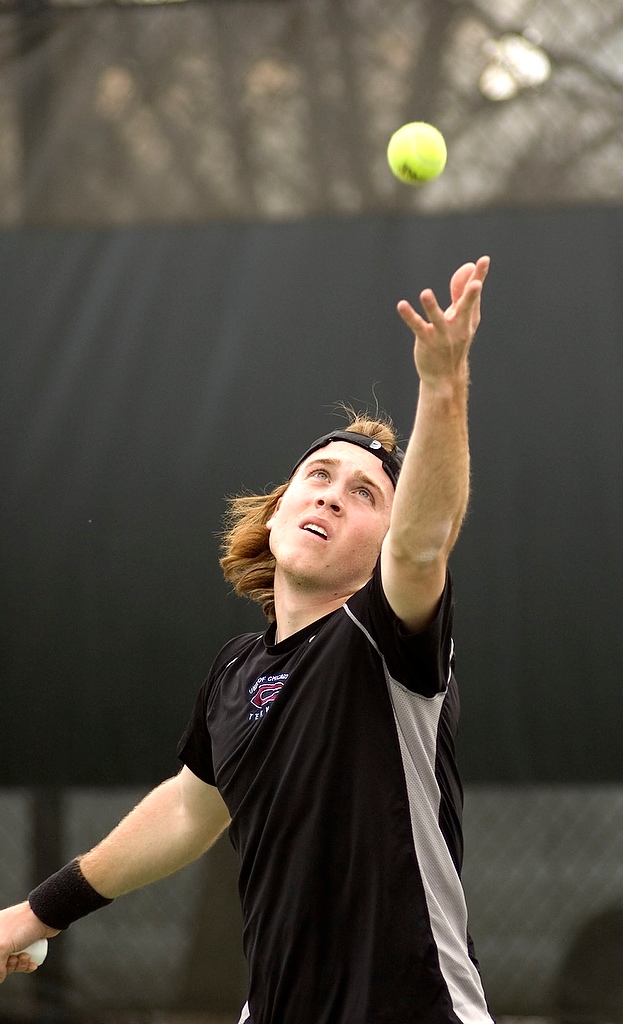 Men's tennis defeated Lake Forest 8–1 on Stagg Field Courts Wednesday afternoon despite missing half of their top six players.
The 20th-ranked Maroons swept singles play and took two of three doubles matches to improve to 9–6 on the season. The Foresters (7–3) didn't win more than three games in any singles matches, and their pairs fared only slightly better, with no more than four games.
Heavily favored going into the contest, the Maroons used this match to mix up their lineup.
"We had the chance to play some players that normally don't get the chance to play," he said. "We're a really deep team, and it was good to give the other guys some experience."
Fourth-year Alex Winney, second-year Will Zhang, and first-year Troy Brinker were victorious in both singles and doubles play.
This marked Zhang's fourth consecutive singles match win, bringing his record to 14–6 for the year. The win was especially impressive in light of the fact that Zhang hadn't been on a court since spring break because he was nursing an injury.
In their singles matches, third-year Steve Saltarelli and second-years Mark Bonner and Paul Namkoong decisively defeated their opponents. Saltarelli and Bonner each won 6–1, 6–1, while Namkoong took home a 6–0, 6–1 victory.
The Maroons went with a completely new lineup in doubles play, with all of their pairs playing their first match together.
Zhang, playing in only his fourth doubles contest of the season, teamed with first-year Jan Stefanski for an 8–1 victory at the first spot. Namkoong and Saltarelli dropped their second-doubles match 8–4, but Winney and Troy Brinker closed out doubles play with an 8–4 victory at the third spot.
The match worked as an opportunity to give other team members additional experience because their competition against Wheaton scheduled for Monday was cancelled due to snow.
"That [match] was one less opportunity to add a win to our record," Perry said, "but it really wouldn't help us with our ranking."
With that warm-up out of the way, the Maroons are now looking forward to Saturday, when they play second-ranked Wash U and 12th-ranked UT–Tyler. Those two matches could be crucial in Chicago's campaign for an at-large bid to the NCAA tournament. Because of the strength of their conferences, the 16th-, 18th-, 19th-, and 20th-ranked teams are all on the outside as of today. The next national rankings come out on Tuesday, but the Maroons are focused on getting the job done on Saturday.
"We have a tough weekend ahead of us," Perry said.
With the Maroons taking Sunday off for the holiday, Saturday looks to be a full day, as Chicago plays Wash U at 10 a.m. and follows up with UT–Tyler at 5:30 p.m.
"I think we're ready," Perry said. "I hope we have a good day and play well."
This weekend's matches will leave the South Siders with just one more regular season match—a meeting with Olivet Nazarene on Tuesday—and next weekend, the team will travel to Rochester, NY, for the UAA Championships.