Monsters, not dinosaurs: folkers hold their own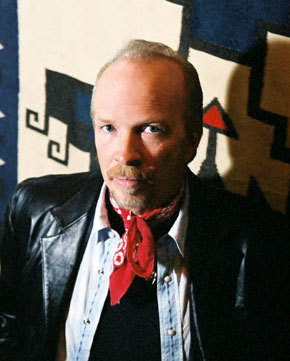 "Are you ready to get folked?"
So began the lively 10:30-p.m. concert of the Monsters of Folk at the Old Town School of Folk Music. The band is actually just a temporary association of ex-X guitarist Dave Alvin, multi-instrumentalist songwriter Tim O'Brien, and expert guitarist Chris Smither. The two-hour set showcased each musician's songcraft as well as their interpretive chops on a variety of originals and covers.
The Old Town's 450-seat Maurer Concert Hall is a great venue for just this kind of intimate acoustic performance. The artists sat on a homey Oriental carpet just feet from an appreciative audience continually warmed up from the subzero night with round after round of beer and cookies.
The first number of the night was a group version of Mississippi John Hurt's "Make Me a Pallet on Your Floor." Alvin, O'Brien, and Smither traded verses and instrumental breaks, each staking out his own stylistic ground, but forming a cohesive, driving whole. After this group-oriented opening, each musician took turns choosing which song to play. Alvin and Smither usually sat out of each other's pieces, each giving the other room to breathe and play his own guitar part. O'Brien, in addition to singing his own numbers, added emotionally and stylistically diverse accompaniment, ranging from lonesome violin to lightning-quick mandolins.
Although the bill was shared, Dave Alvin presided over the concert, sitting in the middle and acting as ringleader. He showed a bit more of his rock 'n' roll–cool background in his leather jacket and white-spotted green shirt. Between songs he eased back in his chair and tipped his fedora forward, 1940s-style. With understated delivery, he dramatically commanded the ears of his audience. His diva tendencies were complemented by a brassy, bluesy finger-picking guitar style that exploded and faded away with precision.
Looking more like an ex-hippie, middle-aged dad than a retired rocker, O'Brien more than held his own against the braggadocio charisma of Alvin. In fact, early on in the show, O'Brien's hauntingly forceful violin-and-vocal interpretation of a Bill Monroe song elicited a conciliatory "good night everybody" from the one-upped X axe-man.
The third performer was folk veteran Chris Smither who has been active recently with a staggeringly good album out in 2006 and a recent concert DVD. Like the titular subject of one of his songs, "Crocodile Man," he has a weathered quality in his face and voice that lets everyone know he is a veteran of life. He wears no-nonsense black jeans and a black shirt and sings what he calls "gospel music for doubters" with dignified authority and knowing humor. Alvin and O'Brien are talented, but neither can slay an audience with the economy and weight of a single lyric or guitar lick like Smither can.
Aficionados know that any respectable folk concert showcases the performer's quick between-song wit nearly as much as his musical ability, and the Monsters of Folk delivered. Smither got the biggest whoops of laughter from the increasingly liquored-up 30-plus crowd with a zinger, introducing his song "Lola." In a casual baritone slur, Smither drawled: "The GPS in my car has a lady who talks with a kind of seductive voice, you know. When she says, 'In 400 feet, take a right,' I'm like, 'And then what?' I know it's a pretty shallow relationship and I want to keep it that way."
Folk music may be considered a relic of the past for a lot of people reading this paper, but the Monsters of Folk gamely brought in modern-day references in their songs. O'Brien turned a Sunday paper article about an epidemic of psychosomatic phone vibrations into a clever lost-love ditty called "The Phantom Phone." And after wishing he were as popular as R. Kelly, Alvin prophesied that "folksingers will be singing Snoop Dogg songs in 100 years." Look at the gun-toting, liquor-drinking, wild ladies'-men 1930s blues songs and you may realize that Alvin is on to something.
Despite these self-effacing jibes about cultural obsolescence, though, the folk music of Alvin, O'Brien, and Smither sounds as confidently new as anything around. Folk music is roots music, yes, but for those who dig the sounds, it hits something fundamental. And whether the listener is a college student scared as hell of the future, or just a freezing cold Chicagoan waiting for the CTA, this music and Smither's words hit home: "I'm waitin' on a train/ We all waitin' on a train to take us home."