Tuned-up swimming ready for UAA test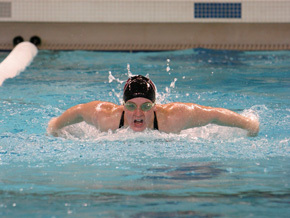 In a year that has seen a once-dormant program leap into company with the country's top squads, expectations are high as swimming prepares to take its UAA championship plunge alongside some of the toughest competition in the nation.
Finishing undefeated in their dual meet schedule, the men's team is ready to continue its streak later this week in Rochester, NY. An 8–0 record is an accomplishment to boast about, but the 10th-ranked Maroons are looking to seal the season with a bigger title. Not to be outdone, the women's squad concluded its dual meets with a winning 6–3 record. These teams now seem almost guaranteed to set a new standard for Chicago by surpassing the 2007 UAAs, where the men and women finished fifth and sixth, respectively.
"This year, our goals are for the men to get top four and the women to get top five," head coach Jason Weber said.
Trying to block Chicago from UAA glory is a host of nationally ranked teams. On the men's side, 16th-ranked NYU and 15th-ranked Carnegie Mellon will try to upset the higher ranked Maroons. In the highest tier of the rankings, Emory and Wash U stand back-to-back at fourth and fifth, making a statement about the UAA's national dominance. The women's team will share the same fierce competition, with the third-ranked Eagles at the front the pack, followed closely by the eighth-ranked Bears. Not to be overlooked are 13th-ranked Carnegie Mellon and 19th-ranked NYU, both schools that promise to put up a struggle.
"These are all NCAA-caliber teams with many NCAA-level swimmers," Weber said. "Many of the best swimmers in Division III are in our conference."
Matching up with these powerhouses is something the Maroons can handle. Leading the charge will be third-year Shane Carlson and fourth-years Zach Ergish and Hiro Hayashi. This has been an excellent season for Carlson, culminating a week ago in his record-breaking time of 1:58.14 in the 200-yard individual medley. He is poised to perform well in the 200- and 500-yard free, as well as the 200-yard breast. On the sprinting side of the roster, Hayashi will be a valuable contributor to the 50- and 100-yard free. Ergish will join Carlson in both the IM and breaststroke events.
The team's veterans will be reinforced by a number of rookies, with first-years James Schlabach and Sebastien Davis VanGelder at the top of their class. Sprinting alongside Hayashi, Schlabach will continue his breakout year in the 50-, 100-, and 200-yard free events, while Davis VanGelder wraps up the versatile list with his 100- and 200-yard backstroke expertise.
Although rookies have been major factors in both teams, the women's squad looks to draw its biggest contributions from first-years. Chalking up a new record at every single meet this season, Ellie Elgamal has proven herself to be a dominant swimmer in the league. Her presence will be invaluable in the 100- and 200-yard butterfly, where she has been virtually unstoppable all season. She will be joined on the blocks by Sarah Wynn and Katherine Leonard, talented first-years who have consistently won events all year. Continuing her high-placing performances in the 500- and 1,650-yard free, Wynn will handle the distance events. Leonard rounds out the group with quick times in the 50- and 100-yard free.
"These are the swimmers who will make the biggest impact," Weber said. "They all have a definite chance of qualifying for NCAA times."
Despite their stars, the Maroons will not be able to rely on individual talent alone if they want to get the gold. This season has seen the entire roster step up, and this trend will have to continue on Wednesday. Heading into the final bout, the women's team lacks depth in most events, with only a few swimmers consistently placing in the top three. Both the women's and the men's squads suffer from a lack of serious speed in the 50-, 100-, and 200-yard free, which will be problematic against the elite sprinters of Emory and NYU. Chicago will have to bridge the gap with wins in its stronger events, like the IM, butterfly, and relays.
"Our best swimmers match up well with the other team's best, but we don't have as many quality swimmers as they do," Weber said.
Both teams have an ace up their sleeves. Chicago did not have a taper meet on its schedule. As a result, the men and women are entering seed times that are not only deceptively slower than those of other schools, but not representative of what they will be swimming this week. With the top competitors from teams like Emory and Wash U already qualified for NCAAs, it is likely they will not be as rejuvenated for UAAs as the Maroons. This gives Chicago an edge both in placing higher, and in the finals against opponents not fully rested.
Records have been shattered this year for both squads, and nationally ranked teams have been trounced. Now the Maroons have an outside chance at a championship that has never even seemed within reach for the program. It is a tall order, but if any Chicago swimming team has ever been capable of bringing home UAA gold, it's this year's men and women.
"This has been the best season in the history of both programs," Weber said. "I expect the teams to continue their successes at UAAs and surprise a lot of people."