Nurses vote to strike
Over 1,000 UCMC nurses voted Tuesday and Wednesday in favor of allowing a 24-hour union strike once their contract with the hospital expires.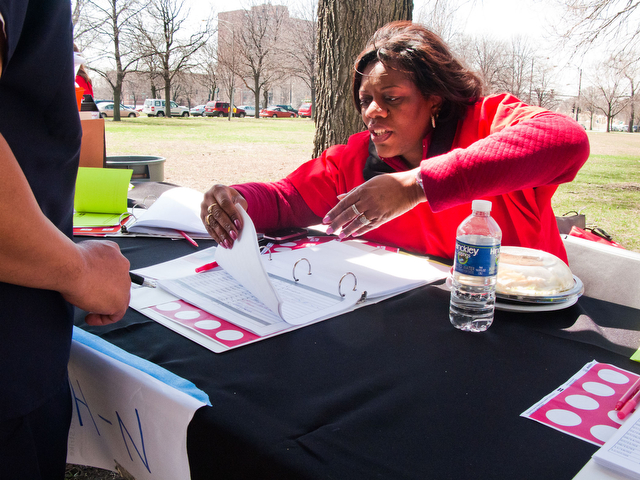 Nurses at the University of Chicago Medical Center (UCMC) voted this week in favor of authorizing their union to call for a 24-hour strike once their contract with the hospital expires.
National Nurses United (NNU), which has represented UCMC nurses since June, is concerned that issues with hospital staffing and shift rotations are coming at the expense of patient care.
"We're not going to neglect our patients, but the purpose of this strike is so that we can [provide] daily care for our patients that come in," Muriel Lee, a UCMC registered nurse who was on NNU's negotiating team, said. "Patients come first," she added.
Roughly 1,250 NNU nurses voted Tuesday and Wednesday in a tent on the Midway. The vote allows NNU to call for a strike only after giving a 10-day advanced notice to the UCMC.
"The nurses voted overwhelmingly for the strike vote," NNU National Organizer Corey Lanham said. "It was like a four to one vote."
The UCMC views the strike vote as premature, since NNU will only be able to strike once the contract it renewed on March 30 expires June 28.
"A strike authorization vote usually doesn't happen unless a contract is up," UCMC Manager of Executive Communications Cara Birch said. "This is a really premature decision by NNU to take a strike vote while a contract is ongoing."
Lee believes that this strike vote, similar to a vote held five years ago, will motivate the UCMC to bring more to the bargaining table.
"With that vote [five years ago], management came to the table and came very close to what we were asking for," Lee said.
The strike vote is the latest development in a drawn-out bargaining process between the UCMC and NNU.
In particular, NNU has been bargaining hard for the UCMC to put a charge nurse on call without any other obligations. Charge nurses are solely responsible for managing the patient care area. However, NNU has complained that the current charge nurses on staff are also tied up with other assignments, preventing them from carrying out their normal duties.
"Currently a charge nurse has a patient assignment," Lee said. "It makes it quite difficult for them to assist when they have a full assignment like their colleagues do."
The nurses also take issue with the fact they are required to work both day and night shifts during the week, which they argue is unduly tiresome and poses risks to their patients.
"Studies show that when you switch shifts, you make more medical mistakes," Lee said.
According to Birch, the UCMC has recognized the problem of switching shifts and has agreed to reduce these rotations, but it has not eliminated them entirely out of a need for flexibility.
"Even though there's concrete data that shows they need to make changes in patient care, they're still refusing to make changes," the lead negotiator from NNU Jan Rodolfo said. "They're still refusing to listen to solutions that registered nurses put forward."
NNU has also complained that the 18 nurses in the electrophysiology and gastrointerology department are on a lower pay scale than the rest of the hospital's nurses, though an April 5 economic proposal from the UCMC included six percent raises for those nurses.
The hospital attributed its continued need to keep costs down to the effects of federal and state budget cuts.
"I think that this hospital is unique in that it's doing very well financially," Rodolfo said, referring to other hospitals she had negotiated with.
The hospital attributes the slow pace of bargaining to the fact that these are its first negotiations with NNU since the nurses switched to the union last June, Birch said.
"It's a deliberative process that takes time," Birch said. "From the beginning we've been really committed to a collaborative approach and we can come to an agreement at the bargaining table like we have for the past 40 years."
Nine more bargaining sessions are scheduled between NNU and the UCMC between now and May 26.