Scav: Fourth win makes it a Snell-Hitchcock dynasty
Snell-Hitchcock was crowned victor of Scav for the fourth time running, the first such streak in 24 years of hunting.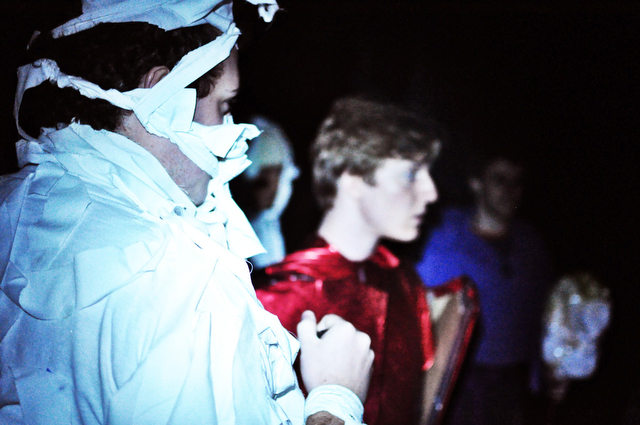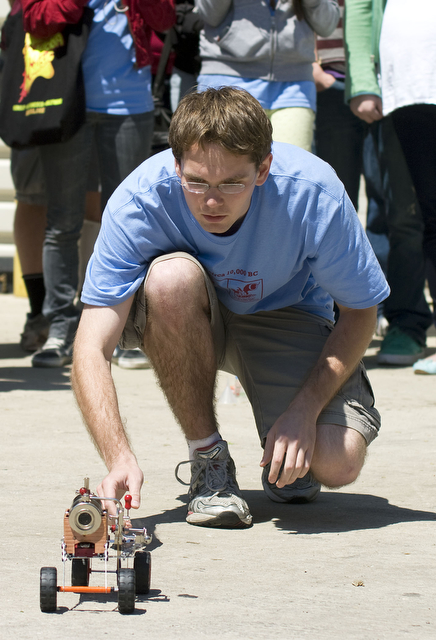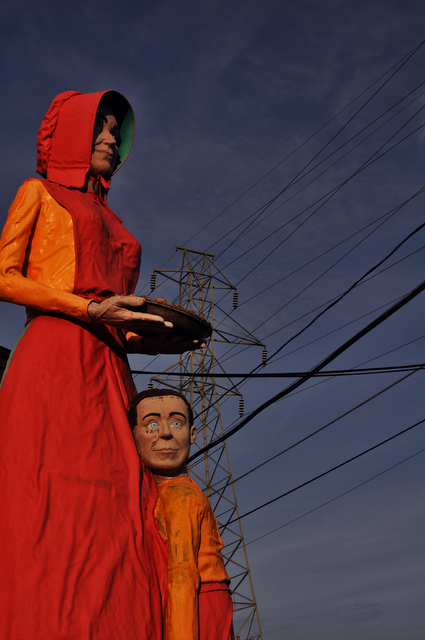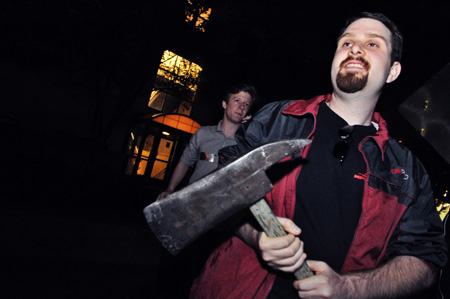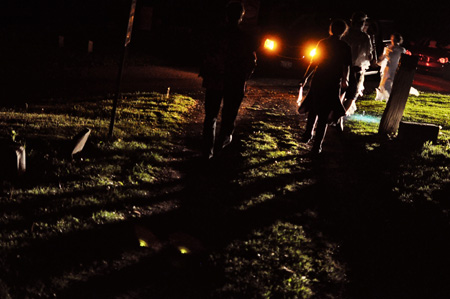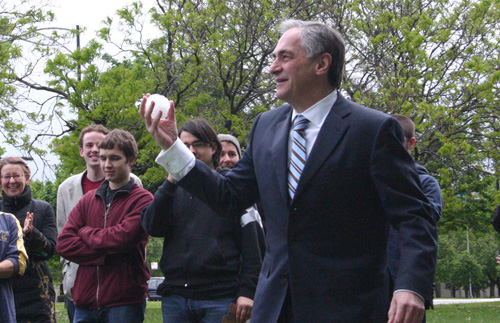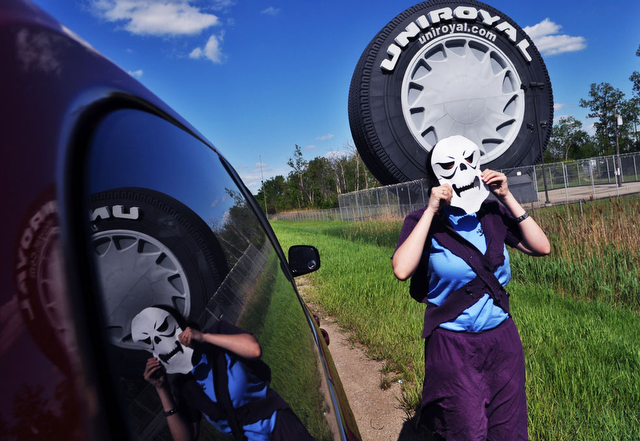 Even before the winner was declared, this year's Scav Hunt was going to be memorable. One team's namesake died the day Scav began; it was the first competition for South Campus, a potential powerhouse; and even President Zimmer got involved, trying his hand at snowball fighting.
Teams raced books on two-hour reserve as far from the Reg as they could—without using a car. They made plasma in a mason jar and cut through knives with butter. They brought a piece of Hell back from Pennsylvania. Four produced Stradivariuses. One took a flamethrower to a straw goat.
But in the end, it was Snell–Hitchcock's victory that stole the limelight. With just over one hundred more points than their competitors, the team was crowned the winner for the fourth time running, the first such dynasty in 24 years of hunting.
Fourth-year Jordan Phillips, a captain for Snell-Hitchcock (Snitchcock), said the achievement felt "pretty fucking great."
Snitchcock has won or tied 12 times since the competition began in 1987 (including one win-by-disqualification, in 1997), winning on average two of three since 1993, which was the beginning of the only other three-peat in Scav history. "It's such a big community accomplishment. It just feels really thrilling to be part of that and to feel at least partially responsible for that success," said Phillips, who has never lost a Scav Hunt.
Snitchcock "put in a remarkable effort," according to fourth-year and Head Judge Emily Watkins, who credited the victory to consistently producing high-quality items rather than any one, exceptionally valuable one.
Phillips said that was due to a huge collective effort. "Having an amazing group of really enthusiastic people is really important. We work from the begining of O-Week to get first-years excited about Scav," he said. "Making it a community activity that we all share has been key to making it work for us."
But Burton-Judson (BJ) and Max Palevsky (Max) both came close to the winning tally, and Watkins was quick to note that those teams also did well. "BJ and Max both did excellent jobs, and I was really excited to see they both got recognized for that with the tie," she said.
BJ and Max both scored around 3225 points for second place, according to scores provided by Watkins; Snitchcock scored 3379.24. The Maclean and Pierce team, MacPierce, came in fourth, South Campus fifth, and Breckinridge eked out Blint, a team made of Broadview and Flint House, by under 40 points. GASH, FIST, and Team Lanie came in eighth through tenth place, and Team T-Rex Ate My Team Name did not score points.
Second-year BJ captain Grace Fisher said placing second was "excellent," especially for a team whose motto is, "If you're not having fun, you're doing it wrong."
"For us, placing doesn't really matter except as recognition of all of the hard work everyone put it," said Fisher. "We had an incredible amount of fun which is what our team cares about the most."
She had nothing but nice things to say about Max's team, which dedicated this year's hunt to its namesake, Max Palevsky (Ph.B. '48, S.B. '48). Palevsky passed away Wednesday morning, about 14 hours before Scav began.
"It's very meaningful that Max Palevsky passed away on the day that Scav started," third-year and team captain Sarah ElShafie said Thursday evening. "We're going to be Scavving the entire hunt in honor of Max Palevsky." She noted that the team held a moment of silence for its namesake, and Watkins said another was observed during Judgment Sunday.
Zach Binney (AB '08), a former Maroon writer who scavved for Max for his sixth straight year, was resting in a side room in Ida Noyes with some sleeping teammates when he spoke with the Maroon, as the teams were in the midst of Judgment (where teams present their accumulated items to judges in five chaotic hours). He said he'd had 10 hours of sleep since he woke up Wednesday morning at 5 a.m. for work. Work which is in Washington D.C., by the way; Binney flew out that afternoon to take part in the proceedings.
"It's another world entirely," he said of Scav, as a jazz quartet tried to play a live, in-game soundtrack to Super Mario Bros. 3. He compared Scav to the end of the Roman empire: "Just nothing but frivolity and hedonism."
President Zimmer took part in the hedonism this year. Item 210 said, "Zimmer is just no fun," and awarded points to the team that could show him how it's done by throwing a snowball at former president Don Randel. BJ did one better, getting the president to toss some snowballs at a cardboard cutout of Randel outside Rockefeller Chapel Saturday, after a meeting.
"I don't think he had ever participated in an event before. I was actually pretty surprised about that because in the past, it seemed like he had not wanted to get as involved in Scav Hunt as other presidents have," Watkins said.
He threw around 10 snowballs (made of shaved ice) just to the left of the Randel cutout.
Across the Midway, the South Campus team was hard at work in its first year of competition. As the biggest and newest dorm, South Campus was rich in resources but low on experience; its predecessor, the Shoreland, was not a Scavving kind of dorm, and few upperclassmen returned to help the team.
"They are pretty much starting from scratch," Watkins said. "That they managed to be an entirely new dorm, mostly full of first years, and to come in fifth place was really impressive."
Second-year and South Campus captain Emily Ayala was also impressed. "Our team worked together really well," she said. "It was completely unexpected, too."
Fourth-year Caitlyn Buchanan scavved for Shoreland last year and captained for South Campus this year, even though she lived off-campus. She said the facilities South Campus offered the team were a a lot nicer than at Shoreland and that more people were involved, including "a lot more really excited freshmen who can stay up all night and really don't mind that much."
Snitchcock captain Phillips said that South Campus has a bright future ahead of it, and not just because the dorm has a glass exterior—to which the team name, the Glass Panopticon, gave a playful nod—but because the team's current form bodes well for the future and should prevent the game from getting stale. "Seeing a newcomer show up and play so well and show such enthusiasm is good for the future of the game," Phillips said.
– – – – – – – – – – – – – – – – – – – – – – – – – – – – – – – – – – – – –
Overheard at Judgement Day
Overheard while teams presented their items to the judges Sunday. Items are included.
•"The Chernobyl LEDs will all be on." – 89. Ride the rails with the roving little Jollyball and see the sights of the country of your choice… [150 points]
•"He said, 'The sulphur is really dangerous for you to be breathing,' as he's bouncing his toddler on his hips." – 193. (Road trip) After the burnt-out building, look for Our Lady of the Wastes. You're very close now. Can you smell it?…bring us back a piece of Hell. [30 Points]
•"Chainsaw horse! Chainsaw horse!" – 167. Find the anima little girl in every lumberjack with a functioning my-little-unicorn-princess-hobby-horse with a chainsaw horn, and put it to good use chopping up some buttercups and rainbows. [25 points]
•"Nowyouknowthenotestosing! Youcansingmostanything!" – 133. Look, Maria, this is ScavHunt. While I'd love to spend a whole day frolicking through the Alps with you and the von Trapp children, I simply don't have the time. You're going to have to take your Do-Re-Mi and speed it up…[1.6 points per 10 seconds under 5 minutes]