Obama rallies on Midway
"It is good to be home," President Barack Obama said at his rally Saturday night. Appearing alongside the President were Mayor Richard Daley, Senator Dick Durbin, Alderman Toni Preckwinkle, and rapper Common.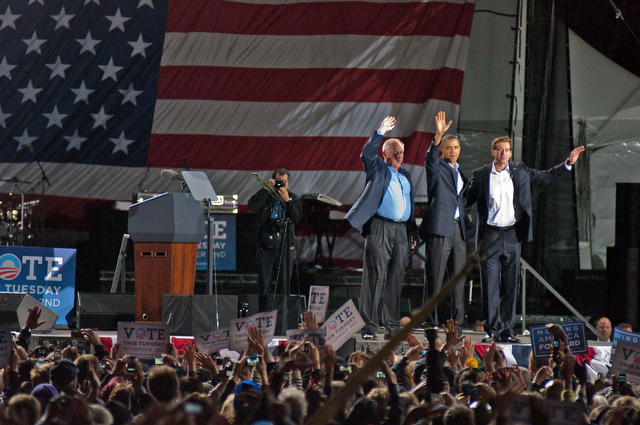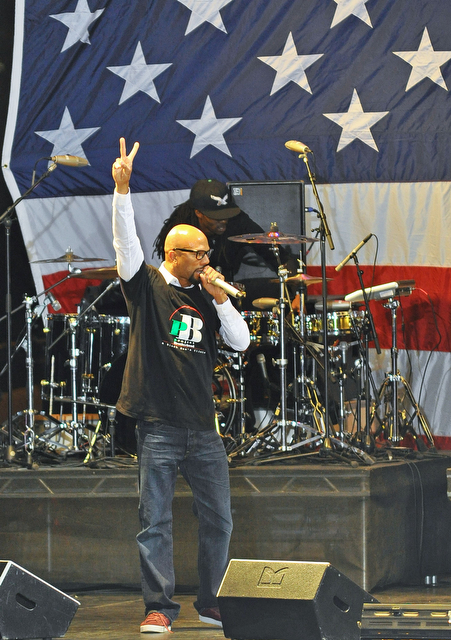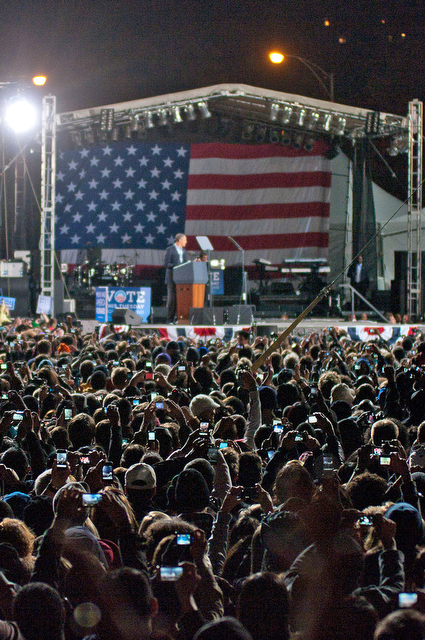 President Barack Obama rallied in Hyde Park for the first time Saturday, in an effort to win votes for Illinois Democrats in today's elections.
"It is good to be home," said Obama at his largest Chicago event since election night in 2008 in Grant Park.
The rally on the Midway Plaisance was one of the Democratic Party's final efforts to get out the vote for the lagging campaigns of Governor Pat Quinn and U.S. Senate nominee Alexi Giannoulias (X '98), both of whom trailed their Republican rivals by a couple of points heading into today's elections.
Senator Dick Durbin, Mayor Richard M. Daley, Fourth Ward Alderman and candidate for Cook County Board President Toni Preckwinkle (A.B. '69, M.A.T. '77), and hip-hop artist Common also joined Obama in rallying his voter base from the 2008 presidential election.
The Democratic National Convention (DNC), which organized the "Moving America Forward" rally, estimated about 35,000 turned out for the rally, filling the fenced-off section of the Midway between South Woodlawn and South Dorchester Avenues, although the Chicago Sun-Times reported 20,000 attended the event.
Before Saturday's rally, Obama's closest involvement with the University of Chicago as president had been playing basketball at the Lab Schools' gym when staying in Hyde Park.
But the U of C, where Obama taught law, played a number of roles in getting the rally off the ground. Administrators helped coordinate security for the event; students from UCDems, the University's Democrat RSO, volunteered before and during the event, helping to set up and direct rally-goers.
Lab Schools students recited the Pledge of Allegiance before the rally and the campus a capella group Ransom Notes sang the national anthem.
Obama and the other politicians reminded attendees about legislation Democrats had enacted since Obama took office—most notably the stimulus package and health care reform—and held Republicans responsible for holdups and compromises on issues like economic reform and education.
"It's up to you to remember that this election is a choice between the policies that got us into this mess and the policies that are going to get us out of this mess," Obama said to a supportive crowd that included many U of C students.
Obama said the policies enacted over the past two years, including increased education funding, health care reform, and an economic stimulus package, are just the first steps to put America back on the right track. "We've still got a long way to go," Obama said.
Incumbent governor Pat Quinn, battling to hold his seat against Republican candidate Bill Brady, applauded Obama for passing the stimulus package, which he said gave Illinois federal money that helped keep people employed. "In 2008, we changed the guard, America. And in 2010 we're going to guard the change," Quinn said.
Senate nominee Alexi Giannoulias accused the Republicans of "saying no" to reform. Crowds cheered when he countered Republican claims that Obama will be a "one-term" president. "I've got news for them," he said, adding, "They picked the wrong city, the wrong state, and the wrong time."
Giannoulias, almost tied in the polls with Republican Mark Kirk for Obama's old senate seat, gave his own speech to U of C students at I-House last Monday.
Illinois Senator Dick Durbin encouraged attendees to call up five friends and remind them to vote. "Before the Republican party starts dancing in the end zone, let me tell you, here in the home of the Chicago Bears there's 10 minutes left in this game, and we're going to win it," he said.
Fourth Ward Alderman Toni Preckwinkle, who is expected to win the Cook County Board Presidency today, also spoke on the importance of getting the vote out. "No real effort to bring change has ever been easy," Preckwinle said.
She shared her own experiences participating in democracy. "I started out knocking on doors and licking envelopes," she said. "The work that makes democracy strong is not always glamorous. It's tedious, boring. But if we don't do it, who will?"
Hip-hop artist and Chicago native Common got the audience singing with lyrics tailored for the event: "From one king's dream he was able to Ba-rock us," he rapped.
Though Obama did not mention the U of C in particular, he reached out by addressing student issues like the rising price of a college education. "We poured tens of billions of dollars in student loans to make college more affordable for students across the country," he said, noting that the U.S. has dropped from first to ninth place worldwide in college graduation rate.
"When we make decisions about deficits, we're not going to make them on the backs of students," he added.
Dozens of U of C students from UCDems were involved in coordinating the rally.
Around 80 student volunteers came to help raise voting numbers and campus political awareness, said UCDems' third-year executive director Anna Zelenz.
Student volunteers made signs Friday directing attendees to entrances and posters encouraging people to vote. On Saturday, they held signs, ushered, and tabled to inform people about voting locations, and asked attendees to sign Democratic petitions.
First-year UCDems volunteer Daniel Corneaux pointed to Obama's presidential election, which reached out to youth voters, as a reason for the high turnout of student volunteers. "There's no better way to energize college students," Corneaux said. "President Obama has a lock on his brand and it is so much stronger than any other member of the party."
Zelenz hopes that Obama's appearance will spur apathetic U of C students to vote and help campus-wide political activity. "We don't have as active student body as we would like, but [we] have Obama to come and inspire [students] to get out and be active," Zelenz said. "We have students who see Obama and will want to get active."
The competition for Obama's senate seat between Giannoulias and Kirk makes the Chicago elections particularly exciting, Zelenz said. "The Illinois senate race is the closest in the country and one of the closest midterm election races that has ever occurred," she said. "Chicago politics is always complicated but always exciting."
Third-year Maritza Gomez said she was happy to see Obama back on campus, but wished he had acknowledged his U of C audience. "It was great that he [Obama] was right here at the University of Chicago, except that he didn't mention us once," she said.
The University of Chicago administration found out about the plans for the rally last Monday, one day before the event information was released to the public. While the Midway is owned by the City of Chicago, the University helped to coordinate security and sent out notifications about the rally, including traffic restrictions related to the event.
Obama spent Saturday night at his Kenwood home and bought breakfast for Giannoulias and Quinn at Valois Sunday morning, according to fourth-year Carolyn Wald, with patrons looking on.
–Additional reporting by Christina Pillsbury and Jonathan Lai