One Campus wins SG election in landslide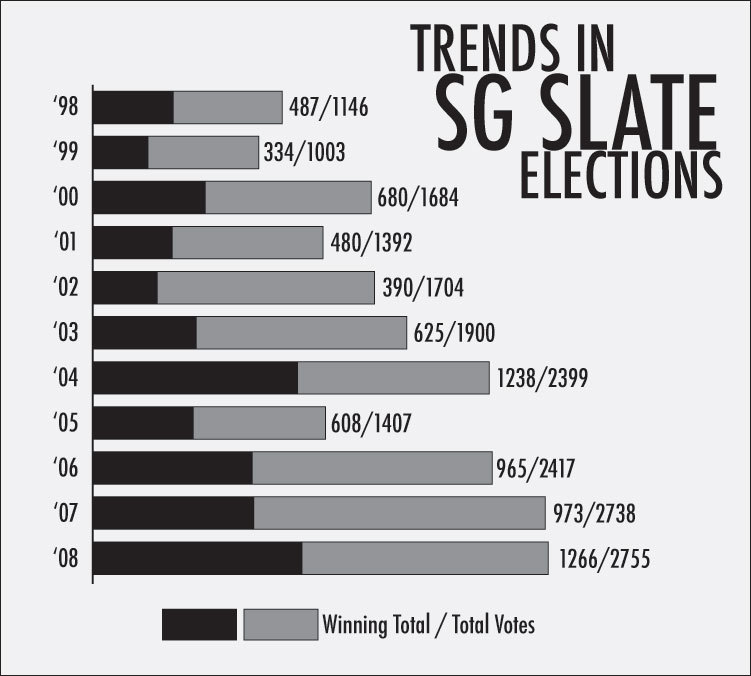 One Campus was declared the winner of Student Government (SG) executive slate elections last night, handily beating Connect Four, their closest competitors.
The executive slate is comprised of SG president, vice president for administration, and vice president for student affairs. The race for undergraduate liaison to the Board of Trustees was highly competitive, with four candidates. Third-year Aliza Levine won with 854 votes.
College Council (CC) representatives and the graduate liaison to the Board of Trustees were also decided in this week's election. "We had a high turnout relative to previous years," Archie Chandrasekhar, chairwoman of the Election and Rules Committee, said.
A record 2,755 students voted, up slightly from last year. The turnout is consistent with a recent trend of increased voter participation following 1,407 voters in 2005. Chandrasekhar attributed the rise in voter turnout, especially among graduate students, to the inclusion of graduate students on slates. Graduate students cast 839 ballots this year.
"Two of the slates had graduate students running," she said. "People are more inclined to vote for people like themselves."
One Campus won the slate election with 1,266 votes, just over double Connect Four's 629 votes. Third year and president-elect Matt Kennedy was surprised by the results. "Connect Four put on a great debate. The students had two competitive candidates," Kennedy said. "[But our win] was an overwhelming endorsement by the student body."
Graduate student Anthony Green, Connect Four's presidential candidate, was disappointed with some aspects of the campaign but declined to comment further because of his current position as president of the Graduate Council. Nonetheless, Green said he holds no grudges.
"Matt Kennedy has a lot of good experience. If we didn't win, I'm glad that they did win," Green said.
Current SG president Scott Duncombe was excited for One Campus's victory, and in particular for Kennedy, who is currently SG vice president for student affairs. "Now relationships we've built can pass on directly. I'm happy Matt is getting recognized for his accomplishments," Duncombe said.
Undergraduate liaison to the Board of Trustees–elect Levine attributed her win to her exposure in the University community. "I've been visible for longer, so I think I won on sheer experience alone," she said.
Second-year Jospeh Dozier, the second-place finisher for undergraduate liaison with 672 votes, said that his loss was due to a misreading of his opponents. "I knew Aliza and I were going to be close, but I didn't expect Nick Zhao to garner so many votes," Dozier said of Zhao's 261 votes, "He was the Ralph Nader of the election."
Levine, co-chair of Students Taking Action Now: Darfur, drew support from students who identify with the causes she represents, Duncombe said. "Aliza's election shows the strength of that community," Duncombe said. "The election is a referendum on those issues. People want those issues brought to the board."
Second-year Louis Potok, who placed third in the liaison contest with 342 votes, had reservations about that characterization of the position's role within SG. "I question whether Aliza will be able to divorce herself from her personal feelings when representing the Board to the student body," Potok said, referring to Levine's history of political activism on campus. Levine has maintained that that history will not interfere with her responsibility to accurately represent the student voice to the board.
Nick Rodman, Kati Proctor, Christina Melander, and Gabriel Gaster all won seats on CC representing the class of 2009; Rodman led with 196 votes. Jarrod Wolf had the most votes of any CC candidate with 241. Prerna Nadathur, Aaron Goggans, and Jay Kim will join him as class of 2010 representatives. The class of 2011 elections were led by Mark Redmond, who garnered 236 votes. Victor Leung, Archibald England, and Arthur Baptist also won seats.
Notable among the results were the five council seats garnered by members of SGProgress, a coalition of 10 candidates drawn from various activism-oriented student groups on campus who ran on a common platform of SG reform.
Second-year and CC chair Ben Esparza said that the high turnout for CC elections was due to the competitiveness of the races and the character of the candidates.
"There was a high turnout in part because a lot of people were running, but also the winners reflect members who have worked hard on their own," Esparza said, citing Wolf's role in founding the Coalition of Chicago Colleges, a consortium of colleges that aims to politically unite the city's schools.
Graduate student Brian Cody, who ran unopposed for graduate liaison to the Board of Trustees, was elected with 1,728 votes.
Adrian Florido contributed to the reporting of this article.