Leaving the force
After 20 years with the UCPD, Rudy Nimocks hangs up his badge.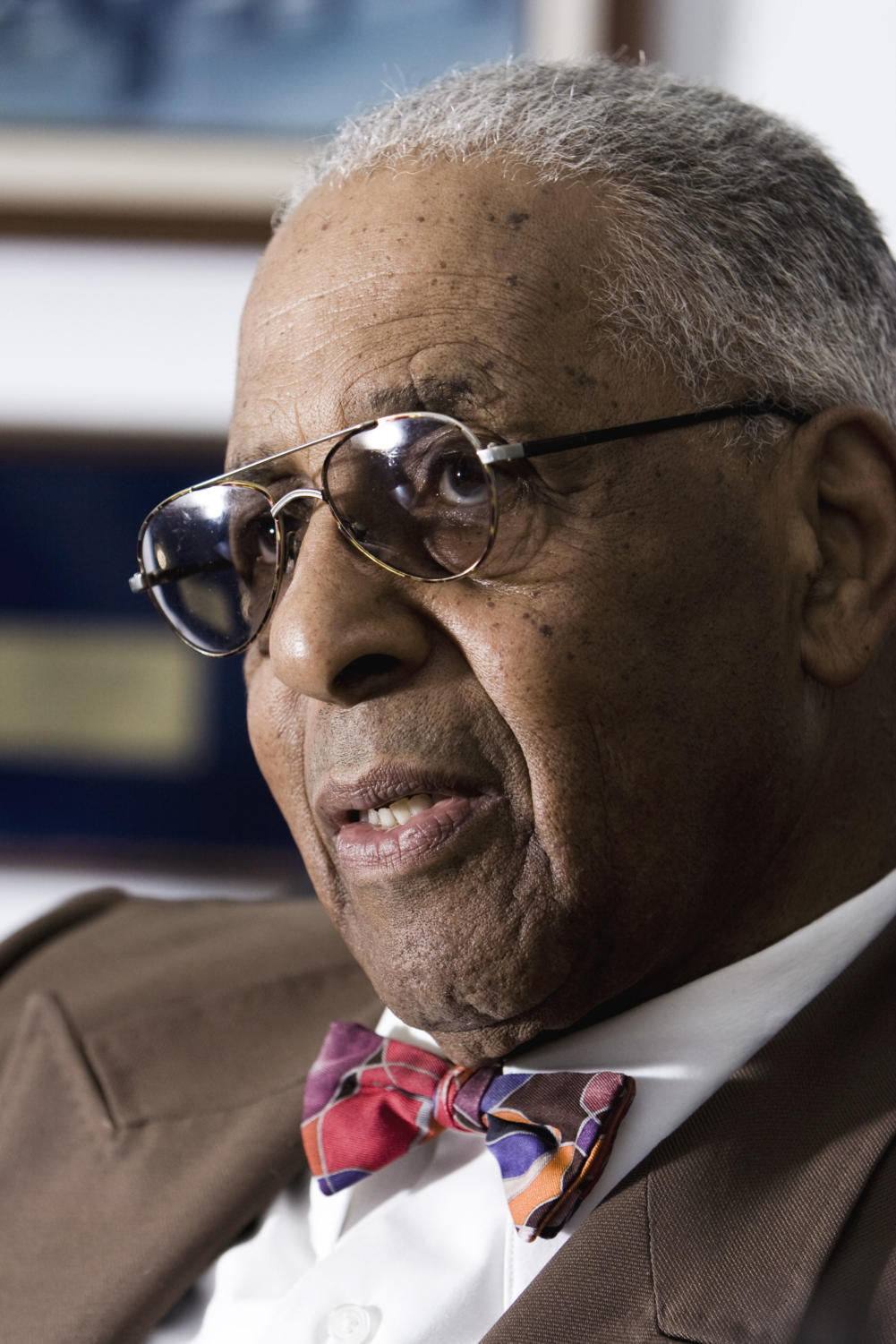 Shortly before 10:00 p.m. on the evening of April 22, 1968, a 21-year-old male was found lying against a fence on the sidewalk near the corner of East 56th Street and South Kimbark Avenue. He had a shotgun wound on the left side of his mouth and was pronounced dead on arrival at Billings Hospital. The victim, Roy D. Gutmann, was a University of Chicago student, on track to graduate later that spring.
Rudy Nimocks, a homicide detective for the Chicago Police Department (CPD) at the time of Gutmann's death, was the lead detective on a team of five officers assigned to the case. For two weeks, the detectives questioned hundreds of residents and students, sometimes working 30-hour shifts until they found a lead. The three youths implicated in the murder were sentenced to 100–150 years in the Illinois State Penitentiary.
"The hours didn't mean anything to us," Nimocks says now, recalling the acute sense of urgency associated with the case. "All it takes is a tiny bit of information, one little clue that will determine whether the case will be solved."
It would be 39 years before another U of C student was murdered. But when Ph.D. student Amadou Cisse was killed outside his South Ellis Avenue apartment in 2007, there was a familiar face handling the fallout. He was nearing his eighth decade, and he worked for the University now, not the city, but Rudy Nimocks was still the face of security in Hyde Park.
Today, all that remains from the Gutmann investigation is a faded yellow typewritten police report buried beneath a stack of records and newspaper clippings on Nimocks's messy desk. For the first time in 20 years Nimocks, is getting ready to move—and for the first time in over half a century, it's not simply to a higher position in the police department.
Strewn across the former University of Chicago police chief's office—which has been in slight disarray ever since Nimocks was appointed director of community partnerships in the University's Office of Civic Engagement in May—are cardboard boxes and souvenirs from 54 years of, as he puts it, "playing cops and robbers" in Chicago.
Nimocks grew up in the neighbrhood now known as Bronzeville. In the 1940s, a teenage Nimocks served from the projects as the president's war counselor for the street gang 13 Cats, determining who to fight after school for neighborhood supremacy. But Nimocks—thanks to strict parents and a childhood dream—had bigger plans for the future. "I always knew I wanted to be a policeman," Nimocks says. "I can't explain it, I just knew."
Before joining the nearly all-white police force of the 1950s, Nimocks tried a variety of jobs; his résumé is a testament to the limited opportunities that were open to young black men at that time. He worked as a CTA bus driver, a postman, a fireman, an insurance salesman, joined the military for 18 months, and even tried boxing, but found it too dangerous because the blows "shook your brain like Jell-O." While he then committed himself to an arguably more dangerous profession at 27 when he joined the Chicago Police Department in 1956, it was a job that would require a sharp mind and an eye for unlikely clues.
Nimocks's police career began in the Chicago Park District Police Station—the building that now houses the DuSable Museum of African American History—where he started out as a patrolman covering 53rd Street and the Midway. At that time, there were only six black sergeants and one black lieutenant in the entire CPD.
In a corner of Nimocks's desk, propped up next to various medals of honor, sits a laminated page from a 1959 edition of the Chicago Defender, listing all the black police officers in Chicago. Nimocks proudly points to his name, one of five listed under the Hyde Park District.
Early in his police career, Nimocks gained a reputation for catching stickup men. In one case, he brought down a thief fleeing a robbery at a Hyde Park cleaning establishment with a single bullet in the thief's right heel.
In 1961, Nimocks began a 14-year stint as a homicide detective; a decade later he decided to combine his street smarts with a more formal education, earning degrees in public administration and management from a variety of institutions, including Northwestern and I.I.T. In the 17 years that followed, Nimocks traveled to virtually every corner of the Southeast and West Sides, serving in roles from sergeant to lieutenant to city-wide homicide commander to chief of the Organized Crime Division to deputy superintendent for administrative services and, finally, deputy superintendent for investigative services.
In 1989, after 33 years with the CPD, the long-time Woodlawn resident Nimocks became chief of the University of Chicago Police Department. But even after working a slew of prestigious administrative jobs, Nimocks remembers his time as a homicide detective as the most exciting time of his police career.
---
On a Tuesday morning in 1968, a man was found dead in a cramped room on the third floor of a hotel in the heart of the South Side. The offender, motive and location of the murder were unknown. Later that day, according to one published account of what happened, two detectives were sitting in an unmarked police car under the El tracks somewhere on the South Side on a hot and muggy night, waiting. They had come to catch a man suspected in the murder, but as they scanned groups of wandering teenage boys, grocery stores, pool halls and neon "checks cashed" signs, they were looking for any abnormality, any clue. A man passing raised a fist and yelled: "Who runs it? The Stones run it!" referring to the Blackstone Rangers, a powerful gang in 1960s Chicago, and looked provocatively, warily at the detective on the right—Officer R. Nimocks. Then, another man crossed the street—"That's him," Nimocks said.
---
As a homicide detective in the Southeast and West Sides, Nimocks worked on cases that rarely made the newspaper. The investigations involved people who weren't "high-profile folks," as he puts it, but Nimocks firmly believed in giving low-income neighborhoods the same kind of justice and protection that more affluent neighborhoods received. And Nimocks's background—a black police officer and resident of Woodlawn since 1952—gave him the necessary tools, especially in the 1960s, when the rise of militant Black Power gangs like the Blackstone Rangers made it almost impossible for white police officers to go into South Side neighborhoods.
"People are more willing to talk to you, the dynamics of the neighborhood are more clear if you are a resident of the neighborhood you serve," Nimocks says, adding that many people he "chased around" as a detective were people he went to high school with. "And I was trusted, people knew I would keep my word."
For Nimocks, the thrill of being a homicide detective came from putting clues together in seemingly unsolvable cases.
"The cases I enjoyed the most were the ones where there were absolutely no clues—a body found in the alley, no identification, nobody saw anything. We'd call those mystery cases," Nimocks says, glowing. "The longer they had been mysteries, the better I liked them. We'd get a case that someone had been working on for six months, and my partner and I would solve it in two days. I got more of a kick out of that than anything I know."
Much of Nimocks's job involved engaging in what he calls "mental gymnastics" with people to get them to tell the truth. In extreme cases, this meant covering all his bases—including, in one case, a visit to the graveyard to verify that a suspect was really dead.
"Their relatives told us the man had died," Nimocks recalls. "So we had the body exhumed to make sure it was the right person, and sure enough, the gravestone had the right name, but it was the wrong body!"
---
When Nimocks became the chief of the UCPD in 1989, he had a chance to turn what he had learned in the field into a practical philosophy of community-oriented policing. "Law enforcement has gone from a rather primitive approach to an emphasis on serving the community," Nimocks says, adding that in the 1950s, police rarely went to community meetings. Now it's a required part of police work.
The UCPD has also shifted in this direction since its inception almost 40 years ago. "The feeling now is that the University wants to be a part of, not apart from, these communities. For many years, that wasn't the case—there wasn't a lot of outreach from the University," Nimocks recalls.
Nimocks admits that he has had to tread a fine line when it comes to communicating security concerns with the community. He cites the example of e-mailed security alerts, which were introduced after the Cisse murder.
"You try to strike a balance—you don't want to enhance fear, but if an incident occurs two blocks from your house, wouldn't you want the UCPD to notify you?" Nimocks says.
"But even if the information is so generic that it has no utility to you personally, you still feel empowered because someone told you," he says. "That's part of the community-oriented policing concept, sharing information."
Since Nimocks came to the UCPD in 1989, the UCPD has expanded its coverage well beyond the boundaries of the University, from 39th to 64th Streets and from Cottage Grove Avenue to Lake Shore Drive in an attempt to serve the community as well as the University.
The community-oriented philosophy is evident in the advice Nimocks gives new recruits. "I tell them this is a service-oriented profession, strictly service. You're not the warden of a penitentiary. And if you make that your philosophy—that you're out to help and serve people—every day you go out in that squad car, you'll be fine," Nimocks says.
In his new role as the director of community partnerships, Nimocks is now hoping to get closer to addressing the causes of urban crime, after years of combating its symptoms.
"They took me out of the military and put me into the diplomatic corps," Nimocks jokes.
"I've seen the problem for a long time, and I have a pretty good handle on how it works. If you look at some of these kids who are involved in gangs, you find the same family profile—strong lack of oversight at home. And so these kids gravitate towards gangs because they are looking for predictability in their lives—believe it or not, gang life is predictable," Nimocks says, citing plans to expand the University's educational programs such as charter schools and tutoring.
For Nimocks, retirement is out of the question. "How do you spell that? It's not in my vocabulary. As long as I have the physical and mental capacity to work—but if either one diminishes just a little bit…if I'm not at my absolute best, I'm done," he says.
Nimocks says he will miss police work. Even in the mostly administrative job of UCPD chief, he made sure to go out every once in while and "help the guys out in the field." He pauses. "I can hardly walk out of the door without looking for crooks—I have an eye out for skullduggery the minute I walk out the door. I can't help it. But that won't be my purpose out there now."
A few days before being appointed to his new position, Nimocks went out in the field one last time. He was cruising through Hyde Park in the evening, looking for oddities, unlikely clues. He spotted a familiar character, "a hustler" carrying a violin case.
"We knew he wasn't a musician," Nimocks chuckles, describing how the UCPD pulled him over and found out he had stolen the violin from a school.
"I get more of a kick out of that than anything."