Update: Two UCPD employees have been placed on administrative leave pending the results of an internal investigation. Read more here.
Update as of March 1 at 5:48 p.m.: Provost Thomas Rosenbaum has released a statement in response to the incident.
"The behavior as described is antithetical to the University's values and we will not tolerate it. The University will investigate this expeditiously and take immediate steps to ensure it is not repeated," the statement read.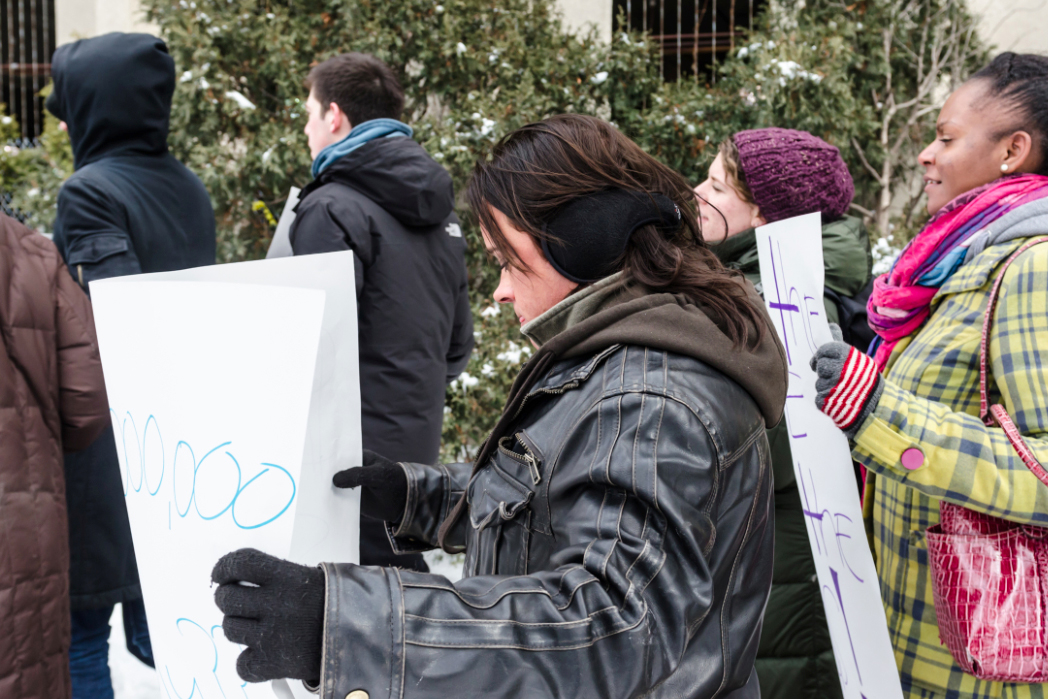 A Maroon investigation has obtained photographic evidence that an on-duty UCPD detective dressed in plainclothes posed as a protester and marched in the trauma center protest on Saturday. She has been identified as Detective Janelle Marcellis.  According to Fearless Leading by the Youth (FLY) and Students for Health Equity (SHE) leaders, she did not inform the protesters that she was a detective.
Detective Marcellis texted a UCPD official while marching in the protest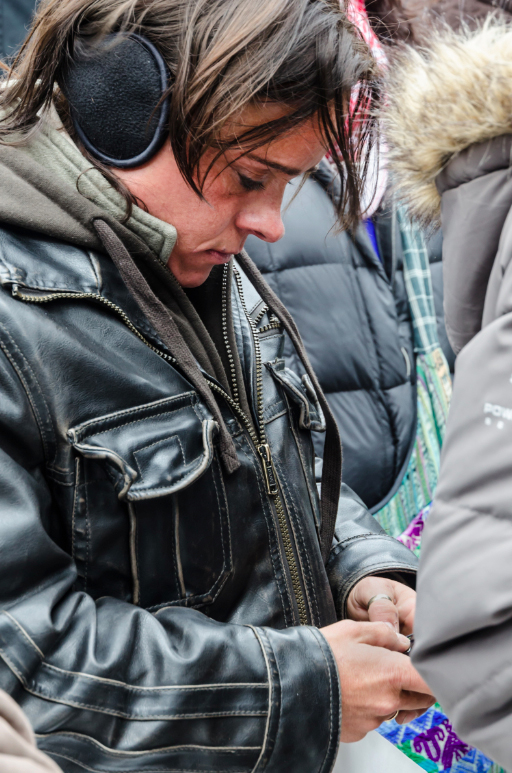 Marcellis participated actively with other protesters in the demonstration. During the march, she held a sign that read, "$700,000,000. Seriously??", referring to the cost of construction of the Center for Care and Discovery (CCD), which opened the same day.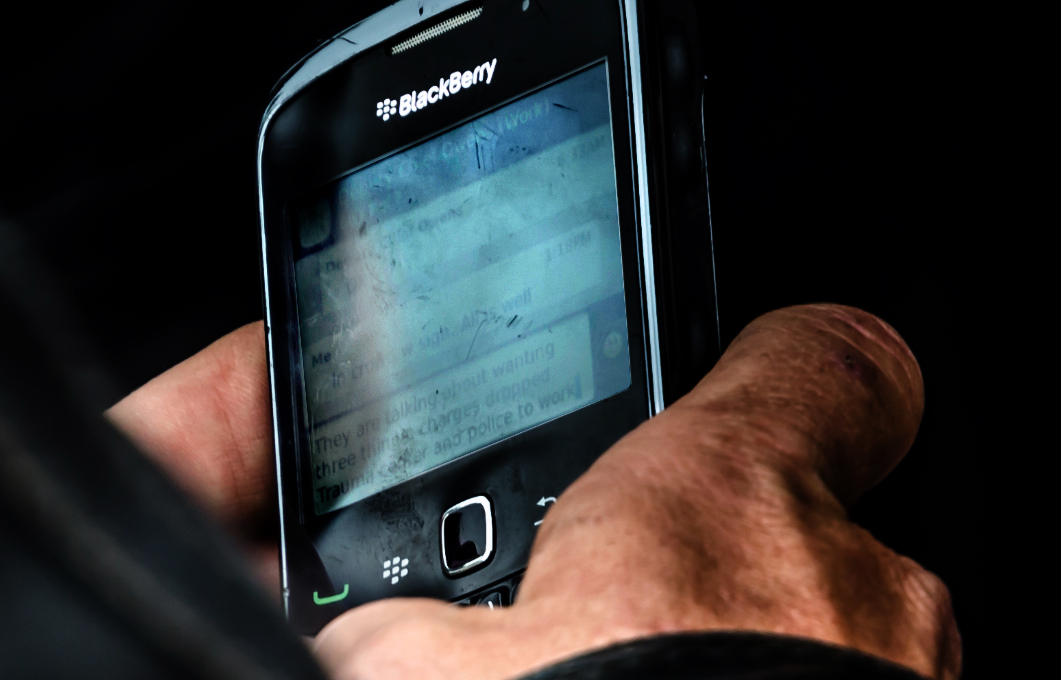 Upon arrival at President Zimmer's house on East 59th Street and South University Avenue, protesters placed stickers over their mouths in protestation of what they saw as the University's attempt to silence dissent on the trauma center issue. Marcellis placed a sticker over her mouth that read, "Trauma center now," in red marker.
After several FLY and SHE members noticed Marcellis and grew suspicious of her involvement, one protester decided to take photographs of her during the demonstration. Alex Goldenberg, an organizer of FLY who was one of three arrested during the January 27 protest, said Marcellis appeared out of place during the demonstration.
"She just didn't look comfortable with herself, and she didn't look like she knew people," Goldenberg said.
While the demonstrators were at Zimmer's home, Marcellis asked other protesters questions that, according to Goldenberg, were "in a way that a person going to an event [such as this] wouldn't ask."
"I was speaking with somebody else afterward about how she awkwardly asked them what we were doing at the president's house," he said. "She [then] asked if that was all we were doing."
As shown in the photographs, Marcellis texted Deputy Chief of Investigative Services Milton Owens, relaying the proceedings of the event.
"In crowd w[ith] sign. All is well," she wrote in a text message addressed to "Deputy Chief Owens (work)."
Patrick Dexter, third-year SHE member and a speaker during the press conference in front of the CCD, made three demands directed at the University: that charges for those arrested during the January 27 protest be dropped, that an adult level-one trauma center be re-established at the UCMC, and that the University work with the community to reduce violence in the neighborhood.
In a second message to Owens, Marcellis listed these demands.
"They are talking about wanting three things charges dropped trauma center and police to work," reads the text, which she appears to be in the process of typing in one of the photos.
Olivia Woollam, fourth-year SHE member, and Duff Morton, a member of Southsiders Together Organizing for Power (STOP), acted as police liaisons during the protest on Saturday. Woollam said that both she and Morton made their roles clear throughout the demonstration, introducing themselves to officers at both the corner of East 58th Street and South Maryland Avenue by the CCD and at Zimmer's house.
Woollam and Morton both attest that Marcellis never revealed herself as UCPD personnel.
When interviewed by the Maroon, Marcellis said she was "present and working" for UCPD during the protest, but declined to comment on the specific nature of her work.
Robert Mason, a crime analyst at the Investigative Services Bureau and Public Information Officer for UCPD, declined to comment on Marcellis's participation in the demonstration. In a May 2012 article, the Maroon reported that, according to Mason, UCPD was considering hiring detectives to help with investigations. Marcellis and Robert Rodriguez were hired as detectives in September, according to a UCPD Operations Bulletin.
After repeated phone messages and e-mails, Deputy Chief Owens could not be reached for comment by the time of publication. Associate Vice President and UCPD Chief of Police Marlon Lynch redirected the Maroon to University Spokesperson Jeremy Manier without giving a direct comment.
SHE, FLY, met with UCPD and campus administrators before the protest
The day before the protest, Dexter, third-year SHE member Michael McCown, and graduate student Molly Cunningham met with UCPD Chief Marlon Lynch, Executive Director of the Office of University Affairs at UCMC Leif Elsmo, and Assistant Vice President of Campus and Student Life Eleanor Daugherty in order to communicate the demonstrators' intentions.
"They had already had a similar meeting earlier with some organ from FLY, so…there wasn't a lot of negotiating going on," Cunningham said. "Sort of initially we thought a lot more was going to happen in that meeting."
Cunningham added that it was a meeting for administrators to "double-check" with them. By the end of the meeting, University officials knew the path of the march that the demonstrators intended to walk, and the protesters agreed that a bullhorn would not be used in close proximity to the CCD.
According to Dexter, the demonstrators had no intention of testing the law at the protest after an incident at a January 27 demonstration when three protesters were arrested. This was the second of two meetings that were intended to ensure that the demonstration followed the temporary ordinances put in place for the CCD's move-in day. The protesters abided by the restrictions.
Two UCPD vehicles remained on the street outside Zimmer's house during the protest while a UCPD officer stood on his front porch.
UCPD employs detectives as part of the Investigative Services Bureau
Marcellis serves as a detective in the UCPD's Investigative Services Bureau. According to the UCPD's Web site, "the Investigative Services Bureau is responsible for identifying emerging crime patterns, proactively combating crime and for follow up investigations of crimes which occur on the University of Chicago property."
"It's very weird considering the interactions [between SHE and UCPD] leading up to the march…that that seemed necessary," Woollam said, referring to Marcellis's presence at the protest without identifying herself as a detective.
According to former UCPD Chief Rudy Nimocks, UCPD officers were never directed to work undercover at peaceful protests during his time as chief from 1989 to 2009. However, in 1998, the UCPD began installing plainclothes officers in "unmarked, regular vehicles" in order to "focus on hot-spots of theft and burglary in the area," according to a March 1998 Hyde Park Herald article. The UCPD did not employ detectives during Nimocks' tenure.
—Additional reporting by Celia Bever, Marina Fang, and Jennifer Standish