Newsletter for April 21
SG budget proposal; U of C plans to build theater on Garfield Blvd.; tips for course registration
Good morning. It's fourth week. This e-mail list continues to grow rapidly—we're now reaching more than 2,000 inboxes! Keep on spreading the word…
BUDGET PROPOSAL: Last year, Student Government's budget drew heavily from one-time rollover funds. That was unsustainable, and the current Slate has $195,000 less to work with this year. To avoid cutting student programs, their proposal would slash the Uncommon Fund and a program that gives students free access to The New York Times. It would also cut significantly from funds going to the Center for Leadership and Involvement.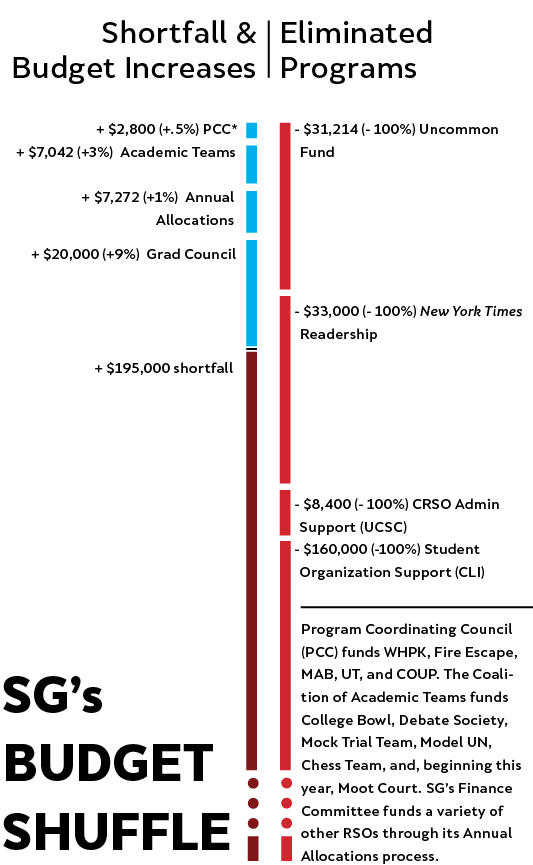 University looks toward new development in Washington Park: At a Third Ward meeting, Artist and Visual Arts Professor Theaster Gates revealed a plan to buy several vacant lots near the Garfield Green Line station to build a park and a theater space, in addition to the arts center currently under construction, DNAInfo reports.
The Maroon had its quarterly meeting with President Zimmer yesterday afternoon. Look out for our story this weekend.
Confirmed: The filming notices posted along 57th Street recently were for an upcoming movie starring Hilary Swank and Michael Shannon. The shoot wrapped this week, according to DNAInfo.
How does the course registration system actually work? We found out, and debunked some myths.
Majors do not have priority over non-majors in bidding for classes in their major.
The theory that you'll have better luck if you only bid for four classes is made up.
First- and second-years have priority for Core classes; for non-Core classes, students get preference based on seniority.
I-House will be the only dorm open during winter break next year. Granville-Grossman will be undergoing maintenance.
——
Joan Krenzer, who played the carillon in Rockefeller Chapel for decades, died at 81. Krenzer climbed to the top of the tower each week to play the bells, according to her obituary in the Tribune. "Her beloved husband, John, always came with her, seeing her safely up to the bells—one hundred tons of bronze that she played with strength and gusto, despite her slight frame," the dean of the chapel said.
Law School Professor Martha Nussbaum was interviewed for the magazine of the National Endowment for the Humanities. Among other things, she compared Hamilton to ancient Greek theater.
… and another prominent Law School professor, Geoffrey Stone, writes in The New York Times that Auburn University's justification for canceling a speech by white nationalist Richard Spencer (A.M. '03)—that the event would provoke a violent response—is not in line with the First Amendment.
——
From our business team: The Graduation Issue is coming up! Don't forget to buy your congratulatory advertisements. E-mail ads@chicagomaroon.com for more info.
——
IN VIEWPOINTS
Sarah Zimmerman writes in:
Columnist Andrew Nicotra Reilly tackles Rahm Emanuel's new policy for Chicago Public Schools, which requires high school seniors to have a post-graduation plan in order to receive a diploma: "You have to inspire students to want to have a post-graduation plan, not just make it an expectation."
Customs and Border Patrol shouldn't search phones without a warrant, argues columnist Natalie Denby: "Phones [are] inherently different from the rest of our luggage."
——
IN ARTS
Brooke Nagler writes in:
Two translators highlighted the merits and challenges of translation at 57th Street Books on Wednesday. They discussed the power of their work to preserve culture as well as its risk in losing nuances.
This week's Manual of Style features Rachel Sally, a fourth-year with an eye for both baked goods and black clothes.
——
IN SPORTS
Emmett Rosenbaum writes in:
Women's Tennis: The No. 9 ranked women's team will play in the UAA tournament this weekend with the hopes of finally overcoming No. 1 Emory.
Men's Tennis: The No. 5 ranked men's team will also play in their UAA tournament this weekend, where they'll look to avenge their recent loss to No. 6 Wash U.
Basketball Playoffs: The eighth seed Chicago Bulls find themselves on the verge of an upset after going up 2–0 in their playoff series against the Boston Celtics.
——
CHICAGO LETTERS
In the South Side Weekly: A proposal to make public transit more accessible and useful to residents of the South Side.
In The Gate: The state of mental health in Bhutan, the tiny Himalayan kingdom that prides itself on being one of the happiest nations but has only one practicing psychiatrist.
——
OTHER HEADLINES