Newsletter for May 9
A big day for unionization groups; translating Zimmer's Spanish; and a history of the Garfield Green Line station
Good morning. It's seventh week.
More and more events are being added to the beta version of our online calendar. Check it out, let us know what you think, and submit your group's events so we can help you reach a larger audience.
One step closer: Graduate Students United, the organization on campus pushing for graduate student workers to be recognized as a union, filed a petition with the National Labor Relations Board today for an election to unionize. The vote is expected in late June. If the union is approved, more than 2,000 graduate students will be eligible to vote.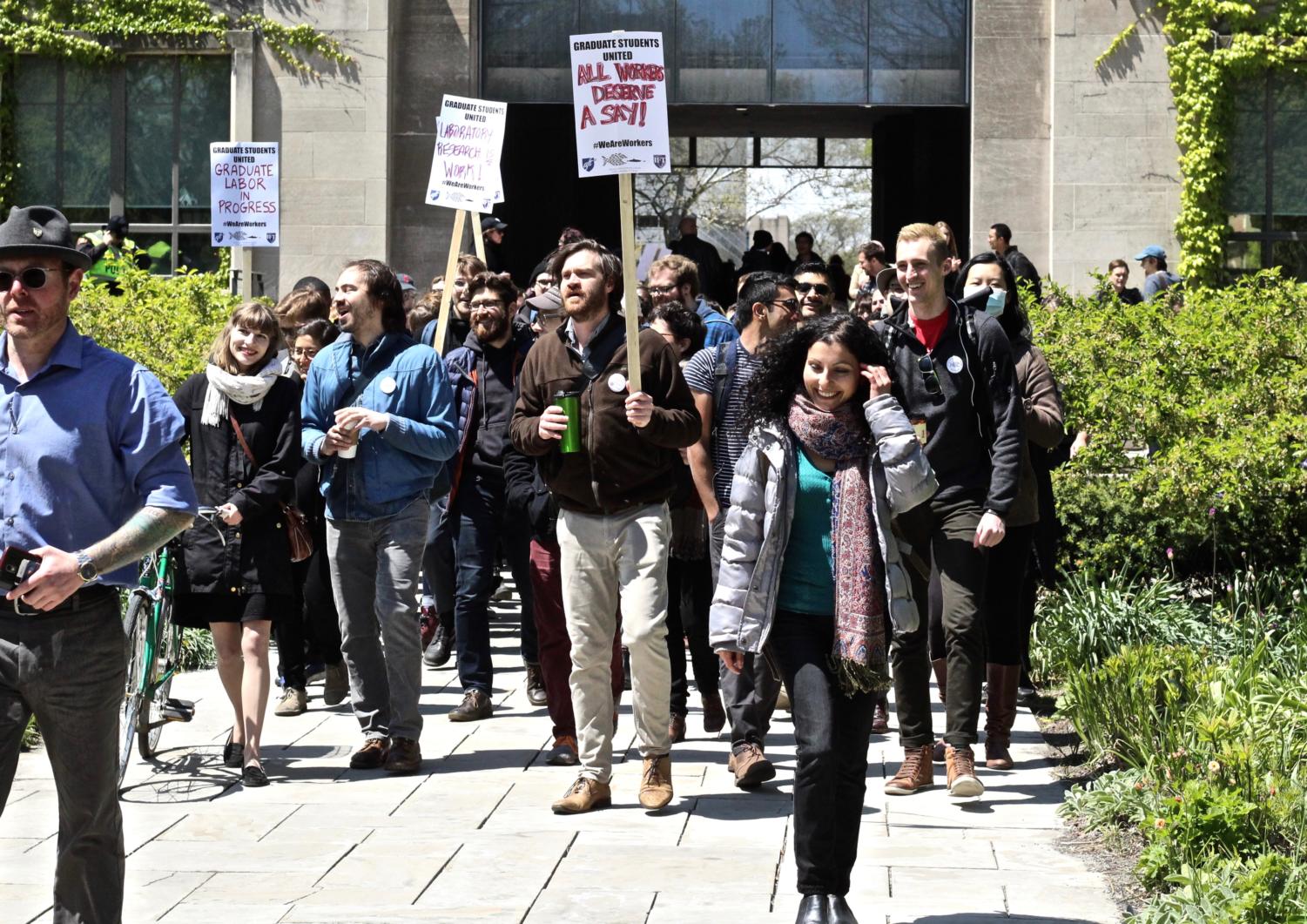 A much smaller group of undergraduate library employees separately filed a petition yesterday for an election to unionize. Pictured above is a joint demonstration on the quad after the filings were announced.
Student Government election results: The Rise slate, pictured below, ran unopposed for the Executive Slate and received 1,008 votes. Click here to see the full results.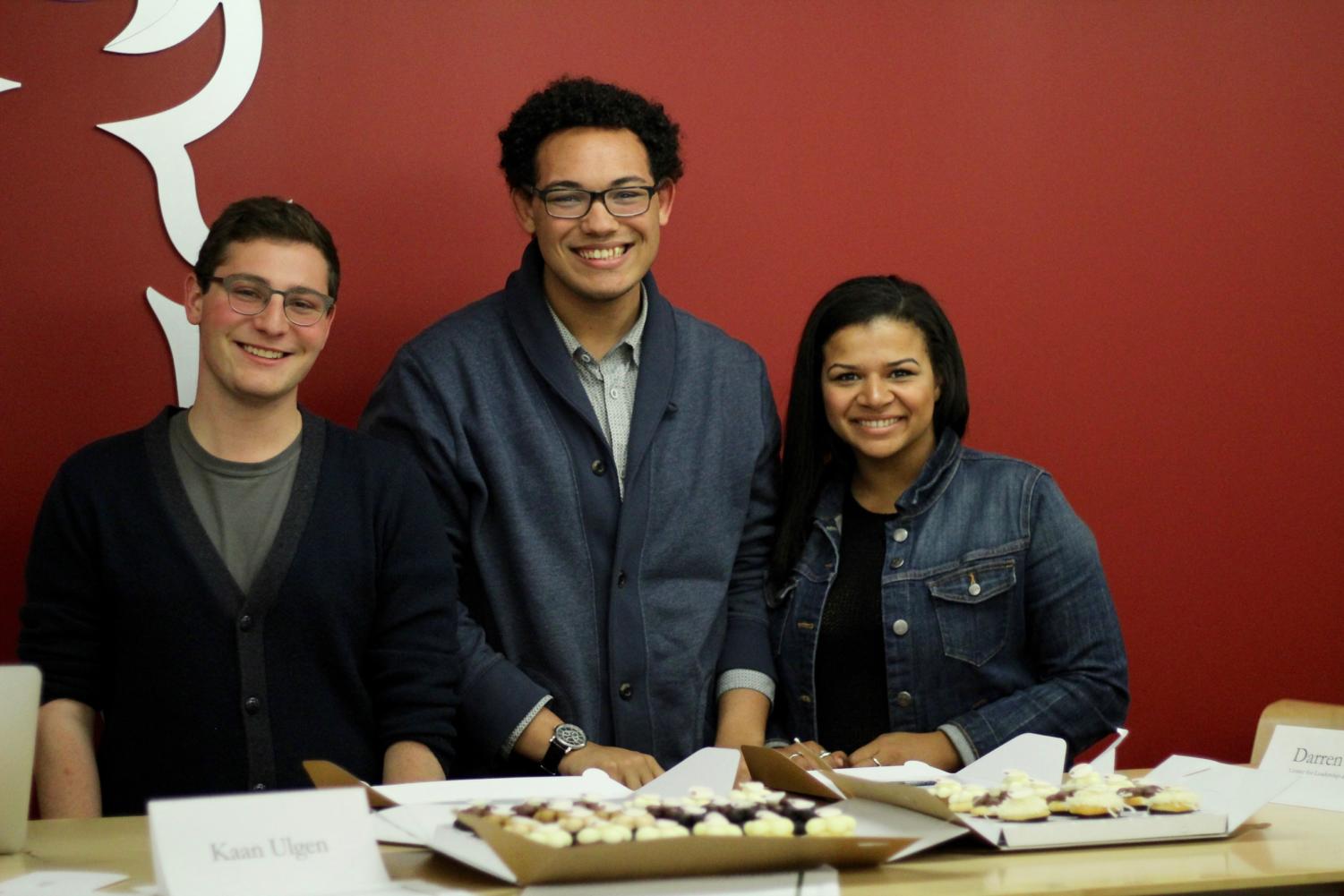 New life for Chicago's oldest CTA stop: The Garfield Green Line station, built in 1892, is part of the University's plan to bring more art spaces to Washington Park. Read in our feature about the historic building and what community advocates are hoping it might be used for instead.
Karl Rove speaks at IOP event: The former adviser to George W. Bush discussed the French election, the Trump White House, and Obamacare with David Axelrod on Monday. Rove pointed out that the GOP's new health care bill says pre-existing conditions shouldn't "limit access" to care, to which Axelrod responded, "Yeah, but Karl, I have access to a Maserati. It doesn't mean I can afford to buy one. … Saying that you have access to health care doesn't mean you can afford it."
State law cites U of C reports: The University's 2015 Stone Report and its 1967 Kalven Report are cited in a law that recently passed the North Carolina House requiring state universities to have disciplinary measures in place for individuals who obstruct free speech.
——
IN VIEWPOINTS
Editor Cole Martin writes in:
In a letter to the editor, student employee Katie McPolin reveals plans for undergraduate library workers to unionize.
Taking issue with social media models who feel no guilt for the unrealistic beauty standards they perpetuate, contributor Magdalena Glotzer thoughtfully examines the diverse emotions she feels toward her own eating disorder.
Columnist Andrew Nicotra Reilly argues that merely attending college—especially a controversy-prone school like UChicago—is an inherently political act.
——
Federal budget: Two University administrators sent an e-mail to "Faculty, Academic Appointees and Staff," pointing out that the recent federal budget deal "includes increases or maintains current funding for a number of areas relevant to the University's academic programs and the science programs of our affiliated laboratories."
The budget outline proposed by Trump earlier this year—though generally considered dead on arrival in Congress—would have made substantial cuts to many of the federal programs the University relies on.
The admin wrote that the University will "continue to advocate for federal funding in areas critical to the University's work."
Not addressed: the looming possibility of Obamacare rollbacks, which could hit the University's hospital, with its unusually large proportion of government-subsidized patients, especially hard.
——
IN ARTS
Editor Alexia Bacigalupi writes in:
"The thing that motivates me the most when it comes to performance is when somebody says 'That really touched me and I can't explain how,'" fourth-year Christine Chin said in this week's Portrait feature on student dancers.
Imani Winds paid tribute to poet Gwendolyn Brooks with a concert celebrating African-American composers, culture, and history.
In the final screening of the 33rd Chicago Latino Film Festival, "Tamara" draws inspiration from the first transgender person to hold elected office in Venezuela, Tamara Adrián.
——
Speech policies: Three high-up administrators are meeting with Student Government's College Council tomorrow to discuss the University's free speech policies. Student Government members requested a discussion on this topic.
Zimmer en español: A Chilean newspaper, La Tercera, published an interview with President Zimmer, conducted during a recent visit. We've translated some of it below.
Interviewer: They say that American university presidents spend a lot of their time collecting funds or donations. I imagine that is not very gratifying work.
Zimmer: I see it differently. I think it's something interesting, because you go to people who have more money than they need for themselves and their families and are looking for something to contribute to. And, well, the university is a great opportunity, because it is a very concrete way of helping people and society. …
Interviewer: Does the University's ability to attract talented students seem to be in danger with the arrival of Trump and his immigration policies?
Zimmer: Indeed, it is a subject of great concern today. And even though there are still no concrete actions, we know of some people who have given up studying in the United States, for the sole reason that they do not know if they are going to have to leave their country for five years, without the possibility of going back to see their families. Or if they return, they run the risk of not being able to come back to finish their studies. The truth is that it is a very complex situation and I only hope that none of it happens. It would really be a disaster for the country and for the university system that, as I said, bases its success on the ability to attract talent from all over the world.
The Sun-Times editorial board says that Obama should listen to community organizers pushing for a community benefits agreement for his presidential library, but the editorial doesn't go so far as to endorse a written agreement.
"One of the wonderful ironies of the Obama Presidential Center—and this really is a good thing—is that the only American president who was once a community organizer now is getting grief from other community organizers."
"As a community organizer, Obama … believed, the voices of ordinary neighborhood people just weren't being heard. True then and true now. Except it's Obama's turn to do the listening."
** The piece states that the Obama's "pals at the University of Chicago" have been key players in library-related decision making. However, in a recent interview, President Zimmer said the University has been hands-off.
Daley's Restaurant, a diner at 63rd and Cottage Grove, is now the oldest restaurant in Chicago, according to DNAInfo.
Store closing: Parker's Pet Spa & Boutique on 55th Street is closing permanently, according to the Hyde Park Herald. "With the sale of two of the largest online pet marketplaces being sold to Petsmart and another to Amazon, we simply cannot compete and keep the lights on."
——
IN SPORTS
Editor Cavell Means writes in:
The baseball team honored its seniors this weekend with a four-game sweep of IIT.
UChicago's League of Legends team fell short in their pursuit for gold at the spring championships.
This week's Senior Spotlight is on fourth-year women's basketball forward Britta Nordstrom.
——
OTHER HEADLINES