Newsletter for August 2
Another alum joins Mueller team; Petition started to support ZBerry; and UCPD reaccredited
Good morning.

If you're a returning undergrad, starting tomorrow add/drop will close for you until August 28, the dean of students in the College announced in an e-mail Monday. "This year, we are launching a new registration system for entering first year students to alleviate some of the stress and pressure that students have experienced registering during O-Week. Instead of registering in person during that time, our incoming students will instead pre-register in August," John "Jay" Ellison wrote.

UCPD reaccredited: The University police department has received "Advanced Law Enforcement Accreditation" from the Commission on Accreditation for Law Enforcement Agencies, the Hyde Park Herald reports. The accreditation, which is voluntary, can improve the reputation and status of a police department.

Our ladies join R-Ladies: A fourth-year in the College has founded a Chicago branch of R-Ladies, an international organization that promotes gender diversity in coding communities.
---
IN ARTS
Editor Alexia Bacigalupi writes in:
The suicide of Chester Bennington, frontman of Linkin Park, was an emotional moment for fans, who were drawn to his vulnerable lyrics and distinctive voice.
Screechy synth from LCD Soundsystem, an exchange with a guy in a neck brace, and unlimited refills of antioxidant-infused flavored water. Friday afternoon at the Pitchfork Music Festival was memorable, to say the least.
---
The New York Times interviewed University of Chicago second-year and Students for Life member Nicholas Duffee and his mother for a story titled "Campus Political Fights Come Home for the Summer" in which the Times interviewed students and their parents "who have struggled to live under the same roof, even for a few weeks."

Petition-signers are rallying around ZBerry frozen yogurt and against Mac Properties and the University after the Hyde Park Herald reported that the shop is closing due to rising rent in Hyde Park. The petition calls for "a rent-stabilization program for Black and minority-owned businesses especially along 53rd Street."

Enhancing Life: A three-year collaboration between the U of C and Ruhr-University Bochum called the "Enhancing Life Project" culminates this weekend in a three-day-long conference. William Schweiker, a professor of theological ethics at the U of C, will open the conference Friday afternoon with a presentation on "Enhancing Life and the Forms of Freedom." Information about the 35 research projects encompassed in the massive endeavor can be found at enhancinglife.uchicago.edu.

Vic Mensa released his debut album, "The Autobiography."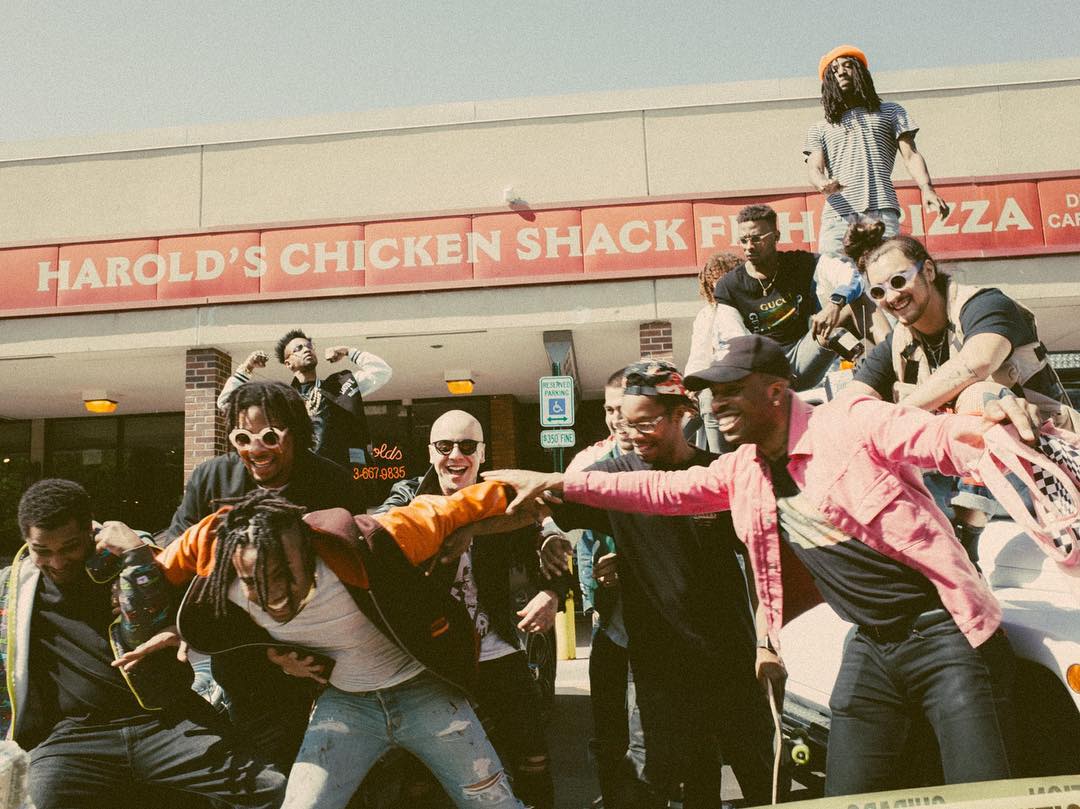 He raps about growing up in Hyde Park, interactions with the police and his activism, and a near-death experience falling off a 30-foot bridge while trying to sneak into Lollapalooza. Mensa, who grew up on 47th Street, said in a 2014 interview that he sees the University of Chicago (where his father used to work) as a separate community from the rest of Hyde Park.
John Morris (LAB '33, A.B. '37), the New York Times photo editor who put defining images of the Vietnam war onto American breakfast tables, died at 100 this weekend. At UChicago, Morris was an associate editor for The Maroon and founded a brief-lived photo-magazine called Pulse.
Legendary Law School alum retires from the bench: U.S. District Judge Milton Shadur (S.B. '43, J.D. '49), has retired after serving on Chicago's federal court for over 37 years. After studying Mathematics and Physics at UChicago, serving in World War II, and working as a private attorney, Shadur was appointed to the District Court by President Jimmy Carter in 1980. Shadur, now 93, decided to retire due to complications from a recent surgery.

Events: Members of the Hyde Park Historical Society sit down to gather oral histories from Hyde Park's long-running arts fairs. August 6, 2–4 p.m., Montgomery Place, 5550 South Shore Drive. Browse more events around Hyde Park and add your own at chicagomaroon.com/events.

Northwestern refuses to bargain with nontenured faculty union: A year after its non-tenure track faculty voted to unionize, Northwestern has refused to recognize the outcome of the vote, citing contested ballots during the election.
Timeline: While the election was held last summer, many of the ballots were contested, and it was only in May of this year that all the votes were counted. The overall result favored the union supporters, leading the National Labor Relations Board (NLRB) to certify the union. Northwestern decided to repeal the certification, and the university continues to wait for NLRB's ruling.
Rationale for appeal: Northwestern argues that some of the ballots were left uncounted, which could have made a difference in the close election where 229 faculty voted in favor of unionization, with 219 against
Nontenured faculty unionization at the U of C: Nontenured faculty at the University of Chicago voted to unionize in December 2015, and in contrast to Northwestern, the University agreed to negotiate with the union soon after. Another alum brought onto Mueller's team: Former U.S. Justice Department official Greg Andres (J.D. '95) has become the 16th lawyer to join special counsel Robert Mueller's legal team investigating Russian interference in last year's election. Andres was deputy assistant attorney general of the criminal division during his tenure at the Justice Department from 2010 to 2012. He was responsible for managing a program that looked into illegal foreign bribes.