---
Good morning. Welcome to second week.

Law prof on special counsel bills: The Law School's Eric Posner argued in testimony before a Senate committee last week that two bills that would help protect Special Counsel Robert Mueller from being dismissed are constitutional. He told The Maroon that he doesn't believe the bills go far enough, but he supports them because they still provide much-needed protections and because their bipartisan backing could send a message to the President:
"The Democrats want a bill that is weak enough that some Republicans will join it, so they can send a stronger political signal…. Favorable votes on this bill would be a very important signal to the President—it would show that Congress very strongly supports Mueller, and therefore that if the President tries to fire him or otherwise interfere with the investigation, there might be a high political cost that he'd prefer not to incur."
"Slavery Built UChicago": More than 70 people rallied and marched for racial justice on Friday, concluding a week of activism events regarding race at UChicago that was organized by a coalition of campus groups. Activists called for the University to consider reparations because of a connection between the original Baptist University of Chicago and Stephen Douglas.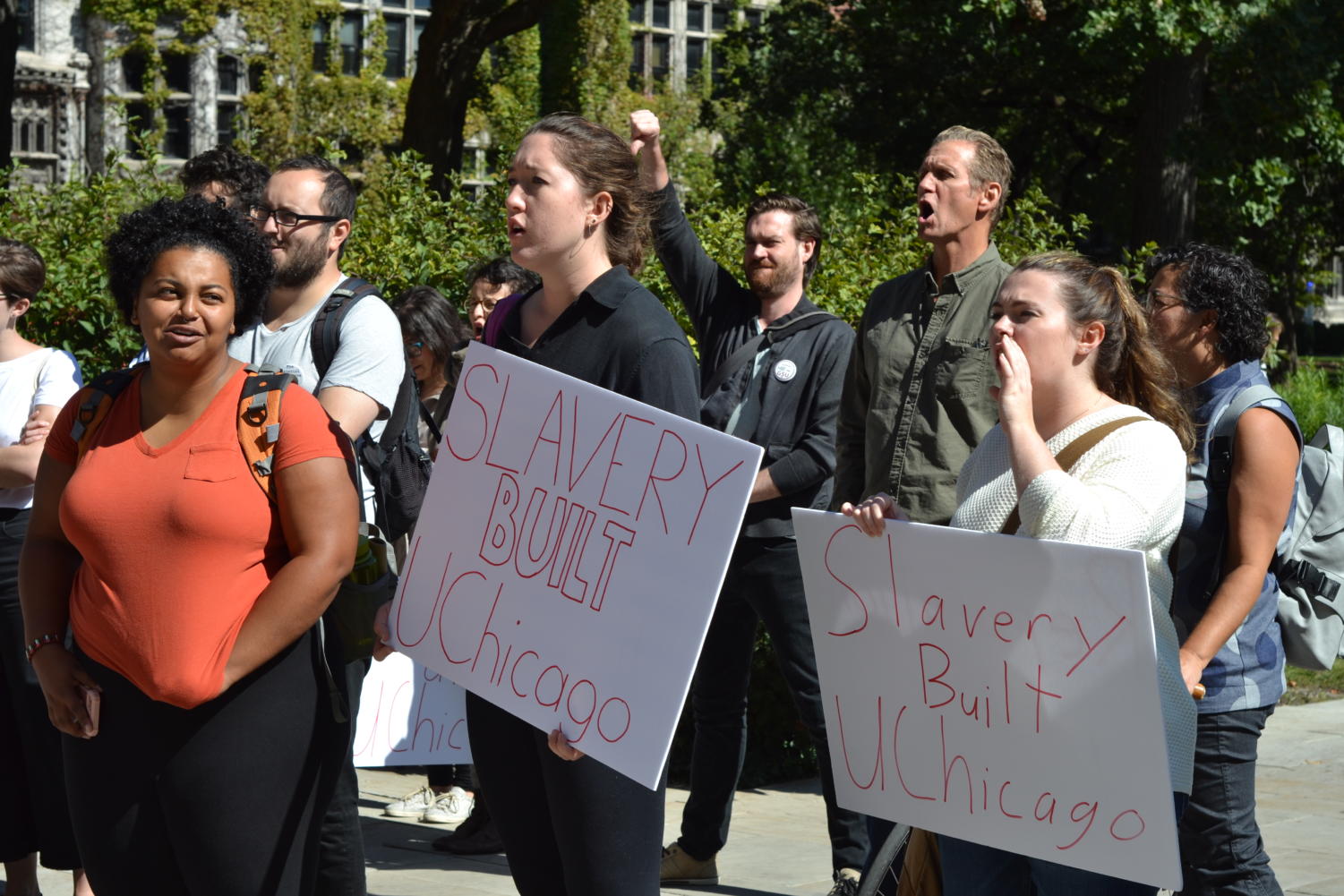 Targeted prof speaks out: Professor W. J. T. Mitchell, who was depicted in a recent poster campaign that referred to him as a "terrorist supporter," said he isconsidering legal action and has asked the University to pointedly condemn the organization responsible for the posters, the Horowitz Center.
Mitchell: "One measure of a reputation, in my view, is what sort of enemies you make. I am happy to consider David Horowitz as an enemy, not just of me personally, but of all that is good and decent about the life of a university professor, and of the whole professional pursuit of knowledge and human values."
Another individual who was targeted, who asked to remain anonymous, said: "Most of those named 'terrorists' are Muslim (many visibly Muslim) students living in the United States. We don't just 'not appreciate' being called terrorists or terrorist sympathizers. These remarks are not a light claim in America."
Ajit Pai (J.D. '97) was confirmed to serve for four more years as chairman of the FCC Monday. He has been serving as acting chairman, and this development was expected.

Sun-Times doubts Biss's math: A former assistant professor of mathematics at the University is running in the Democratic primary for Illinois governor, and he's been campaigning on his academic background. But a Sun-Times reportquestions some of his academic work: "Some of his published papers were found to contain flaws, some deemed 'critical' errors by fellow mathematicians." Biss's campaign dismissed the story as opposition research planted by one of his competitors, J.B. Pritzker, and said these kinds of mistakes are part of the academic process.
Intoxicated minors keep ER busy: The University's incident reports show that three underage individuals were transported to the emergency room on Friday night after becoming ill from drinking. Last week, we reported that O-Week saw a significant increase in transports over previous years.
Plus: "Unknown person(s) entered fraternity house taking property from two rooms / Referred to CPD … University between 56th & 57th … 9/29/17 to 9/30/17 10:00 PM to 11:00 AM "
The Obama Foundation issued an RFP for "Diversity Consultant" applicants on Friday, it said in a press release. The Foundation has set high workforce diversity standards for the construction firms vying to build the library, and the person who fills this role "will be tasked with formulating, monitoring and enforcing the Construction Manager (CM)'s Diversity and Inclusion Plan."
---
In Arts
Editor Alexia Bacigalupi writes in:

Nella Pizzeria, the new restaurant located in Campus North Residential Commons, offers classy and authentic Italian dishes, albeit on the pricier side.

A new speaker series, "Arts and the Nuclear Age," launched to commemorate the 75th anniversary of the first sustained nuclear reaction, examining art from various artists of the period.

Check out the musical Five Guys Named Moe, a lively season opener for Court Theatre featuring classic songs by Louis Jordan. Advance tickets $20 and rush tickets $10 with UCID.

A new production of Fun Home, the musical adaptation of Alison Bechdel's novel, landed in Victory Gardens Theater with a highly talented cast and a refreshing narrative, writes Emily Ehret.
---
UC–UIC partnership: UChicago and UIC have received a joint $4 million grant from the National Institute of Environmental Health Sciences to establish anenvironmental health sciences center.

Lawrence Summers, former Harvard University president and current economics professor, will be participating in a roundtable discussion organized by the University's Becker Friedman Institute on the economic outlook of the United States and policies to improve Americans' standard of living. Summers was formerly the Chief Economist of the World Bank and the Treasury Secretary in the Clinton administration. University President Robert J. Zimmer will open the event; economics professor Michael Greenstone will moderate.

Law School professor Nicholas Stephanopoulos, who has played a significant role in bringing the constitutionality of partisan gerrymandering up for reconsideration in the Supreme Court case Gill v. Whitford, argues in Slateahead of today's oral arguments that politically-motivated redistricting seriously distorts the democratic process. Stephanopoulos asserts that partisan gerrymandering is more problematic today because, unlike in the recent past, voters tend to significantly consider party affiliation when casting their votes.
---
In Sports
Editor Cavell Means writes in:

Men's tennis proves victorious in their singles and doubles games, taking the title in both. Volleyball sweeps the UAA Round Robin tournament, getting some upsets in the process. In case you were wondering, men's soccer is still undefeated and No. 1 in the country.
---
The Chicago Tribune editorial board argues that the Obama Foundation should sign a community benefits agreement with reasonable demands with activists on the South Side.
"…if everyone at that table agrees to a certain benefit or goal, then putting that benefit in writing creates accountability, especially for neighborhoods that have felt outmuscled and forgotten."
---
In Viewpoints
Editor Urvi Kumbhat writes in:

Columnist Natalie Denby urges the UChicago community to step out of our cloistered Hyde Park bubble and take advantage of everything the city of Chicago has to offer.
---
The 1915 Maroon's solidarity with the football team: The Washington Postdropped a fun mention of The Maroon in a piece about paying college athletes:
"In 1915, the University of Chicago Daily Maroon upended the college football community…. Given that the editor of the college newspaper and the tuba player in the marching band received compensation from the university, the Maroon argued, why not the college athletes? 'They work hard for the university organization known as the football team, which is a money making enterprise, the receipts from football being something like $20,000 [roughly $478,000 today] more than expenditures for the sport. Why not give the players a share of the profits accruing from their hard and faithful labors?'"
---
Feedback via e-mail to news@chicagomaroon.com