Newsletter for October 10
Why Nobel winner Richard Thaler studied cashews; Faculty letter on grad unionization; and RNC chair at I-House
By Pete Grieve, Editor-in-Chief ('18–'19)
October 10, 2017
---
Good morning. Welcome to third week.
Booth professor Richard Thaler was awarded the 2017 Nobel Prize in Economics for his contributions to behavioral economics. Thaler's work has focused on limited rationality and social preferences, incorporating psychology into the study of economics. "In order to do good economics, you have to keep in mind that people are human," Thaler said yesterday.
Cass Sunstein, who co-authored the book Nudge with Thaler, wrote for Bloomberg: "He's an intensely close observer of human behavior, and nothing delights him more than people's foibles. He's the Charles Dickens of the economics profession…. Who else would develop a theory of human behavior by observing how at a dinner party, supposedly rational economists gobble up cashews before dinner — and are immensely grateful when the host takes the half-eaten bowl away?
Twenty-seven University of Chicago women attended the three-day Grace Hopper Celebration of Women in Computing conference in Orlando, Florida. Two University grants funded the trip.
Eve Ewing, a Provost's Postdoctoral Fellow at SSA, spoke at the Sem Co-Op on Sunday about her new collection of poetry, Electric Arches. Ewing said the book, which is primarily an account of black girlhood in Chicago, attempts to "expand the possibility of what other black women are allowed to write about and speak about in public."
Voting sites for grad unionization: According to GSU, the four polling locations for the October 17–18 vote will be Regenstein Library (Room A11), Hinds Laboratory (Room 176), Kent Laboratory (Room 114), and Stuart Hall (Cox Lounge).
Grant for opioid research: UChicago and the Southern Illinois School of Medicine received a $1.1 million grant to study the opioid epidemic in Southern Illinois, AP reports.
---
---
In Viewpoints
Editor Urvi Kumbhat writes in:
Professors at the University express their disappointment at the administration's attempts to undermine graduate student unionization, arguing that the University is disrespecting the very principles of free speech and discourse it espouses.
Columnist Fred Kardos reflects on our increasingly strange world, encouraging us to embrace all the absurdity it has to offer, even when that includes Balenciaga's new high-fashion platform Crocs.
---
---
RNC Chair Ronna McDaniel is speaking at the IOP this evening. She will likely be asked about her recent criticism of Hillary Clinton for not condemning Harvey Weinstein and her claim that the allegations against Donald Trump are not comparable.
UChicago professor Rachel Fulton Brown sent dozens of e-mails to Milo Yiannopoulos "about the history of Christianity, the Crusades, and the righteousness of the West," BuzzFeed reports in an in-depth story about Breitbart and the "alt-right."
Brown published a response to the story on her blog, flaunting e-mails that Yiannopoulos sent to her. She also recalls her first time meeting him: "I was hoping to meet at Trump Tower, but as it turned out, the weather made us change venue because Milo's drivers were wimps not used to dealing with the snow; we got to meet at Trump Tower in July."
---
In Arts
Editor Alexia Bacigalupi writes in:
The most talked-about film of the year, Mother! is a prime example of the misleading marketing techniques of modern horror films.
Musical Morse code and Bing Crosby lyrics set the scene for an interactive performance art experience in 6018North.
Five new exhibits at the Smart Museum inspire thoughtful reflection and grapple with changing societal values.
Creative writing lecturer Augustus Rose discussed his debut novel The Readymade Thief, which explores the seedy underbelly of Philadelphia in a twisting thriller that features an eclectic cast of characters.
---
Campus and Student Life has these fliers up on campus about DACA: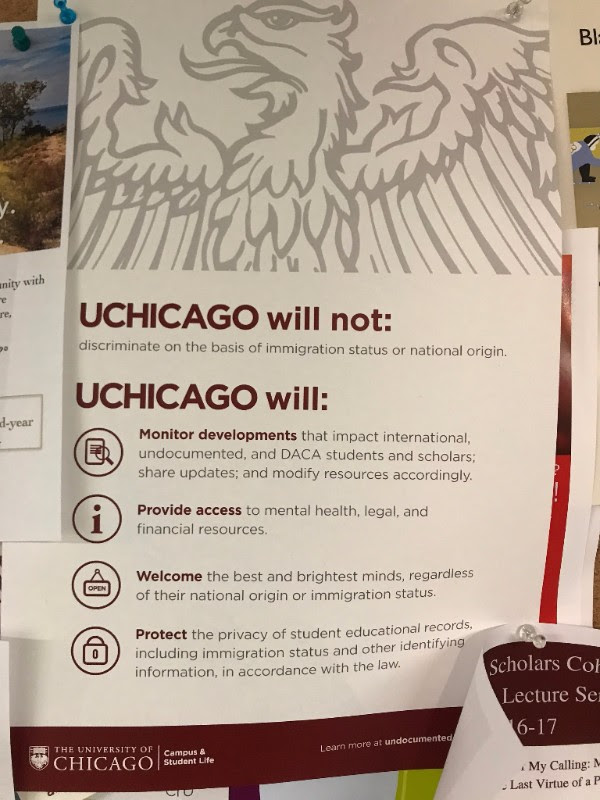 ---
In Sports
Editor Cavell Means writes in:
Fourth-year Chandler Carroll carried the football team to victory. The volleyball team keeps rolling, and shut out Elmhurst. Both women's and men's cross country impressed at the Lucian Rosa Invitational. Women's soccer continues to be undefeated, which isn't surprising.
---
---
Feedback via e-mail to news@chicagomaroon.com