Newsletter for December 19
Early admissions decisions released; what the tax plan means for UChicago; private event on Midway parking garage
---
Good morning. It's winter break.

Early admissions decisions for the College's Class of 2022 were sent out yesterday. While most peer institutions release early admissions numbers at this time of year, the University of Chicago did not release any data on the Class of 2021 until third week last quarter.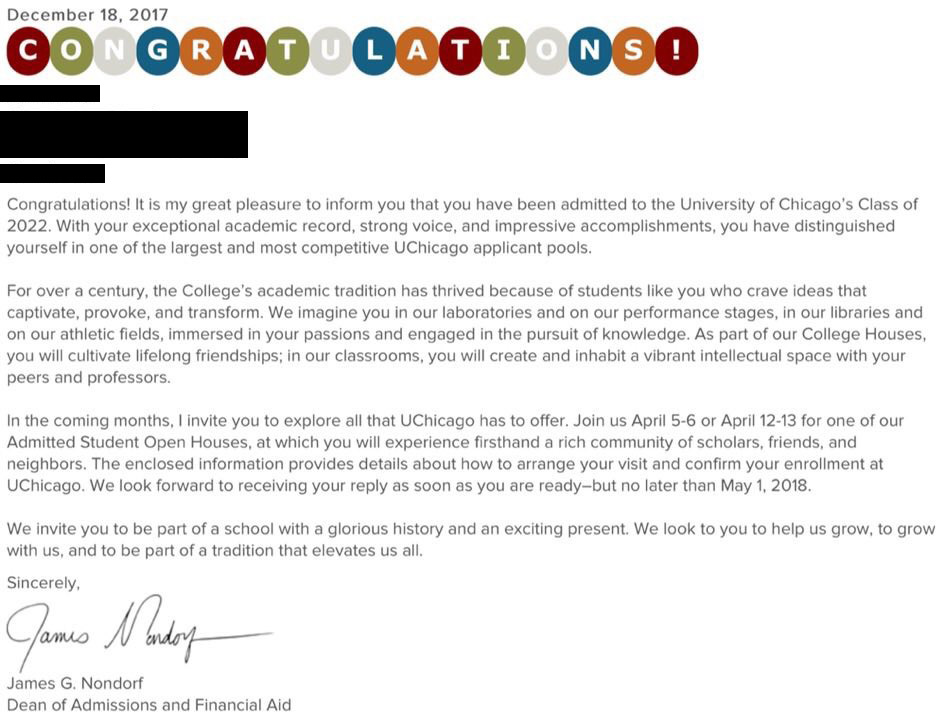 **If you have any information on the number of applications or the acceptance rate, you can get in touch here.

Midway parking garage reconsidered? The Obama Foundation invited 50 parties to a private event Wednesday where officials will discuss the parking plan for the Obama Presidential Center. Community groups are opposed to the Foundation's proposal to build a two-story parking garage on the east end of the Midway, saying that it would destroy protected park land. Wednesday's event comes after one of the Obama Center's head architects said that moving the site was under consideration.
Endowment tax in, grad tax out: The GOP tax reform bill includes a 1.4 percent excise tax on the investment income from endowments at private universities with ratios of endowment dollars to students of >$500,000. This tax may affect around 30 universities, but the University of Chicago appears to be just under the threshold. A provision that would have taxed graduate student tuition waivers did not make the plan, after grad students organized against it. The University celebrated this news in a statement to The Maroon:
— "The continuous efforts of the University of Chicago and other universities, as well as graduate students here and across the country, have made an impact and we will continue working to ensure the best possible outcome for our graduate students."
— More education news in Washington: House Republicans passed a partisan revision of the Higher Education Act last week that would restructure federal student loans and reduce accessibility to higher education by limiting financial aid options.
Columbia's graduate student union certified: In a 2–1 decision, the NLRB officially certified Columbia's union, meaning that the University will have to come to the bargaining table. The two Democratic members of the Board voted in favor of certification, while the Board's Republican chair, Philip A. Miscimarra, voted against it.
— The decision was expected, as Marvin E. Kaplan, a Trump appointee with a record of fighting unions, recused himself after pledging to not involve himself in any cases involving the Trustees of Columbia prior to being confirmed by the Senate. Kaplan's wife is employed by Columbia.
— This doesn't necessarily mean Kaplan will recuse himself from UChicago Graduate Students United's attempt to be certified by the NLRB, though the Columbia union tried to get permission from the Board to ask for him to be recused from the University of Chicago NLRB case. The University filed a motion in October opposing this request.
In Arts
Editor May Huang writes in:
The Maroon
remembers
Willie Pickens
, piano powerhouse who was known for his musicianship and compassion.
Director Luca Guadagnino's
Call Me by Your Name
is like an impressionist painting: evocative, transporting, but short on details.
Big Ten college presidents are inviting university presidents from around the country to a conference, apparently in Chicago, to explore solutions to Greek Life problems amid growing national concern in a year that's seen so many fraternity deaths that some schools are proactively sanctioning Greek organizations.

University invests endowment in "smart" oven: Tovala, a startup that sells specialized ovens which prepare meals that are delivered as part of a subscription meal service, has raised $9.2 million from several investors in its Series A round—and one of the investors was the University of Chicago, as part of its new Startup Investment Program. Tovala won the University's New Venture Challenge in 2015.

Eric Isaacs, a University vice-president with responsibility over the national labs and the Polsky Center, was inducted as a fellow by the National Academy of Inventors, the Academy announced Tuesday.
Subscribe at chicagomaroon.com/newsletter. Feedback via e-mail.