Newsletter for January 23
Zimmer's CBS "Sunday Morning" appearance; Point gets historic landmark status; and PSA op-ed details harrowing process of reporting sexual misconduct.
Good morning. Welcome to fourth week.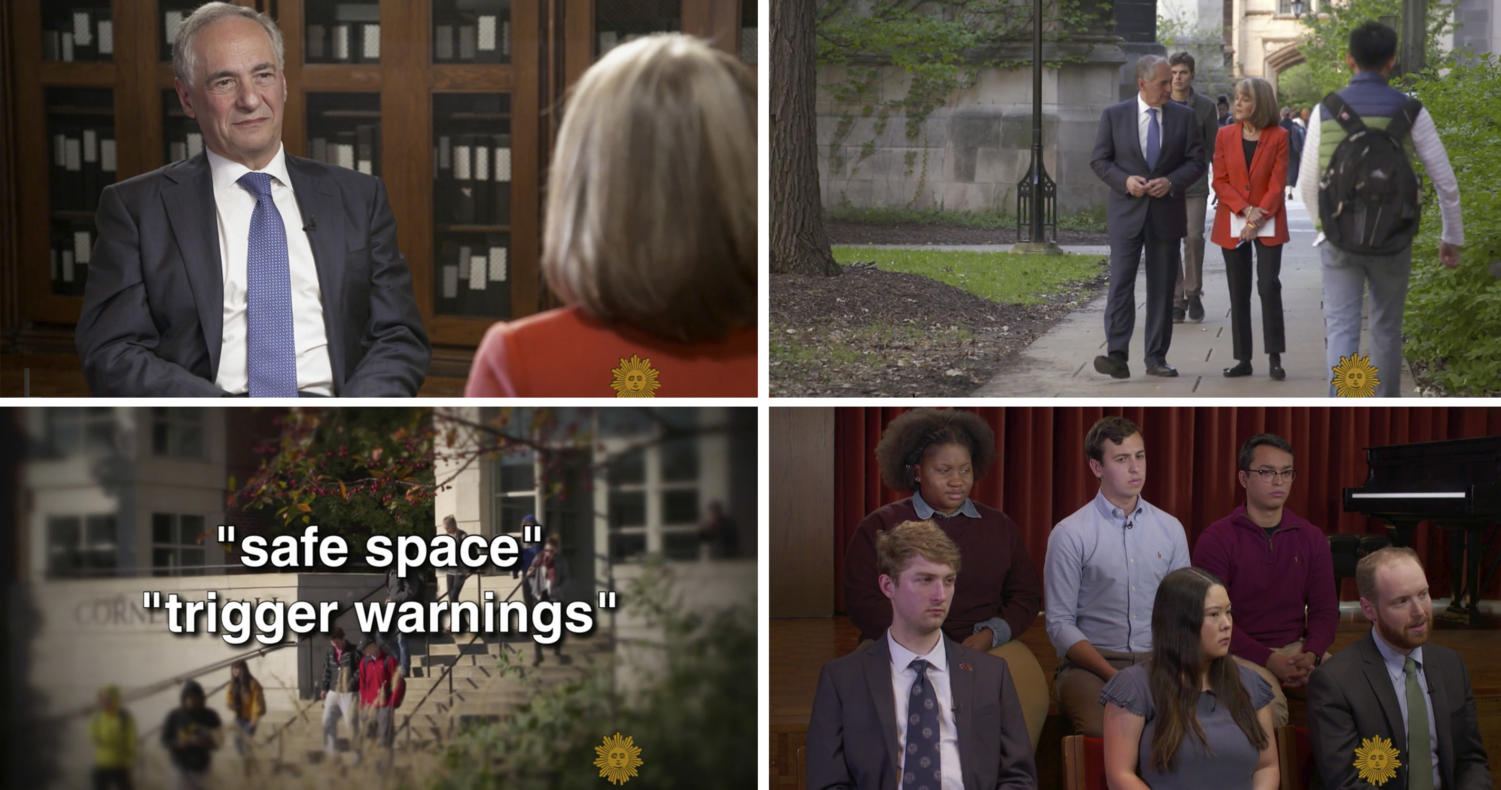 Zimmer on free speech: This weekend's CBS Sunday Morning featured President Robert J. Zimmer and six University students for a segment on the state of free speech on college campuses. "Discomfort is an intrinsic part of education," he said. "Part of the way we operate is that we're a place where there's constant open discourse, constant expression, constant argument." The student panel was asked about the University's anti-trigger warnings/safe spaces letter:
— Eric Wessan, J.D. Candidate: "I don't think the real world is a safe space."
— Third-year Mary Blair: "I can assure you that all people of color who have existed in a primarily white space know that the real world is not a safe space."
Promontory Point has been added to the Register of Historic Places. The designation, granted by the National Park Service, is largely symbolic.

SLEU has right to unionize, NLRB says: The National Labor Relations Boarddenied the University's motion to review whether its student library workers had the right to unionize, finding no "extraordinary circumstance" to warrant the reversal. With this decision, only a charge of electioneering is left between SLEU and official union recognition.
In Viewpoints
Editor Urvi Kumbhat writes in:
On behalf of the Phoenix Survivors Alliance, third-years Vanessa Camacho and Olamide Ogunbambo detail the harrowing and problematic experience of reporting sexual misconduct at UChicago, painting a picture of institutional negligence.
Columnist Zahra Nasser reflects on the Aziz Ansari case, arguing that understanding consent as a simple "yes" or "no" delegitimizes survivors' experiences of sexual misconduct.
The Maroon Editorial Board contends that criticisms of the Obama Center's construction should focus more on changes that can still be made and less on the Center's location.
Prime Minister of Canada Justin Trudeau is coming to the Institute of Politics on February 7.

Students came out in numbers to the second Women's March in Chicago, joining 300,000 marchers downtown.
— "While we have the spotlight, we need to get everything in," said Corinne DiFrancesco, a third-year who attended the march. "We need to talk about women of color, we need to talk about rape culture, we need to talk about poverty, we need to talk about all sorts of women's issues." (Full coverage, with video)
— The second episode of The Maroon Weekly podcast covers Saturday's Women's March to the Polls + the fate of Grounds of Being.
Olmsted's vision meets Obama's legacy: 182 faculty members have signed an open letter concerning the future of Jackson Park, expressing their desire for the "Obama Foundation to explore alternative sites" for the Center. Nearly every faculty member who discussed the concerns raised in the faculty letter with The Maroon mentioned that the Center's plans disregard the original intent of Frederick Law Olmsted.
— Counterpoint: "From what I understand, Olmsted's vision of the park is that it should be an urban space to be used not by a subset, but by all the people of the community. The Obama Library's mission is entirely consistent with this," professor Erin Adams wrote in a letter to the editor.
In Arts
Editor Alexia Bacigalupi writes in:
Meryl Streep stars
as Katharine Graham (A.B. '38), who made the landmark decision to publish the Pentagon Papers, in a
triumphant
assertion of the right to free press.
A trio of photographers
grapple
with family and current political conflicts in a new exhibit at the MOCP.
Take advantage of your UCID
with "after hours" at the Shedd Aquarium and College Night at the MCA this week and more in
Exhibit A
.
Three years of data from the Dark Energy Survey (DES), a project that aims to explain the expansion of the Universe, has been released. Scientists from the University of Chicago Physical Sciences Division, Fermilab, and Argonne National Laboratory are among the 400+ researchers who are collaborating on the project.

Mayor Rahm Emanuel reaffirmed this week that Chicago was committed to trying to convince Jeff Bezos that it was the prime location for Amazon's second headquarters after the city made the company's preliminary shortlist.For more local politics news, check out this week's Citizen Bulletin.
In Sports
Editor Cavell Means writes in:
Women's basketball
keeps on winning
, while the men's team
split
their two games this weekend. Swimming
honored
their seniors while the men
defeated
a DI foe. Wrestling
takes second
to North Central, and track and field
places high
at the I-55 Triangular meet.
---
Subscribe at chicagomaroon.com/newsletter. Feedback via e-mail. ​