Newsletter for October 23
DU student posted Quizlet of brothers' favorite sex positions; car crashes into Hyde Park Produce; and Hillary, Bill Clinton speak on campus
---
Good morning. Welcome to fourth week.
A Delta Upsilon
student who is now a second-year
posted a Quizlet
of last-year's brothers' favorite sex positions.
— Two women were identified by name on the list, including one University of Chicago student. Two brothers are listed with their favorite position as the "Nword flip." One of the brothers listed alongside this position is not Black.
— DU students said in a statement the document is "gross and unverified." DU international headquarters said it is working with the fraternity to determine the "legitimacy" of the document.
​
Three to four individuals
fled a white Jaguar sedan that crashed last night on the intersection of Dorchester Avenue and East Midway Plaisance near I-House, according to witnesses on scene. More than 10 CPD and UCPD vehicles
approached
the scene of the accident, and at least one helicopter was spotted above. CPD said in a statement that they were responding to a call of a man with a gun. One person was arrested, CPD said.
An SUV crashed 11 feet
into local grocery store Hyde Park Produce early Saturday evening,
hitting
a pedestrian in the leg. A UCPD officer said later that evening that the victim is in critical condition, contrary to previous reports that he was stable. The victim is currently expected to make a full recovery.
— A UCPD officer on scene said that he suspected that the incident was an accident. The car's airbags had not been activated, meaning the car was likely not traveling at high speed.
The Obama Foundation
publicly
released
the University of Chicago's original pitch to bring the presidential library to the South Side. The proposal includes impact reports on all three locations proposed by the University: Washington Park, Woodlawn-Jackson Park, and South Shore. ​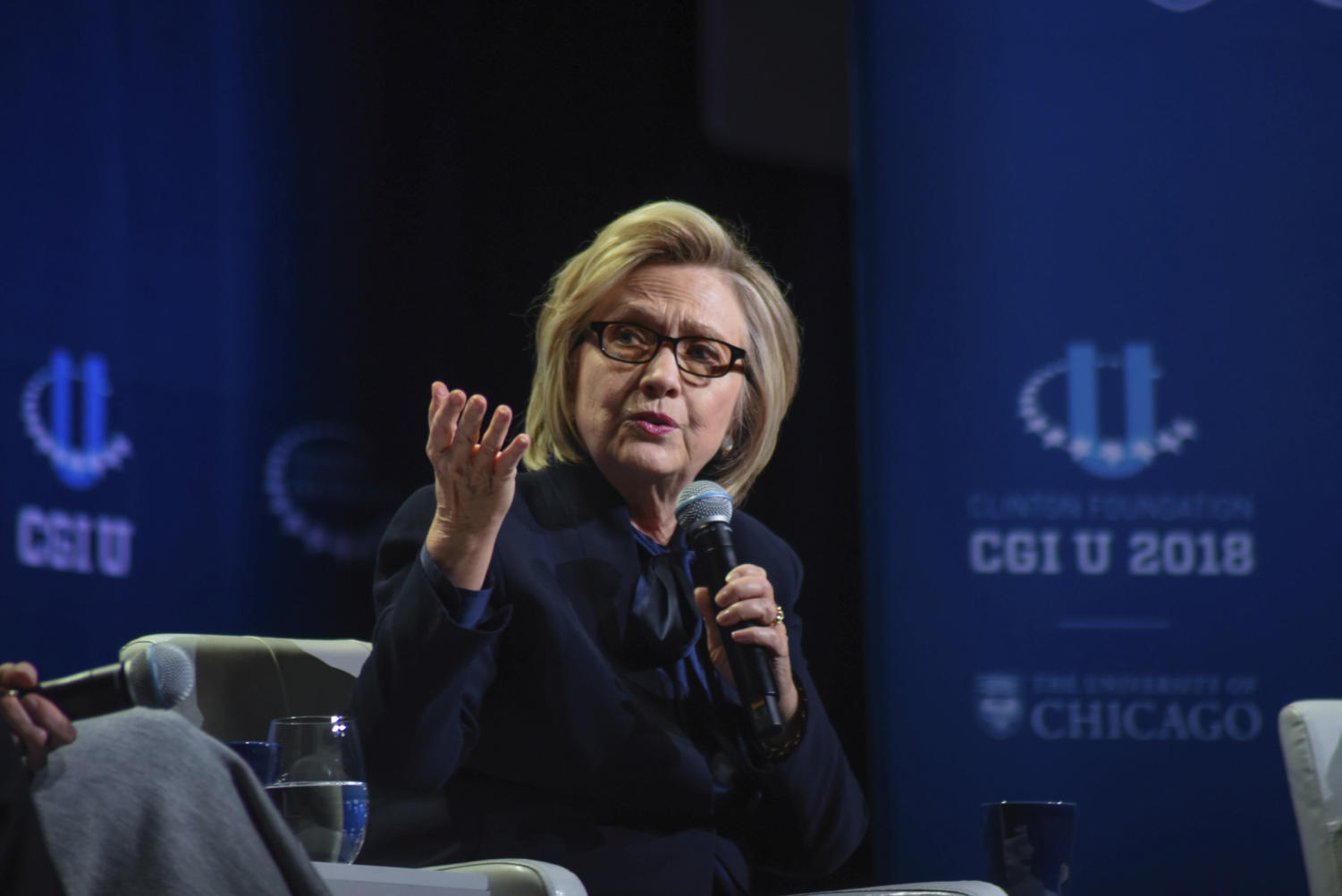 The annual Clinton Global Initiative University
(CGI U) conference was held on campus this weekend.
The Maroon
attended the event,
covering
a host of speakers including Bill, Hillary, and Chelsea Clinton.
— Chelsea Clinton spoke in an interview with The Maroon at the conference.
---
In Viewpoints
Editor Cole Martin writes in:
Columnist Natalie Denby
argues that the job search process
isn't as easy
as College Admissions made it out to be.
Columnist Katia Kukucka
urges UChicago students to
translate
their political enthusiasm into actual action at the polls.
---
In Arts
Editor Brooke Nagler writes in:
UChicago alum Sarah Koenig (A.B. '90) discusses her podcast, truth, and investigative journalism with Rachel DeWoskin at the Logan Center.
Polyphia's new album, New Levels New Devils, transcends the rigid rules of math rock and marries together disparate music styles flawlessly.
In an era of popular music in which authenticity itself has become a brand of its own, Peach Pit reflects how organic and genuine their music already is.
From Westerns to the troubled tales of a depressive comedian, the Chicago International Film Festival offered a both stylistically and culturally diverse line-up of works this year.
Exhibit A: Where to go and what to do.
Though hailed by musicians and press alike as the next big thing, Greta Van Fleet might be less original than you think.
---
Subscribe at chicagomaroon.com/newsletter. Feedback via e-mail.