Renovated, Art-Focused Garfield Green Line Station Unveiled | Newsletter for January 11
Renovated Green Line station opens; two men shot near 51st and Drexel; beloved math professor dies
Good morning. It's first week.
The renovated Garfield Green Line Station, adjacent to the Arts Block developments, officially opened yesterday after months of construction and a period of tracking interruptions. At the ribbon-cutting, Mayor Rahm Emanuel said the new station will be the "gateway" to the Obama Presidential Center, adding, "I don't think we're opening up a station, I think we're unlocking a neighborhood," according to the Sun-Times.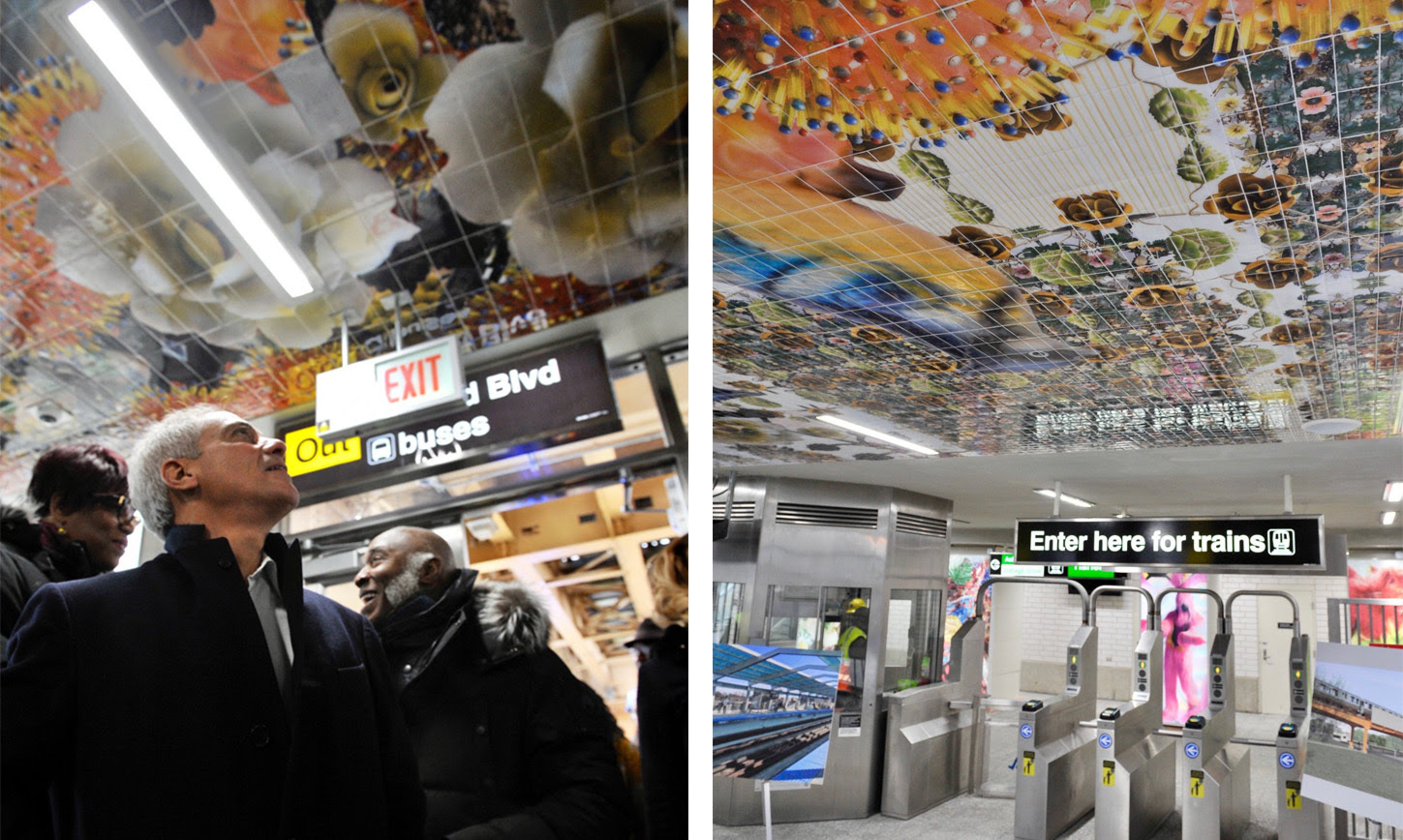 Two men were shot near 51st Street and South Drexel Avenue yesterday. CPD said they were brought to UChicago Medicine in stable condition—one with a wound to the head and the other shot in the leg.
Virtue, a Southern food restaurant on 53rd Street by chef Erick Williams, is now open. At the opening event this week, UChicago's VP for Civic Engagement Derek Douglas said, "When A10 decided to close, there was a big question in the community about what's going to happen next: Can restaurants survive? Is Hyde Park a place where you can make it or not?… And so we felt at the University that these were high stakes for us. We had to get the right chef. We had to get the right concept. We had to bet on the right person to make this happen," according to the Herald.
Alum Andy Kim (A.B. '04), who was elected to the House of Representatives, flipping New Jersey's third district, discussed his campaign and his time at UChicago in an interview with The Maroon.
A UChicago grad student and a team of fellow citizen scientists discovered a new planet approximately twice the size of Earth. The planet, K2-288Bb, is an exoplanet that may have liquid water on its surface.
UChicago mathematician Arunas Liulevicius (Ph.D. '60) who twice won the University's Quantrell Award for Excellence in Undergraduate Teaching passed away recently. Liulevicius, who specialized in algebraic topology, was 84.
A Northwestern student committed suicide due to the severe hazing she was subjected to as an Alpha Kappa Alpha sorority pledge in 2016, according to a lawsuit. The lawsuit says that the student, Jordan Hankins, "was subjected to physical abuse including paddling, verbal abuse, mental abuse, financial exploitation, sleep deprivation, items being thrown and dumped on her, and other forms of hazing intended to humiliate and demean her."
---
In Viewpoints
Editor Cole Martin writes in:
The Maroon Editorial Board commends the University for meaningfully engaging with off-campus stakeholders affected by the closure of Yerkes Observatory, but contends that on-campus advocates deserve the same level of respect.
Columnist Natalie Denby muses on the predictable drawbacks and unexpected benefits of living in a dorm apartment.
Students for Justice in Palestine and UChicago Socialists pen a joint letterin opposition to a course this quarter being taught by a former Brigadier General in Israeli Defense Forces.
---
In Grey City
Editor Anant Matai writes in:
Grey City Reporter Dimitriy Leksanov pays a visit to non-profit I Grow Chicago, a product of Chicago's Large Lots initiative, and delves into the benefits and drawbacks of the program.
---
In Arts
Editor Zoe Bean writes in:
Yorgos Lanthimos, director of The Favourite, takes a historical footnote and creates a plot bursting with sabotage, sexual antics, wicked zingers, and sly social commentary, our reviewer writes.
Bird Box review: Netflix's hot new movie is full of boring tropes and unsatisfying attempts at horror.
---
In Sports
Editor Audrey Mason writes in:
Track and field looks to defend its title at the first meet of the season, the Phoenix Invitational.
The men's and women's basketball teams will compete against two UAA teams, Rochester and Emory, in their upcoming matches.
After an outstanding winter break, wrestling looks forward to the Al Hanke Invitational at Elmhurst College.
---
Subscribe at chicagomaroon.com/newsletter. Feedback via e-mail.