SG Slates Talk Priorities; Astrophysicist on Black Holes; Asian Mental Health Conference | Newsletter for April 24
The Maroon spoke to the two executive slates facing off in this year's Student Government (SG) election.
Good morning. It's fourth week. Check out our new office decorations!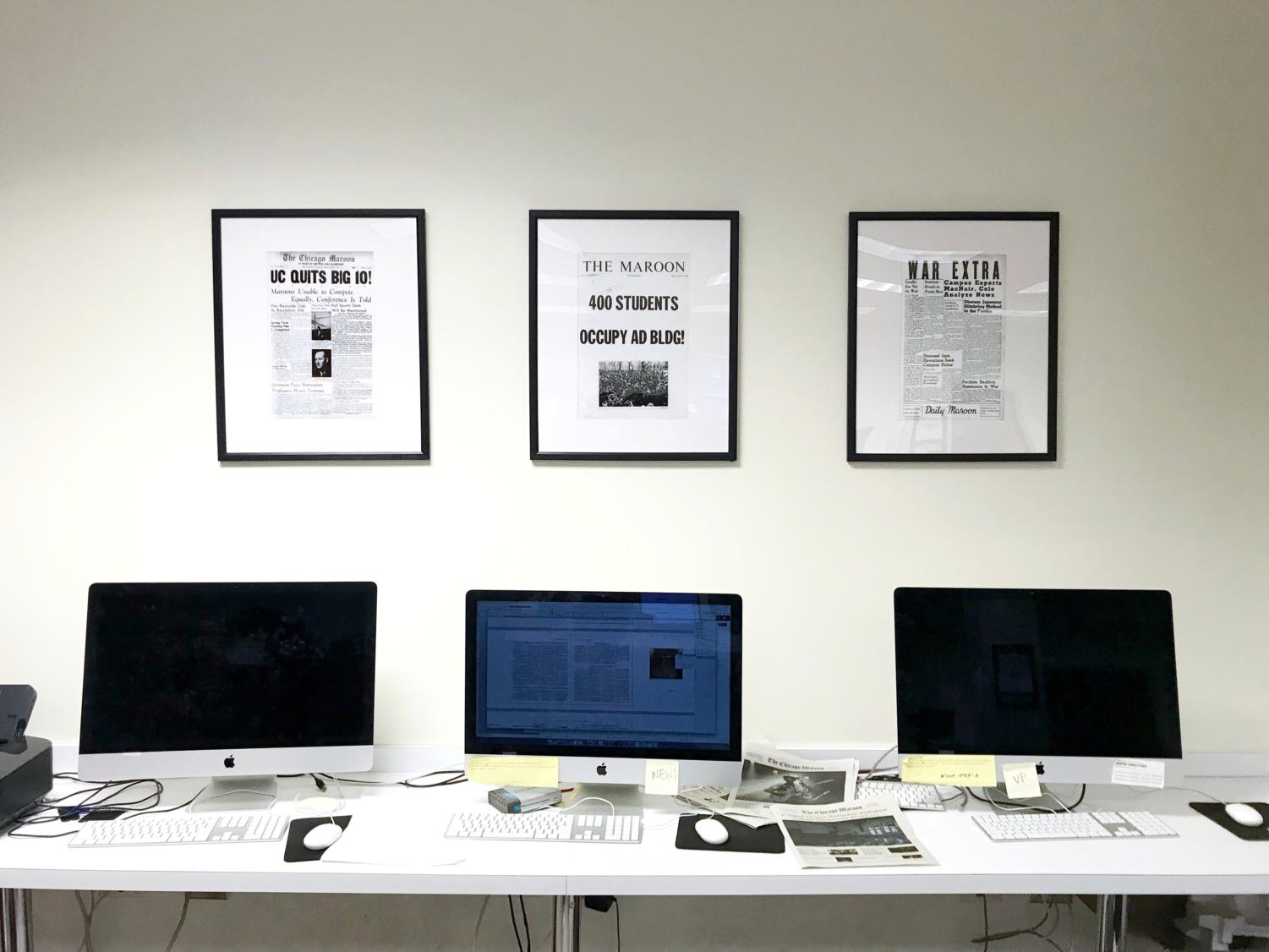 The Maroon spoke to the two executive slates facing off in this year's Student Government (SG) election.
The Reform slate, composed of second-year Kyle Shishkin and first-years David Liang, and Anya Wang, said their top priorities include student safety, housing, and transparency and accountability within SG.
On Greek life, Wang stressed a need for more collaboration between fraternities: "Our slate would create a committee of the heads of the presidents of each frat and RSOs like Phoenix Survivors Alliance and have a conversation, not a debate" about how to enact change.
The CARE (Community, Amplify, Represent, Empower) slate, composed of third-years Jahne Brown, Kosi Achife, and Brittney Dorton, listed UCPD relations and support for low-income and minority students among their main concerns.
On mental health, Dorton said CARE will work to increase support for students who return from mental health leaves of absence, "by making sure they are able to return to housing and…are welcome here on campus."
---
Third-year Vivek Ramakrishnan won a Truman Scholarship for his work leading a team of high schoolers to collect data on the resources of disadvantaged communities.
Uncommon Interview: The Maroon sat down with professor Daniel Holz, an astrophysicist who works on gravitational waves, to discuss his research and the recent photo of a black hole.
The Frederick C. Robie House, a National Historic Landmark on the corner of 58th and Woodlawn designed by famous architect Frank Lloyd Wright, has now reopened after a 14-month, $11 million restoration.
The restoration, which ended in late March, brings to life Wright's original vision for the house.
Break the Silence, a student-led conference on Asian and Asian-American mental health, took place on campus last week.
The conference was co-hosted by the Taiwanese American Student Association, South Asian Students Association, Active Minds, and the PanAsia Solidarity Coalition.
The panelists said many Asian Americans are reluctant to seek help for mental illness, often a taboo subject in Asian communities. "Asian-American college students have the highest rate of suicide in this country among all college students," University of Maryland professor Mimi Khúc said.
---
In Sports
Editor Brinda Rao writes in:
Lacrosse midfielder Karina Schulze is a powerhouse on and off the field.
Softball continues its conference season with a doubleheader against Hope College.
Hot bats, overpowering arms, and a one-hitter propel the Maroons to a doubleheader sweep and into playoff position.
Track competes at the rescheduled Wheaton Don Church Twilight Meet. Despite several absences, the Maroons snag several individual placements.
---
In Viewpoints
Editors Zahra Nasser and Alexa Perlmutter write in:
The Reform slate lays out its platform, which prioritizes the relationship with UCPD, mental health, and transparency on campus.
Columnist Ruby Rorty argues that U.S. News and World Report must reformulate its coveted college rankings to account for economic inequality in the admissions process.
Columnist Leena El-Sadek reflects upon her trip to Palestine, realizing that witnessing the occupation first-hand is an unmatched learning experience.
---
In Podcast
Editor Austin Christhilf writes in:
This week on Dear Abby, the ins and outs of hitting on that Ratner cutie. A listener writes in because they need to know how to navigate the social norms around hitting on people at the gym.
This week in the news: Student Government CARE and Reform slates announced, graduate student climate report released and much more!
---
In Grey City
Editor Caroline Kubzansky writes in:
Why aren't jazz's South Side roots better known? Grey City reporter Olivia Chilkoti sets out to find Chicago's role in the story of jazz.
---
Subscribe at chicagomaroon.com/newsletter. Feedback via e-mail.