Labor Groups Lead May Day Protest; SG Passes Pro-GSU Resolution; Trauma Center Turns One | Newsletter for May 2
University of Chicago Labor Council led a May Day March, Student Government passed a pro-GSU resolution, and The Maroon interviewed the first-year "Trust Slate" student government candidates.
Good morning. It's a very rainy fifth week.
University of Chicago Labor Council, a newly formed umbrella organization of unions at UChicago, led a May Day March yesterday to advocate for workers' rights and urge administrators to recognize Graduate Students United.
More than 200 demonstrators participated in the march, making it one of the highest-attended GSU protests in recent memory.
Jeanette Taylor, the 20th Ward alderman-elect, spoke at the demonstration.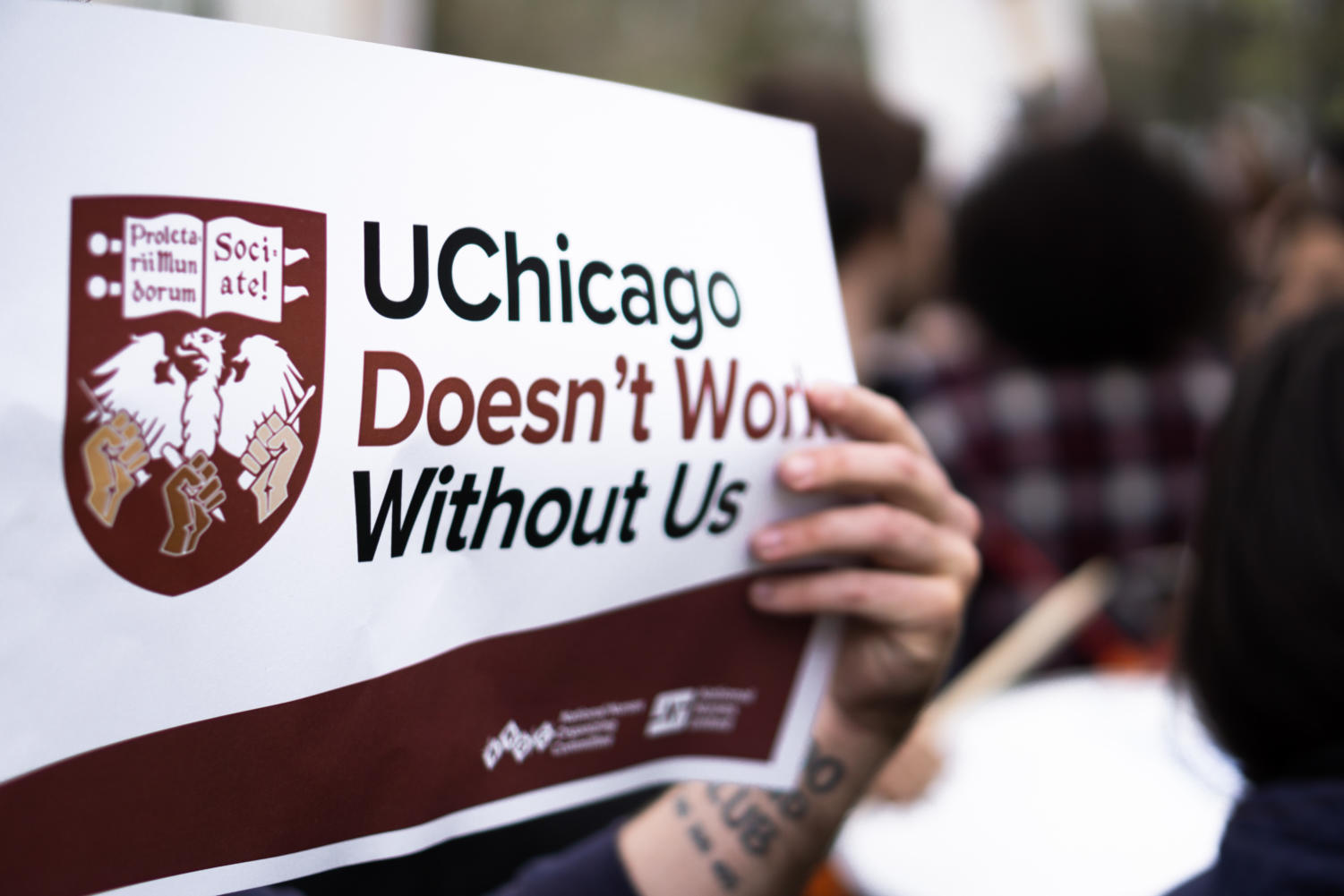 More on GSU: Student Government passed a resolution on Monday urging administration to recognize the union.
The bill was sponsored by Class of 2022 representative Zebeeb Nuguse and graduate Division of the Humanities representative Jo Brill.
Trauma center turns one: Selwyn Rogers, the founding director of UChicago Medicine's adult trauma center, and Brenda Battle, vice president of the University's Urban Health Initiative, looked back on the trauma center's first year at an alumni event downtown.
Rogers said 38.8 percent of the trauma center's cases in 2018 were penetrating, as opposed to blunt, traumas. Of these, 75 percent were gunshot wounds. He called these statistics "alarming," saying, "Most trauma centers see around 10 percent [penetrating traumas]."
The pair also discussed the need for a comprehensive violence recovery program for trauma victims.
---
---
The Maroon interviewed the first-year "Trust Slate" candidates vying for positions on SG.
Natalie Wang is running for both Community and Government Liaison and Class of 2022 Representative. She listed student relations with the Hyde Park community, administrative transparency, and student health as top priorities.
Aazer Siddiqui is running for Class of 2022 Representative, and stressed environmental issues as key. "I mean, people can do their individual parts—I'll sort my recycling….But at the end of the day, there [are] a lot of ways in which the University can do things and stop putting the burden on us as students so much," he said.
Dinesh Das Gupta is running for Undergraduate Liaison to the Board of Trustees on a platform that stresses student health and sustainability.
The (U)Chicago Reparations Summit hosted students, activists, and professors on campus for a discussion of reparations and UChicago's role in the history of slavery and present-day police violence.
Speakers at Friday's full-day event included Guy Emerson Mount (A.M. '18, Ph.D. '18), who led research in 2017 into the University's ties to slavery via U.S. Senator Stephen Douglas.
Speakers also touched on the recent political interest in reparations, with activist Todd St. Hill calling presidential hopefuls Kamala Harris and Cory Booker's discussions of reparations "unprecedented."
Two new minors in the College will be offered starting in fall quarter: one in Education and Society, and a second in Inequality, Social Problems, and Change.
The Education and Society minor "provides a road map across the social sciences for students who have a deep interest in education," Amanda Woodward, dean of the Division of the Social Sciences, told The Maroon.
The announcement follows a previously announced Health and Society minor, to be led by faculty in the Department of Comparative Human Development.
Elected school board: Chicagoans have been calling for an elected school board for decades, and it may soon become a reality. What would an elected board mean for Chicago?
University president Robert Zimmer and his wife, classics professor Shadi Bartsch-Zimmer, recently rented out their River North condominium for $12,000 a month, the Tribune reported.
When the Zimmers bought the unit for $3.25 million in 2016, a University spokesperson said it would serve as their residence once Zimmer steps down as University president. The couple currently lives in UChicago's President's house on South University Avenue.
---
In Viewpoints
Editor Meera Santhanam writes in:
The Maroon's Editorial Board argues that Metcalf internships need to be offered in a wide range of fields—beyond just finance—in order to expose students to the variety of career options out there.
The Ethical Area Studies Coalition cautions students against attending campus CIA informational sessions, like the one held in Ida Noyes on Tuesday, in light of certain U.S. government agencies' human rights violations.
---
In Arts
Editor Zoe Bean writes in:
Originally unfamiliar with Senegalese food, Adam Chan tried every item on Gorée Cuisine's menu, and can now vouch that every dish is tremendous.
Rob Pruitt painted 2,922 portraits of President Obama and they are on display at the Stony Island Arts Bank.
Charlize Theron and Seth Rogen make an unlikely pair in "Long Shot," which previewed at Doc Films last week.
Marvel's "Endgame" brings the franchise home (and brings in the box office bucks).
---
In Sports
Editor Brinda Rao writes in:
Senior Pitcher Joe Liberman looks back on his career on UChicago's Men's Baseball team, with a goal of continuing his passion for baseball after graduation.
Former Men's Soccer Assistant Coach Pat Flinn is returning to UChicago as Head Coach of the team.
Men and Women's Track and Field compete at the UAA Championship meet in Georgia. With several standout individual placings, the teams looks forward as they continue their season.
Lacrosse narrowly defeats Carroll (13-12), ranking No. 2 in their conference. The team will compete for their conference title this week.
---
In Podcast
Editor Austin Christhilf writes in:
Get this week's news download with the latest episode of the Maroon Weekly.
This week, a listener's study of the ancient love language of Greece and Rome has an uncomfortable clash with frat party hookups while Listen while Abby and Abby try to use their HUM close reading skills to parse through it all!
---
Subscribe at chicagomaroon.com/newsletter. Feedback via e-mail.