GSU Ends Labor Action; Albright at CPOST | Newsletter for June 6
After three days of picketing, Graduate Students United voted last night to end their labor action.
Good morning. It's reading period.
The Maroon's annual graduation issue hit newsstands yesterday. Grab a copy now, or again during Convocation.
We looked back at the last four years in headlines, from the U-Pass to the trauma center to visits from Obama—and of course, major turning points on GSU.
"This week has shown that it's impossible to disentangle the work of any one subset of the University—professors, lecturers, postdoctoral fellows, researchers, staff, graduate students, and even undergraduates—from the functioning of the University as a whole," the editors-in-chief wrote. "For this year's issue, we want to celebrate collective achievements."
After three days of picketing, Graduate Students United (GSU) voted last night to end their labor action.
Though the University has not recognized the union, GSU organizers characterized their strike as a success.
The strike, which began on early Monday morning and lasted through rain and sunshine, drew up to over 400 supporters by Wednesday afternoon.
Protestors picketed critical classrooms and research buildings, leaving many—including the School of Social Science Administration, Harper, and Cobb Hall—largely empty.
GSU also held rallies each day, and prominent politicians including Cook County Board president Toni Preckwinkle, 20th Ward alderman Jeanette Taylor, and 13th district of Illinois state senator Robert Peters, to address gathered supporters.
Daniel Biss, a former state senator, who was an Assistant Professor in the math department from 2002 to 2008, spoke to gathered supporters on the third day. "We're not a hedge fund. We're not a manufacturing plant where the boss can do whatever to ratchet up production one percent. We're an institution of inquiry," Biss said. "Bob Zimmer…stop lying."
Read our full coverage of the three-day strike here.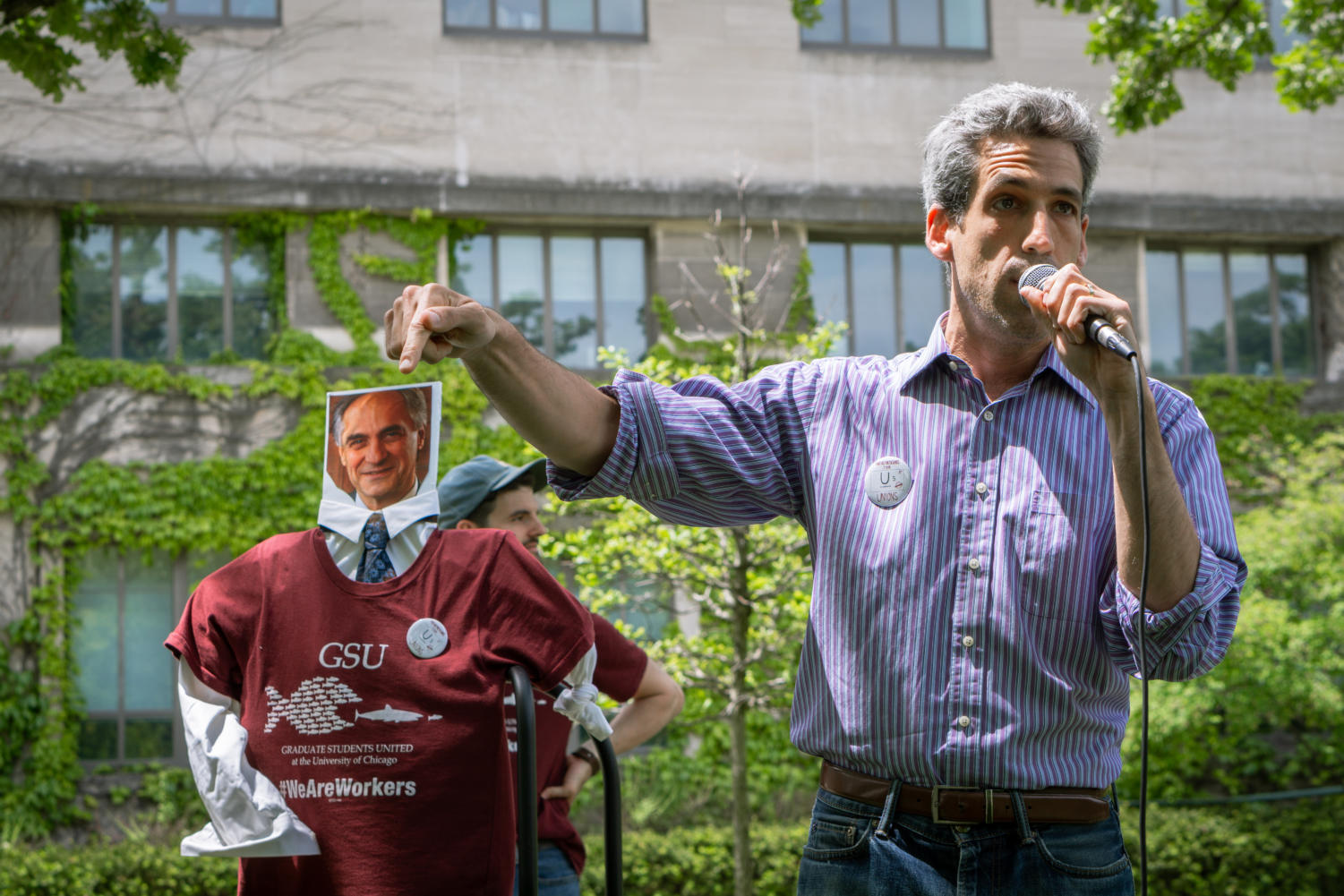 The MacArthur Foundation announced a $5 million grant on Monday to create a new branch of the Chicago Public Library (CPL) at the Obama Presidential Center.
City Council had approved the construction of a new CPL branch in the OPC in 2018.
A new pilot dining program launched this quarter, offering eligible students five free meals in any campus hall. The program aims to improve student access to quality meals, said Vice Provost for Diversity and Inclusion Initiatives Melissa Gilliam.
Christian Porras, outgoing president of the Socioeconomic Diversity Alliance—the student group that helped develop the program—described the initiative as an "essential next step" for combating campus food insecurity. "We've received a number of student anecdotes detailing instances of not eating or eating very poorly as a result of dining hall closures," he said.
Gilliam encouraged students who feel they would benefit from the program to contact the Center for College Student Success or Student Support Service.
Law professor Geoffrey Stone debated the executive director of Illinois Right to Life, Mary Kate Knorr, at a panel on abortion hosted by UChicago's Phi Alpha Delta Pre-Law Fraternity.
The debate followed nationwide controversies over state efforts to restrict abortion, as well as recent campus protests over Class of 2019 Representative Brett Barbin's proposal to prevent Student Life fees from funding abortions via the Emergency Fund.
At one point, Knorr suggested that abstinence is a better alternative than abortion, prompting a heated reply from Stone. "That's what this is all about, isn't it?" he responded. "Let's get everybody to live according to Catholic rules."
More on the Stone family: The Maroon sat down with Mollie Stone, director of UChicago's University Chorus and Women's Ensemble and conductor of the Chicago Children's Chorus.
The conversation touched on Stone's experiences working with students, as well as her love for South African music.
Former Secretary of State Madeleine Albright and former Secretary of Defense Chuck Hagel stopped by Mandel Hall to discuss tensions with North Korea, the role of social media in global terrorism, and more. The event was organized by the Chicago Project on Security and Threats (CPOST), and the conversation was moderated by the director of CPOST, Professor Robert Pape.
Albright quoted the TV show Silicon Valley when discussing what she sees as widespread mistrust in institutions, saying, "People are talking to their governments on 21st-century technology, [and] the governments listen to them on 20th-century technology and provide 19th-century responses."
In Viewpoints
Editors Meera Santhanam, Alexa Perlmutter, and Zahra Nasser write in:
Former Photo editor Zoe Kaiser argues that photojournalism is far from objective, and that portraying it as such is both unproductive and irresponsible.
Fourth-year Qudsiyyah Shariyf reflects on her experience leading Project Reproductive Freedom and argues that UChicago student activism around abortion is disconnected from the realities outside of this campus.
Columnist Lucas Du reflects on the UChicago Secrets Facebook page and argues that it should not be used as a platform for political dialogue.
Davis Larkin writes that arguments claiming graduate students are not oppressed enough to unionize are irrelevant to GSU's fight for recognition.
Former head Viewpoints editor Cole Martin reflects on his time on The Maroon and hopes the section is able to maintain its historic independence.
In Grey City
Editor Caroline Kubzansky writes in:
Grey City spoke to two Ph.D. recipients, Marilyn Webb and Cheryl Dembe, to get the story behind why it took them fifty years to complete their degrees. Both see getting their degrees as an important moment both personally and for correcting problems of sexism in academia.
In Arts
Editors Zoe Bean and Perri Wilson write in:
"What is the role of art in the legal process? Is it irresponsible for someone to consider themselves an activist [if] they're only making art?"
We profiled Ricky Novaes, one of two poetry majors from UChicago's first-ever graduating class of creative writing majors.
Winter's sound is so rich it's almost unbelievable that the whole album only uses one instrument at a time.
Now known for its creativity, global scale, and extremely competitive audition processes, Cirque stages shows that cannot be missed…and Volta is no exception.
"Smith and Uchis are a natural pairing for a joint tour; their powerful voices combine with their commanding and dynamic stage presence."
In Sports
Editor Alison Gill writes in:
After a historic season that captured an indoors national championship and outdoors Final Four, the men's tennis team has been named the Maroon's Team of the Year.
Becky Benson, our Co-Coach of the Year, led the Maroons divers on an incredible run, culminating in All-American honors for all four female divers.
In the program's first year, Kate Robinson's strong guidance proved invaluable for the young lacrosse team, resulting in a 15-3 record and the Maroon's Co-Coach of the Year award.
With two top-three finishes at the NCAA National Championships in March, diver Agnes Lo takes home the Maroon's Athlete of the Year award.
That's a wrap: The Maroon Newsletter is signing off for this academic year. We'll continue to send out the newsletter during the summer, but on a less frequent schedule—look out for us in your inbox twice a month.