Hong Kong Officials, Protesters Draw Criticism; New Student Counseling Center Adds Office Space | Newsletter for November 21
In this week's newsletter: Hong Kong protesters and government officials were criticized during Monday's campus symposium on the ongoing Hong Kong protests.
Good morning. It's eighth week. And with light-adorned trees across campus and holiday decorations citywide, it certainly feels like winter is coming. ❄️
Hong Kong protesters and government officials both drew criticism at Monday's campus symposium on the ongoing Hong Kong protests. One speaker called Mainland China "complete lawlessness," while another described student protesters as " terrorists."
The event was moderated by UChicago political science professor Dali Yang and organized by undergrad students from Hong Kong with the Center for East Asian Studies.
Speakers included the pro-Beijing founder of the One Country Two Systems Youth Forum think tank, Henry Hong, as well as Emily Lau, former chair of the Democratic Party of Hong Kong.
Lau sharply criticized Hong Kong's chief executive, Carrie Lam: "She allowed the whole thing to explode, and disappeared for weeks," Lau said. "She is a sinner for a thousand years."
Meanwhile, an expression of pro-Hong Kong sentiment, "Keep it up, Hong Kong," was briefly posted outside Classics. The image was captured and discussed in a group message of Chinese and Chinese-American parents.
No promises yet for a shorter wait: The new Health and Wellness Center will add office space and centralize student health services, but there are no plans to hire any new counselors prior to the center's opening, a University spokesman said.
Despite recent staffing increases, Student Counseling Services (SCS) continues to struggle to accommodate students. High demand has limited the accessibility of some mental health services on campus, and long wait times for intake appointments have been a recurring student grievance.
Fourth-year Silvia Diaz said she opted to use emergency walk-in counseling rather than wait for an appointment. "I'm in a position in my life where I'll take up that space and feel comfortable going there, but it's not really something that I feel everyone would be open to taking," she said.
University spokesperson Gerald McSwiggan said the center will allow the University to "continue this trend" of increasing counseling staff.
Tight-Lipped: The Midway Plaisance Advisory Council voted never to make a public statement on the Obama Presidential Center, at a heated meeting on Wednesday.
"The community is fighting a proxy war over the Obama Center through this PAC," said Elisabeth Moyer, a longtime MPAC member and a geophysical science professor at UChicago. Moyer proposed a motion – which passed – that MPAC "make no statement about the Obama Center, ever."
MPAC also re-elected all incumbent officers at the meeting.
Homecoming: After more than 80 years in Hyde Park, nearly 1,800 artifacts were returned from the Oriental Institute to Iran last month.
The OI argues that this return is not a "repatriation," but rather the end of an extended loan: "the OI has always had the intent of willingly returning them to Iran," a curator told The Maroon.
The University's endowment, now at an all-time high of $8.5 million, outperformed or matched that of several peer schools over the past year.
The endowment saw a 6.9 percent return on investment over fiscal year 2019.
Though the fund's return rate has trailed behind peers in recent years, after growth slowed at top funds in FY19, UChicago ranked in the middle of the pack.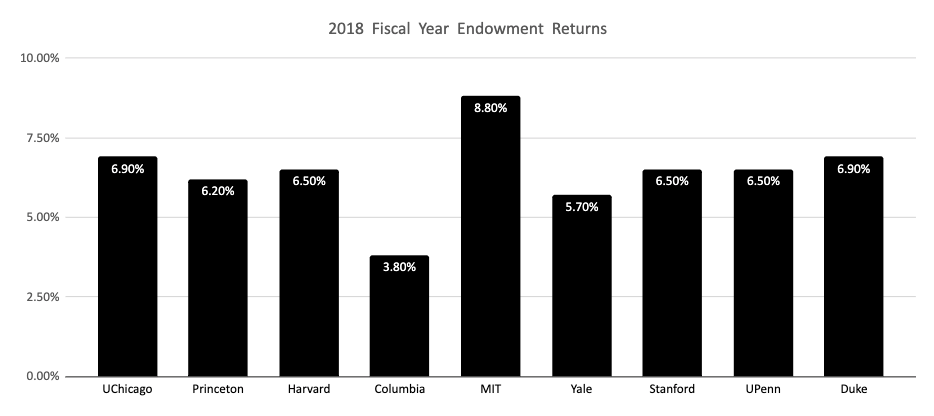 In Arts
Editor Jad Dahshan writes in:
"There is design in everything; in a cloud, in a wall, in a chair, in the sea, in the sand, in a pot."
"They tried to bury us, but they didn't know we are seeds."
"By taking control of a futurist vision through the newer media of virtual reality, the four works provide powerful and surreal experiences."
"I do believe that DIIV could have opted for a different mixing or recording strategy that didn't immediately scream shoegaze."
Arting Around: Distract yourself from eighth week with a Turkish Concert, a circus show, and Sophocles's Oedipus Rex.
---
---
In Sports
Editor Brinda Rao writes in:
Fourth-year Taylor Lake joins the 1000-point club. She is the 14th member of the Women's Basketball team to achieve this..
Volleyball's Emma Griffith and Madison Pearson earn the title of All-American athletes with their triumphant performances this season.
Third-year Ryan Cutter becomes a Midwest Champion of Division III with his victorious run at Cross-Country Midwest Regionals.
---
In Crossword
Editor Chris Jones writes in with a hint:
There is no theme to our crossword this week—only a challenging grid full of long clues designed to mislead you. "Parts of a set" are REPS at the gym.