"Sad, Beautiful, Tragic": UChicago Researchers Analyze the Emotional Range of Taylor Swift's Music
A recent study by researchers Megan Mansfield and Darryl Seligman shows the emotional trends in Taylor Swift's music and highlights its influence on her audience and the reasons for her continued popularity and success.
What do you get when two members of the Department of the Geophysical Sciences decide to work together to create a study for April Fool's Day? A study of the emotions generated from Taylor Swift's musical repertoire of course! For researchers Megan Mansfield and Darryl Seligman, who typically research topics such as exoplanets and magnetohydrodynamics, the project was mainly for personal entertainment, but the processes used during the study and the results highlight the influence of Swift's music.
Whether you're a fan of her music or not, Taylor Swift is arguably one of the best known, most influential artists today. The sheer diversity of Swift's compositions is one of the most notable aspects of her artistry. Her music spans a variety of genres, from country (where her popularity began) to pop to rock and, more recently, to folk music. Though it's difficult to classify Swift's music within a specific genre, one of the most unifying aspects of her work and reasons for her popularity is the way that so many people have grown up with and can relate to her music.
This aspect of Swift's music is something both Mansfield and Seligman can relate to, as both are fans of her music. It was for this reason that these two researchers decided to analyze Swift's music and, more specifically, the various emotions produced by her extensive repertoire.
The concept for the study was simple.
"We wanted to be able to numerically rate every song on how strong of a relationship there was in the song or, on the opposite end, how strong the distaste between the two people was, and then how happy or how sad the main person was in the song," Mansfield explained.
Because of this goal, Mansfield and Seligman focused specifically on songs that were written about Swift's own thoughts and feelings. This meant that the songs they studied focus mainly on relationships and Swift's own life experiences, while songs that feature Swift or songs that were commissioned for movies were excluded because they either focused on another artist's thoughts or were meant for a specific project. The researchers also excluded what they call "nostalgia for childhood" pieces that stray from the majority of Swift's songs, as the lyrics of these songs speak mainly about a longing for a simpler time in life.
Even with these exclusions, Mansfield and Seligman had almost 10 hours of music to analyze. After listening to all of her songs as well as reading through the lyrics to verify understanding, Mansfield and Seligman assessed how Swift felt about herself in the songs based on a set of four criteria and then, using their own discretion, assigned each song a numerical value between –3 and +3 (or a total of –12 to +12). This was called the "Net Happiness Score." Some examples of criteria that were used to generate the emotional level of the song were Swift's outlook on life (titled the "Glass Half Full" criterion), tempo, and how Swift feels about herself in the song.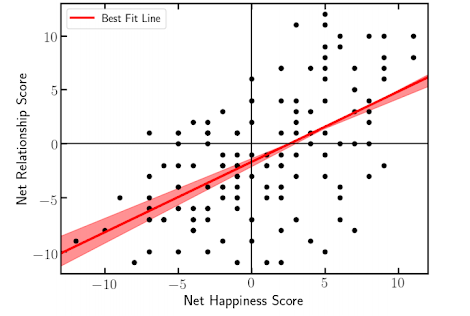 For example, in assessing the song "You Need to Calm Down" based on the "Feeling of Self" criterion, the study pointed to the line, "And we see you over there on the internet/ Comparing all the girls who are killing it/ But we figured you out/ We all know now/ We all got crowns," to show that Swift conveys a general feeling of security and trust in herself and her circumstances. For this reason, the song received a +3 value based on this criterion. On the other end of the spectrum, a song that was given a –3 value based on this criterion was "White Horse," as exemplified by the line, "Stupid girl/ I should have known/ I should have known."
The songs were also assigned a separate value through a similar numbering and criteria system based on how Swift conveyed her relationships to what Mansfield and Seligman called the "Male in Question" or "MIQ" in each song. These four criteria, including Swift's thoughts on the futures of the relationships as well as her thoughts on the seriousness of the relationships, were also assessed on the –3 to +3 scale. This was called the "Net Relationship Score."
These two total scores were then plotted on a graph to show their correlation and where the emotions of Swift's music fall in general. Mansfield and Seligman found that overall there was "a significant positive correlation between increased happiness and increased strength of a relationship." In addition, from these results, Mansfield and Seligman were also able to find other interesting observations. One, for example, is the relationship between eye color and relationship status found in looking at a small number of Swift's songs.
"There's about 10 songs that she's ever written—so this is a very small sample of songs—that have a specific eye color in them," Mansfield said, "We basically looked at the scores that we got just for those songs and then looked at whether she was overall happier or sadder or in a stronger relationship with certain eye colors."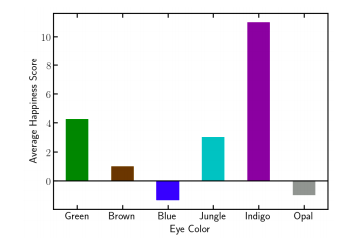 The study found that, among these songs, different eye colors produced very different happiness and relationship scores. Of the results, blue-eyed MIQs were found to have the lowest scores, while green- and indigo-eyed MIQs had the highest scores.
From these results, Mansfield and Seligman also created a program in Python that was then converted to an accessible quiz by Twitter user Shahar (@shahar603) that, in six questions, generates five songs that match the responses based on the scores assigned to the songs in the study.
Of course, Mansfield acknowledges that all songs can be understood in a variety of ways. "It's definitely very subjective," Mansfield said, "I think if someone was to listen to these songs they might not hear the same interpretation…kind of what's great about some of her songs is that you can hear them and hear your own meaning in them as well."
First-year Evelyn Battleson-Gunkel, who identifies as a "huge, huge Swiftie," spoke with The Maroon about her love for the artist. Though after taking the quiz generated from the study Battleson-Gunkel said that she agreed with the songs that were generated for her, she also admitted that her relationship with Swift's music has changed over the years.
"[The album] Reputation came out when I was 15, and when it came out it took me a long time to understand it, but as I got older I started to better understand the situation and what she was trying to do with the album."
Battleson-Gunkel also spoke about, how even at a young age, she was able to connect to not only Swift's music but also Swift herself because of Swift's personable nature and the similarities in their personalities.
"I like Taylor Swift because I grew up with her. Obviously I'm a lot younger than she is, so I didn't go through the same things that she did at the same time. But I feel like we've grown together, and she's a person that I can relate to," Battleson-Gunkel said. "I feel like she's my comfort person."
It is this feeling that sets Swift apart and puts Mansfield and Seligman's study in the broader context of the reason for Swift's enduring popularity. It's an aspect of her music that Swift herself understands. In the 2020 Netflix documentary Miss Americana, Swift spoke to the uniqueness of her work.
"Everybody in music has their own sort of niche specialty thing that they do that sets them apart from everybody else," Swift said in an interview in the documentary, "and my storytelling is what it is for me. I know that without me writing my own songs, I wouldn't be here."
It is this quality that not only allows her fans to connect with the real emotions and situations described in her songs, but allows for studies such as Mansfield and Seligman's. This window of understanding that Swift provides for her audience is one that she has also discussed in her documentary.
"There is an element to my fan base where we feel like we grew up together. I'll be going through something, write the album about it, and then it'll come out, and sometimes it'll just coincide with what they're going through," Swift reflected. "Kind of like they're reading my diary."
This "diary-esque" or storytelling element of her music adds another layer to not only Swift's music but also her development as an artist, an element that many media outlets have commented on from The Atlantic to NPR. Though Mansfield and Seligman's study is singular in its approach and focuses on the emotions evoked by the singer in her extensive repertoire, many media forms have analyzed the evolution of Swift and her music in a variety of ways.
On one episode of the podcast Switched on Pop titled "The Oeuvre of Taylor Swift," musicologist Nate Sloan and songwriter Charlie Harding analyze Swift's repertoire with a focus on the intricate elements of her music and songwriting skills along with a discussion of her development as an artist from country to pop music.
In highlighting what makes Swift's music stand out, Sloan commented, "Taylor is all about theme and variation. She introduces something and just when it becomes familiar to you she changes it in a way that's so fresh and exciting that it grabs your ears and keeps your attention."
The two also discussed why Swift's music allows fans like Battleson-Gunkel to constantly be able to relate to her music, even as she gains greater success and popularity as a celebrity.
"Her image that is at once very calculated and very accessible is supported by these songwriting devices that reappear again and again that make you say, 'Oh that's Taylor, that's my friend Taylor,'" Sloan said. "And these lyrics that are so effortlessly conversational and vernacular that make you feel like you're almost hanging out with someone who is at once a pop star so elevated and someone so down to Earth and uncorrupted."
All of these aspects of Swift's music from its variety to its continued relatability also make it difficult to know where she will go next with her artistry. Regardless, as a loyal fan, Mansfield plans to update the program if Swift creates more music.