Piping Hot Takes: A Review of UChicago's Student Cafes (and Some Honorable Mentions)
There's a latte to love about the cafés on and around campus, but a few stand out above the rest…
Every quarter, I spend all of my Maroon Dollars on tea and coffee. Seriously. I actually switched my dining plan from "Unlimited" to "Phoenix" my second year just to get 50 extra Maroon Dollars to spend at UChicago's student cafes. (Sidenote: If you're like me and only really eat two meals from the dining hall every day and would rather have extra meals from Hutch included in your dining plan instead of paying extra for them, I highly recommend the Phoenix Plan—it's the same price as unlimited. The only downside is that it's not available to first years.) 
My wacktastical spending habits aside, there's a reason I put all of my Maroon Dollars towards student cafes: they're wonderful. A quintessential part of UChicago's campus experience, student cafes have something for everyone: whether you're hoping to catch up with some friends over a cup of joe while "working" on a P-set (let's be honest, nobody really gets anything done on the first floor of the Reg), start your day amongst grad students and a bunch of religious art and memorabilia, or unwind after class with a game of pool, an iced chai, and an immaculate selection of music, you can't really go wrong with any of the cafes on (or off) campus. 
Don't know where to start? Here's my take on the greatest (and not so great) student cafés that UChicago has to offer:  
* Takes Maroon Dollars.
Ex Libris * 
Location: First Floor of the Regenstein Library 
Instagram: @exlibriscafe 
Rating: ☕️☕️ (2/5) 
I would like to begin by saying I think I dislike Ex Lib more than most. Something about how gray everything is, the complete lack of decor and music, and the way my order somehow always comes out wrong just doesn't really do it for me. Then again, the Reg doesn't really do it for me either (I made it my personal mission last quarter to not set foot in the Reg unless I absolutely had to for a meeting or something… and succeeded). My personal bias aside, there are many reasons why people love Ex. It's the perfect place to go "do work" only to end up bumping into a few friends and accomplishing nothing at all. It's usually lively and is conveniently located in the center of campus, making it easy to grab a drink in between classes. You're also bound to have at least one friend that works there (their staff is MASSIVE), so there will always be a friendly face to wave to behind the counter. And for the more experimental coffee drinkers, Ex's weekly rotation of new and inventive drinks is also quite fun. If you ever find yourself stuck in the Reg late at night, you can catch a glimpse of the creative process behind these drinks: Ex hosts quarterly Ex After Dark events during which the baristas invent themed drinks and desserts past midnight.  
Harper Cafe * 
Location: Harper Library, Next to the Arley D. Cathey Learning Center 
Instagram: @realharpercafe 
Rating: ☕️☕️☕️☕ (4/5) 
I must say, out of all of the student run cafes at UChicago, Harper Cafe has the safest, coziest vibes. There's nothing quite like grabbing a latte and a THICK slice of focaccia before class after chatting it up with one of the wonderful baristas (who all wear fun hats, by the way). Or perhaps snagging a table or a cozy chair around lunchtime and sipping a cup of tea as the sun streams in from the old Hogwartsy glass windows is more your forte. Or, for all of those night owls out there, maybe you'll find yourself getting a quick caffeine fix (and free pastries if there are any left over at the end of the night) before heading to meet a core tutor in the Arley D. Cathey Learning Center. Regardless of what time of day you find yourself there, Harper just hits different. It falls one coffee cup short of perfection because it's sometimes tricky to get a table or a seat and you're not allowed to bring any food or drinks into the library next door (which is my personal favorite library on campus), but in general you can't really go wrong with Harper.  
Cobb Coffee Shop * 
Location: Basement of Cobb Hall 
Instagram: ??? (Like much else about Cobb, it's a mystery.) 
Rating: ☕️ (1/5) 
Oh Cobb. To be perfectly honest, I went to this self-proclaimed "gas station chic" cafe once and never again. Let's just say it was…an experience. As a religious latte drinker, discovering Cobb's lack of espresso drinks was rather devastating, but after settling on a tea I sat down at one of the gas station-esque cafeteria-style tables and remained the only person in the establishment (besides the barista) for at least twenty minutes (keep in mind, it was around 10 a.m. on a Tuesday). I tried to get some work done but couldn't shake the feeling that I was in a dream and kept getting distracted by the film Fantasia (you know, the wizard Mickey Mouse one), which was playing silently on a VHS tape next to my table and the ceiling decor dangling over my head. All that being said, Cobb isn't all bad. They have a large offering of pre-made meals from local Hyde Park businesses (such as Rajun Cajun and Cedars) thanks to the cafe's large food storage area in the corner of the shop, which means they (allegedly) get quite busy around lunch time. They also have a secret menu, which features the "Cobb Mocha" (drip coffee + hot chocolate mix), and occasionally host events in conjunction with the campus radio station, WHPK. Even if Cobb doesn't sound like your cup of tea, it's an unspoken campus rite of passage to wander down there at least once before you graduate. 
Grounds of Being   
Location: Basement of the Divinity School  
Instagram: @groundsofbeing 
Rating: ☕️☕️☕️☕️ (4.5/5)               
The saying at Grounds is that it's "Where God Drinks Coffee." Honestly, they're probably right. The coffee is SO GOOD. The drip coffee is the cheapest on campus (even cheaper if you bring your own mug), and delicious (I don't even like drip coffee, so that's saying something). Their espresso is perfectly strong with earthy undertones and pairs delightfully with oat milk in an iced latte. Everything comes in fun decorated cups. The walls are covered in all sorts of religious art and memorabilia, and somehow there's always enough space at one of the long tables to find a seat amongst the grad students and professors that frequent the spot. Grounds also opens earlier than the rest of the cafes on campus, which makes it great for early risers like myself (I know, it's crazy, but I swear we exist). Hungry around lunch time? Grounds has you covered. Like Cobb, they also offer a wide selection of meals from local Hyde Park restaurants with plenty of vegetarian and vegan options, as well as pastries and bagels (that come with free butter or cream cheese and access to the most glorious toaster on all of campus). Be sure to grab lunch early though, because the pre-made meals tend to sell out before 12:30. And, if you love Grounds as much as I do, you can also become the proud owner of a Grounds of Being mug or T-shirt. The only downside of the place is that it closes around 3 p.m. and doesn't take cards or Maroon Dollars. But honestly, with a sign that says, "In God We Trust, All Others Pay Cash," I can't even be mad about it.  
Hallowed Grounds * 
Location: Second Floor of the Reynolds Club 
Instagram: @hallowed_grounds 
Rating: ☕️☕️☕️☕️ (4.5/5) 
Last of the student cafes, but certainly not least, is Hallowed Grounds. Though it's tied as my favorite coffee shop on campus with Grounds of Being, it has the complete opposite vibe: Hallowed is open late at night (until 10 or 11 p.m. on most days) and gets progressively more lively and full of pool-playing undergrads as the day goes on. The baristas always have the coolest outfits on and have pretty immaculate music taste (seriously, 90% of my Shazam use happens in Hallowed). The iced chai lattes here are top-notch, and playing pool is free (they just hold your student ID's hostage for a bit to make sure you return everything). Hallowed is especially cozy in the fall and wintertime and is conveniently located right on top of Hutch, Pret a Manger, and the McCormick Lounge (which is often open for students to use as a study space). You could easily spend all day in the building without having to venture out into the cold for food, coffee, or a quiet spot. As an added bonus, Hallowed hosts all kinds of events throughout the year for different student-run organizations such as Midwave Radio (an online student-run radio/talk show site) and the Organization of Black Students. Like other cafes, Hallowed falls short of perfection because it's a bit tricky to grab a table (like I said, people tend to camp out there for the whole day), but there are plenty of comfy chairs and benches to sit on as well.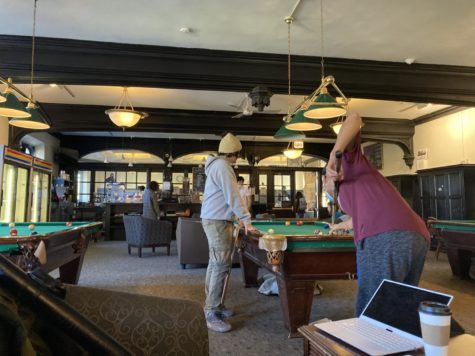 Though they're not student-run (and I tend to frequent them less often than the student cafes), there are a few other coffee spots on campus that deserve a shoutout:  
Peach's at University * 
Location: Crerar Library, Next to the MADD Center 
Rating: ☕️☕️☕️ (3/5) 
A gathering place for CS majors, the coffee and food here is really not spectacular, but I've got to give Peach's props for being right next to the MADD center. After taking a short certification class, UChicago students can use the 3-D printers, sewing machines, VR sets and other cool gadgets in this space for FREE! I highly recommend checking it out if you're looking to grab a cup of coffee and pick up a new hobby in the process. 
Pret A Manger * 
Location: First Floor Reynolds Club 
Rating: ☕️☕️☕️ (3/5) 
Reliability and ready-to-eat meals are the name of the game at Pret. The coffee sucks, but the food is good, and the milk alternatives are offered at no additional cost, which makes an iced chai with oat milk taste all that much better (if you want good coffee though, you can grab some upstairs at Hallowed). Besides the cost-effective milk alternatives, I think the best part about Pret is that it's like an old friend—there for you when no one else is. There have been many times I've shown up on a Sunday morning because it's the only place on campus that opens before 9 a.m. on the weekends, or at 8:30 p.m. on a weeknight after realizing I'd forgotten to eat dinner before the dining halls closed. Pret may not be a standout star, but it's a UChicago staple. 
Fairgrounds Craft Coffee and Tea *
Location: Campus North Residential Commons 
Rating: ☕️☕️☕️☕️ (4/5) 
Fairgrounds opened its doors in the same space that once housed Dollop on March 29, 2022. The newest addition to UChicago's coffee scene boasts a premium selection of tea, coffee and matcha, yummy breakfast food and a cute, bright space. It is a little on a pricier side, but the coffee is definitely worth it at least once in a while. I'm especially a fan of the iced oat milk latte on tap. 
Other on-campus cafes include Cafe Logan * (☕️☕️☕️) , which is located on the ground floor of the Logan Center for the Arts and has decent falafel sandwiches; the Starbucks * in the campus bookstore (☕️☕️), which often burns their coffee beans but has good bagels; and the Starbucks * in Saieh Hall (☕️☕️☕️), which opens extra early on weekdays and offers all of your regular Starbucks fare. You can also get your coffee fix at both Midway Market * (☕️) and Maroon Market * (☕️☕️) located near Bartlett and Cathey Dining Commons, respectively, as well as at the Law School Cafe * (located in the Law School), Harris Cafe (located in the Harris School of Public Policy in the Keller Center), Quantum Cafe * (located in Eckhardt Hall), Gordon Cafe (located in the Gordon Center for Integrative Science) and Tiffin Cafe * (located in International House), all of which I have yet to try. 
In addition to UChicago's on-campus offerings, make sure to check out off-campus spots as well. There are plenty of coffee shops all over Hyde Park and Woodlawn, but here are my favorites:  
Plein Air  
Location: 58th and Woodlawn 
Rating: ☕️☕️☕️☕ (4.5/5)  
Delicious coffee, lovely French food, and top-notch pastries…what more could you want? Nestled between Frank Lloyd Wright's famous Robie House and the Seminary Co-op Bookstore, Plein Air is the perfect choice for the lover of espressos and brunch. They also have a great outdoor seating set-up that's delightful in the fall and spring. 
Robust Coffee  
Location: 63rd and Woodlawn 
Rating: ☕️☕️☕️☕ (4/5) 
Just a few blocks away from Woodlawn Residential Commons, Robust Coffee offers the most delicious smoothies in town (I recommend the Sunrise or the Green Machine), as well as large (and well-priced!) cups of coffee and scrumptious breakfast and sandwich items. This vintage-themed gem is the perfect place to grab a drink or bite to eat with a friend on the weekend. Additionally, you can sit and study at one of their many back tables. Robust also attracts plenty of Hyde Park locals, including those who set up some pretty lively chess games in the back room. Think you've got what it takes? Stop by and join in to test your skills.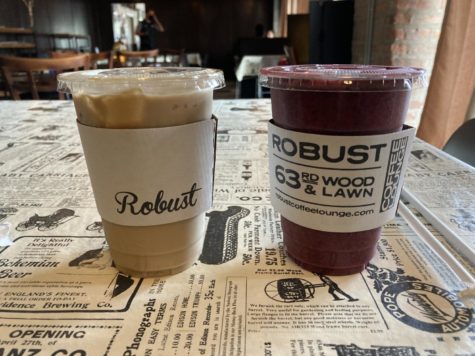 Build Coffee 
Location: 61st and Blackstone, The Experimental Station 
Rating: ☕️☕️☕️☕ (4.5/5) 
It doesn't get much better than a trip to Build Coffee and the 61st Street Farmers Market on a Saturday morning. Striving to be more than just a coffee shop, Build doubles as a bookstore and offers a nice selection of books, zines, art, and more. They also have a number of tasty sandwiches and salads. If you find yourself there on a Saturday, you could grab ice cream, pastries, or fresh fruits and veggies from the 61st Street Farmers Market next door. 
TrueNorth Cafe 
Location: 1323 E 57th Street 
Rating: ☕️☕️☕️ (3.5/5) 
A spring and summertime favorite of mine, TrueNorth is open-air in the warmer months and has great iced drinks, smoothies, and sandwiches. It's nice to be in the fresh air and do some work while enjoying a hand-made sandwich. 
Cafe 53 
Location: 1369 E 53rd St 
Rating: ☕️☕️☕️☕ (4.5/5) 
Cafe 53 has the best sandwiches in town (with loads of vegan and vegetarian options) and an awesome selection of organic coffee and tea. The tiny shop may not look like much from the outside, but I can assure you it's worth the trip to 53rd Street.  
Whew! That was a latte! You now have enough recommendations to go to a different place to get your caffeine fix every day for three weeks. Be sure to follow all of the student cafes on social media, and don't forget to explore off-campus options as well. Happy caffeinating! 
Leave a Comment
Your donation will support the student journalists of University of Chicago. Your contribution will allow us to purchase equipment and cover our annual website hosting costs.
About the Contributor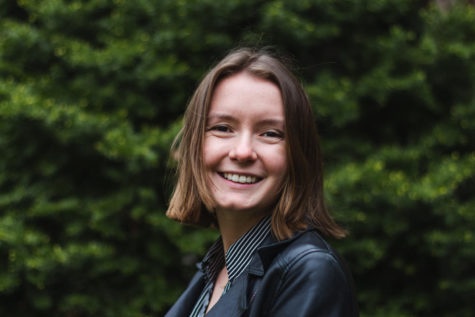 Natalie Manley, Head Arts Editor, Deputy Designer, Occasional News Reporter
Natalie joined The Maroon her first quarter at UChicago and thoroughly enjoys being a part of such a fun, talented and welcoming community. Outside of...