Abortion, Forest Preserves, Workers' Rights: What Brought Hyde Parkers to the Polls
Most Hyde Parkers cast a straight Democratic ticket. But the factors that pulled them to the polls were diverse.
Illinois polls have officially closed after a whirlwind Election Day, with hundreds of thousands of Chicagoans casting votes in several dozen local, municipal, and national races on November 8.  
Preliminary results confirm that most voters cast a straight Democratic ticket in bright-blue Hyde Park, but the factors that pulled them to the polls were diverse. 
Like many progressives nationwide, UChicago student Dylan Murray felt called to the polls over the issue of abortion. The Dobbs v. Jackson Women's Health Organization Supreme Court decision, which overturned the landmark abortion case Roe v. Wade this summer, is thought to be a key driver of Democratic turnout this election cycle. Polling data suggests that young progressives are particularly galvanized by the rollback of Roe. "I want it back," Murray said while exiting the 25th Precinct polling place late Tuesday afternoon. 
With the Democratic Party struggling to craft a message on spiraling inflation—plus the tendency of the incumbent party to lose ground during midterms—the issue might just be the its saving grace. 
The issue redoubled Murray's commitment to turn out for the Democrats, who have made abortion rights the central focus of their midterm messaging. "I know that the Democratic Party is going to be more helpful and get everything back, so I''ll help in any way that I can," Murray said. 
Likewise, army veteran Stevan Molinar, a five-year resident of Chicago, named civil rights as his top priority. Molinar is concerned by the Republican Party's efforts to roll back state-level voting protections, reproductive rights, and labor rights. "[They are] definitely something I see as fundamental to our democracy," he said.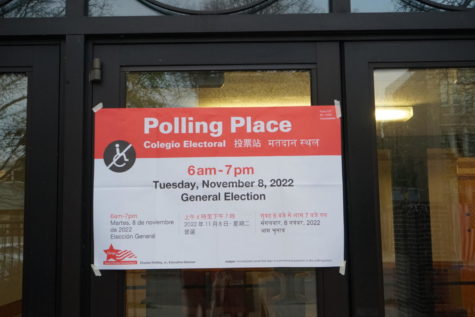 With down-ballot elections stretching across two pages, Tuesday's midterms also included dozens of contests that would be pivotal for local, county, and state governments. Hyde Park resident J. Michael Eugenio proudly voted "Yes" on Illinois's Amendment 1, which would enshrine the right to unionize in the state constitution. The measure would also prohibit union-weakening "right-to-work" laws, which are present in 28 states nationwide. If the amendment passes, Illinois would become the first state to implement such a measure. 
Eugenio, a former employee of nonprofit Experimental Station at East 61st Street and South Blackstone Avenue, was fired from that workplace shortly after attempting to organize a union. The labor amendment stood out to Eugenio amid Tuesday's dizzying two-page ballot. Eugenio named the constitutional amendment as a top priority—"that, and then the trees." 
Hyde Park resident Tiffany Mankowski shared the latter priority. Among Mankowski's main concerns is a county-level ballot measure that would increase property taxes by 0.25 percent to fund a build–out of Chicago's tree canopy. The funding would primarily be used to restore the 3,500-acre Busse Woods plot in the northwest suburbs as well as about 20,000 additional acres that will soon require maintenance. 
"I do want to do what I can to support the [Cook County Forest Preserve]," Mankowski said. "They work really hard, especially in this neighborhood, [since] we have a lot of older trees…so I vote in order to support them." 
Others are voting with the economy in mind. Nationwide, polls estimate that between 50 and 90 percent of voters name this as their top concern. Toya Thompson, a six-year resident of Hyde Park who works in the technology industry, is among them. 
"The company that I work for has laid off [workers], and some of its peers—the Googles, the Facebooks, LinkedIn—a lot of the other tech-based companies have laid off people," Thompson said. "That's really my concern: just the everyday living piece." 
Illinois polls closed at 7 p.m. Election results and data are available on the Chicago Board of Election Commissioners website.
Finn Hartnett contributed reporting.