Graduate Students Vote in Second Union Vote
While their 2017 attempt at unionization was foiled by a hostile NLRB and University, GSU is confident it can finally win official recognition.
On Tuesday and Wednesday of last week, UChicago graduate students currently working as instructors or researchers participated in a vote held by the National Labor Relations Board (NLRB) to determine whether or not to unionize officially. Should they vote to unionize, working graduate students will be represented by Graduate Students United ­– United Electrical, Radio, and Machine Workers of America (GSU-UE) for collective bargaining purposes. While in-person voting takes place on January 31 and February 1, the NLRB will only publish the results of the election on March 16 due to the time required to count mail-in ballots.
The NLRB ran polling stations at four locations on campus: the William Eckhardt Research Center, the Ida Noyes Cloister Club, the Regenstein Library, and the UChicagoGRAD Headquarters (on the third floor of the University bookstore). Working graduate students of all fields of study were encouraged to make their voices heard at one of these locations, with each location set aside for a different set of fields of study.
When asked for his thoughts on the election, one GSU organizer, Wolfgang Boehm, said, "I feel enthusiastic. I feel encouraged about other wins at Northwestern and MIT."
The mood at GSU headquarters has been similarly optimistic. "We're so excited to finally see it through," said GSU organizer Michael Stablein. On the days of the election, organizers like Stablein and Boehm hosted voter meetups and distributed information across campus to encourage students to vote, with their setups including stickers and sample ballots, along with masks, which were required to enter each polling place.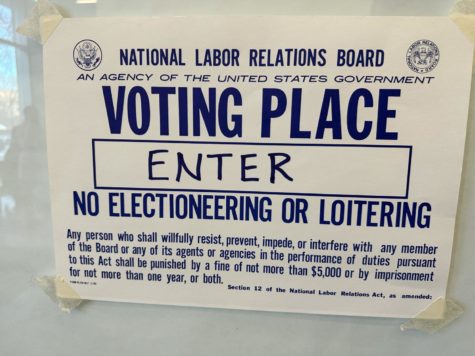 Because electioneering is not allowed within 100 feet of any polling place, per NLRB rules, GSU organizers have been coordinating get-out-the-vote efforts in heavily trafficked locations. One such effort was in Saieh Hall, where Sam Thorpe, an organizer with the Booth School of Business, had set up. He said that a supermajority of graduate students in the economics department had signed GSU's "Vote Yes" cards. In the Harris School of Public Policy, dozens of students had been meeting up throughout the day to vote. GSU organizers said that even students whom they had not previously contacted were well informed and excited about the voting process.
This historic vote is the result of a long-running effort by GSU to attain official recognition as the union representing UChicago's working graduate students. A 2017 vote to unionize saw 70% of students voting in favor of unionization.  Following the vote, the University appealed to the NLRB, arguing that graduate students did not have the right to unionize, and thus the University could not be forced to recognize or bargain with a union representing them. Two years later, GSU withdrew from the appeals in order to prevent the then–Republican-dominated board from overturning precedent allowing for graduate student unionization under the National Labor Relations Act. However, with a new president in the White House and more union-friendly faces on the NLRB, GSU is hopeful that a second attempt at official unionization will finally get them across the finish line despite University objections.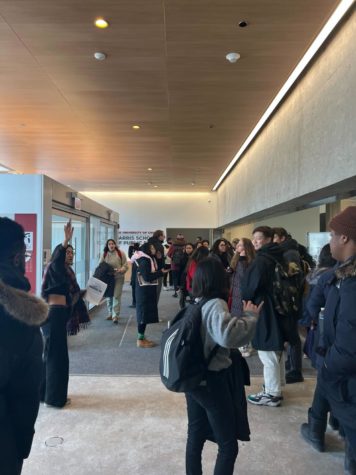 "The University has strongly encouraged all eligible graduate students to vote in the election concerning representation by Graduate Students United – United Electrical, Radio and Machine Workers of America (GSU-UE)," the University said in a statement to The Maroon. The statement went on to list several improvements that the University has made for graduate students, including "regular increases to PhD stipends," "payment of student health insurance premiums for all PhD students," new support resources at UChicagoGRAD for international students, and "the opening of a new Graduate Student Lounge."
In the past, GSU organizers have noted that the University has only improved conditions for graduate students in response to pressure generated by GSU.
After polls closed on Tuesday for a lunch break, GSU-UE Communications Secretary Valay Agarawal told The Maroon, "People are really excited to vote and get together. We're changing higher education at UChicago through a process we have a say in."