"Paul, Hear Me: I'm Not Going to Defund the Police": Johnson, Vallas Spar at IOP Mayoral Forum
The forum, held ahead of the mayoral runoff on April 4, was hosted by the UChicago Institute of Politics at the Logan Center for the Arts in partnership with WBEZ Chicago and the Chicago Sun-Times.
Chicago mayoral candidates Brandon Johnson and Paul Vallas debated public safety, education, and transportation at a forum held on Thursday night, March 30, at the Logan Center for the Arts.
The forum, moderated by WBEZ's Sasha-Ann Simons and hosted by the University of Chicago Institute of Politics, was the latest stop in a contentious mayoral race.
Vallas and Johnson advanced to the April 4 runoff vote after finishing with the two highest vote counts of the nine mayoral candidates running in the February 28 election. The winner between them will take office in May and replace outgoing mayor Lori Lightfoot, who finished third in the first round of voting. Early voting sites have been open since March 20 in all 50 of Chicago's wards.
Throughout the conversation, Johnson, who has served on the Cook County Board of Commissioners since 2018, emphasized his experience as a teacher and his goal to break from the "old politics" of the city. Vallas, who served as Chicago Public Schools CEO between 1995 and 2001, stressed public safety as his number one priority, calling it "a human right."
Simons began the forum by asking the candidates about major news that broke earlier on Thursday: the indictment of former president Donald Trump by a New York City grand jury for his role in a scandal involving adult film actor Stormy Daniels during the 2016 United States presidential election.
"It shouldn't be a surprise to anyone that one of the most corrupt administrations has finally received this indictment," Johnson said.
"This is evidence that no one is above the law, not even the president of the United States," Vallas said. "At the end of the day, justice needs to be served."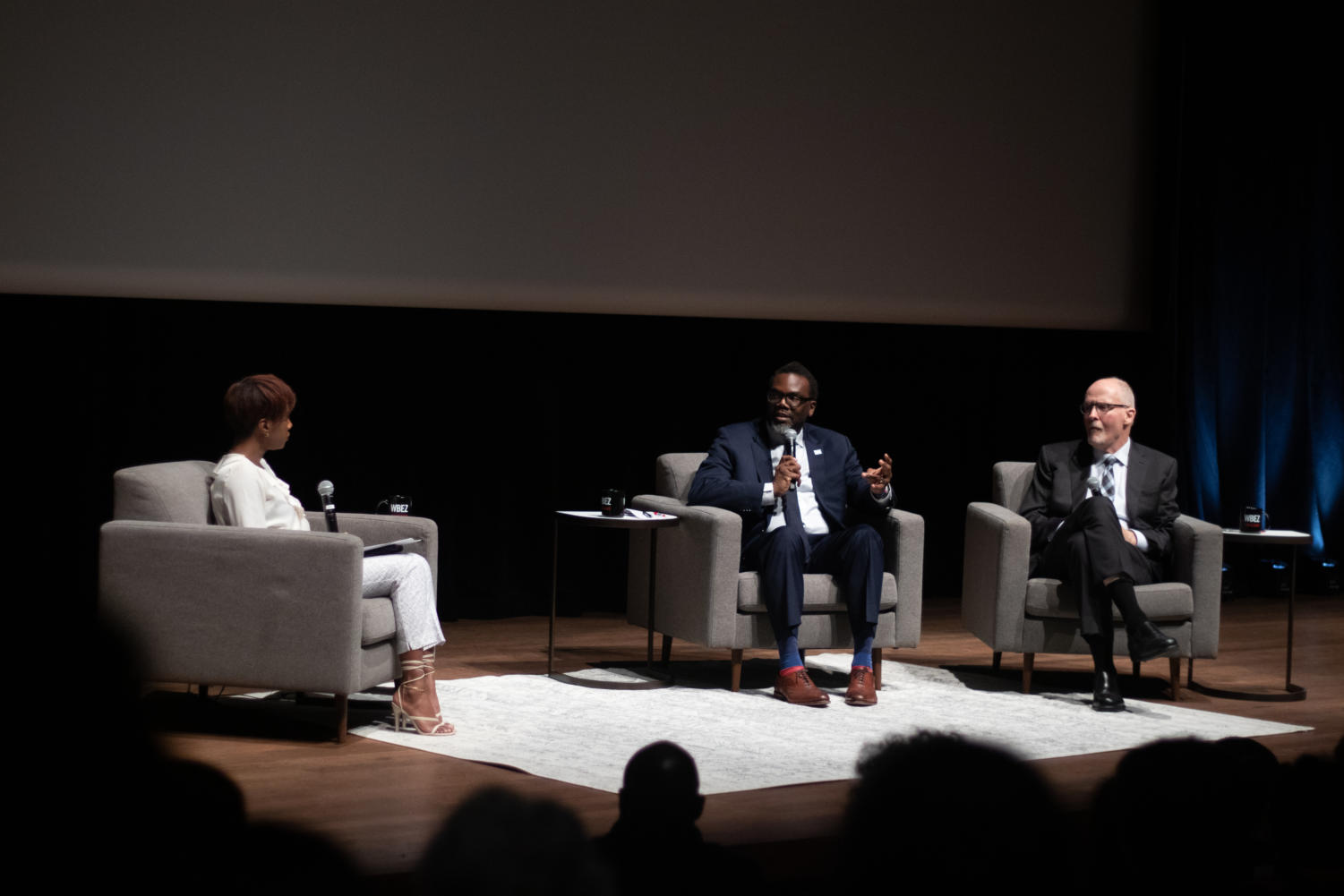 Simons then pivoted the discussion to safety in schools, referencing a school shooting on Monday in Nashville, Tennessee, that left six dead.
"There's no foolproof system," Vallas said about preventing school shootings. He talked about his previous experience as a superintendent in New Orleans and Philadelphia, emphasizing that he believes police presence in schools can aid against shooting threats.
"My opponent wants to defund the police," he said about Johnson. "I believe that police officers need to be at the entrance of the schools, or at the very least a police car at the beginning or the end of the school day."
Johnson expressed his belief that in-school support should not come from the police.
"We need to make sure that we are keeping guns off the streets…and also make sure that we are cooperating with every level of government to ensure maximum support and security," Johnson said.
"I firmly believe in the power and the leadership of local school councils.… If every single school had a baseline of support of social workers, counselors, therapists, psychiatrists, then you would not have to have a budgetary decision that limited the scope of what a fully funded supported school should look like," he continued.
"The last thing I'll say is this: I am not going to defund the police. Paul, hear me: I'm not going to defund the police. I've said that multiple times.… That's a Republican talking point. So if you're going to be a Democrat, stop being a Republican."
Simons went on to ask Vallas about how he would collaborate with the Chicago Teachers' Union (CTU), whose conflict with the city regarding COVID protections in schools kept Chicago students out of the classroom for five days in January 2022.
"I went to Philadelphia and negotiated contracts. I went to New Orleans and negotiated project labor agreements with the teachers' union down there. And then I also went to Bridgeport [Public Schools in Connecticut] and negotiated contracts. So I've never had a work stoppage. My approach with the unions has always been to provide direct negotiations…and that's the approach that I'll take with the CTU," Vallas said.
Simons then asked Johnson, who helped orchestrate the 2012 CTU strike, about whether he would be able to respect boundaries with his former union ties while serving as mayor.
"I'll be the mayor of the city of Chicago, and I'll be the mayor for every single resident in the city of Chicago, just like I have served as an elected official as a Cook County Commissioner," Johnson said. "I'm grateful to have the support of crossing guards, teacher's assistants, bus aides—I mean, these are people who make the city of Chicago run."
Expanding on his plan to bolster education throughout the city, Johnson took a shot at Vallas.
"We have lost our Black population. That has everything to do with disinvestment, school closures, privatization.… That is directly tied to the failed policies of the 90s, which my opponent was responsible for. He was there," Johnson said. "Everywhere he goes, he has failed."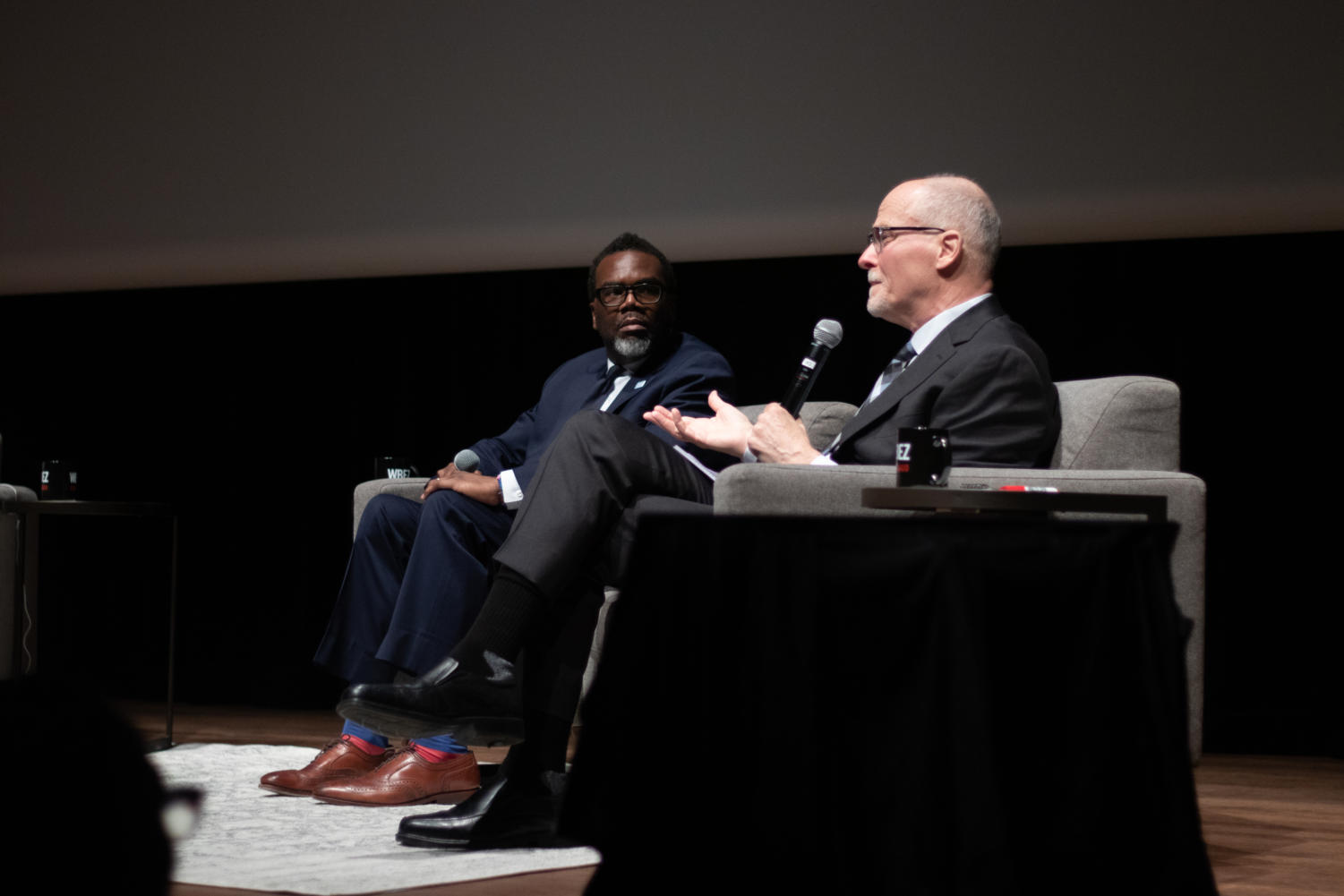 The forum eventually shifted to a discussion about public transportation. Vallas emphasized the need for new leadership in the CTA and said that public safety concerns are causing the CTA to lose employees.
"We clearly have to provide the same public transport services for every area of the city, which has normally just been regulated to some of the more affluent areas.… I've met with all the unions, twice. They tell me they are losing members left and right because the members feel that they are unsafe, that the CTA is unsafe, that the job is unsafe," he said.
In contrast, Johnson said that an inefficient public transit system leads to reduced safety.
"Public transport is unreliable. That's one of the reasons why it's so unsafe," Johnson said. "When you leave it to chance, chaos occurs.… Expanding bus-only lanes, giving preferential signs to buses at stop lights, making sure that we have real leadership that will actually show up and come to work—all this plays a part in having a reliable transportation service."
The moderator asked each candidate when they last used CTA transportation. Vallas said he had used it earlier that day to attend the Chicago Cubs game. Johnson took the question as an opportunity to point out that Vallas has never held elected office.
"The last time I rode the train was a few weeks ago. I usually ride three to four times a month when I'm headed downtown for Cook County board meetings, of which I'm elected to do twice," Johnson said as he looked over at Vallas and smiled.
During the lightning round at the end of the forum, Vallas expressed a commitment to serving only two terms as mayor, while Johnson said he would serve "as many terms as necessary to bring a better, stronger, safer Chicago."
"Public safety is a human right," Vallas said in his closing remarks. "I believe schools need to be community schools where the resources are forced down and pushed down to the local school level…and I believe that the budget—the $20 billion budget the mayor controls—is a community investment opportunity."
"We cannot go back to the old politics. It hasn't worked. It has failed us. We have built a multicultural, multigenerational movement, calling for a better, stronger, safer Chicago, no matter where you live," Johnson concluded. "I'm asking the city of Chicago to join."