Rich in culture and history, Chicago's 77 distinct community areas offer unique experiences. While Hyde Park is a beautiful neighborhood, leaving campus can also be an immersive and memorable experience, especially for those who are newcomers to the city. The University offers students a multitude of options for traversing campus and for exploring the rest of Chicago in safe and low-cost ways.
As the second largest public transportation system in the country, the Chicago CTA bus system comprises 128 routes, serving nearly 12,000 bus stops daily. Services typically depart every 20 minutes. To check bus routes, you can use the Bus Tracker by visiting ctabustracker.com/home, with an easy guide on how to track via text on this page: ctabustracker.com/trackbytext.
There are eight El train lines: Red, Blue, Orange, Brown, Pink, Green, Purple, and Yellow. The different lines cover different routes. The metro system is referred to as the El because its trains travel on elevated railroads.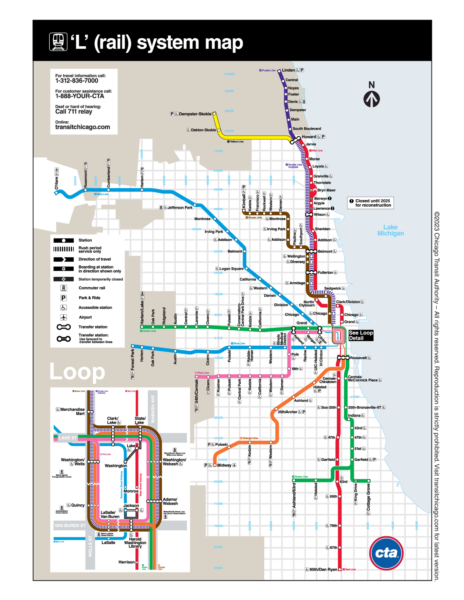 The Green Line route runs from Harlem in Forest Park, IL, to Oak Park, IL, to the South Side (63rd Street), as well as through downtown along Lake Street and Wabash Avenue in the Loop. The Pink Line operates its service from 54th/Cermak in Cicero, IL, to the downtown Chicago Loop and provides easy access to the West Loop. The Brown Line, which goes to neighborhoods northwest of downtown, operates weekdays and Saturdays between Kimball and the Loop.
The Blue Line and Red Line both operate 24/7 and are considered the busiest lines. The Blue Line connects Chicago O'Hare International Airport and downtown. The Red Line serves the North and South Sides via downtown.
UChicago students have unlimited access to the CTA bus and train systems during the academic year upon activating their Ventra U-Pass cards, which they receive during O-Week.
Students often choose to go downtown via either a single bus (#6 Jackson Park Express), bus and train, or subway. In general, the journey from Hyde Park to the Chicago Loop via public transportation spans anywhere from 20 to 30 minutes, although this can vary significantly depending on delays, time of day, and route.
While the CTA's El services mainly operate within the city of Chicago and its closest suburbs, the Metra system's rail routes extend from downtown to Chicago's more distant neighborhoods and towns. Each year, students are given 10 free Metra passes, which can be activated on their my.UChicago portal under the heading "Metra Ten Ride Pass." Metra trains run at all hours and offer a relatively inexpensive and safe means to travel downtown or farther out of the city.
As of July 2023, the University offers each student seven Lyft passes per month. Rides discounted by 10 dollars are available from 5 p.m. to 4 a.m within the specified service area, which extends from 48th Street to 64th Street, bordered by Washington Park and South Lake Shore Drive (the exact area will appear on the app). A plan for the academic year has not yet been announced.
These passes renew monthly and can be activated with a link received via email from Lyft. More information about the Lyft Ride Smart Program at UChicago can be found on UChicago's Safety and Security website.
UChicago also operates its own shuttle bus service, known as the UGo Shuttle Program. Shuttles operate several routes and travel on campus as well as around the greater campus area. While route operation times vary, both Daytime and Nighttime shuttles are offered, typically running early morning to late evening.
UGo Shuttles run year-round, except on University-observed holidays. Download the TransLoc app to see detailed arrival times, stops, routes, and more. As of last spring, UChicago now offers a Downtown route on weekdays. Students show their University-issued ID to ride the shuttle for free.
Safety precautions are important to keep in mind when traveling, including on public transportation. Always be aware of your surroundings and be mindful when you are using public transportation, especially when it is late.