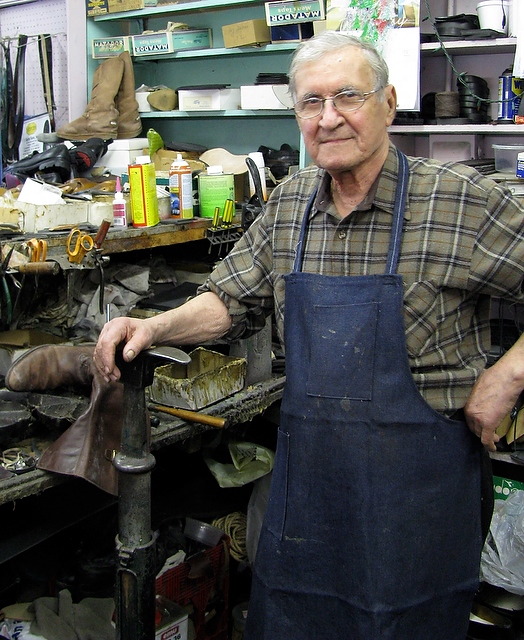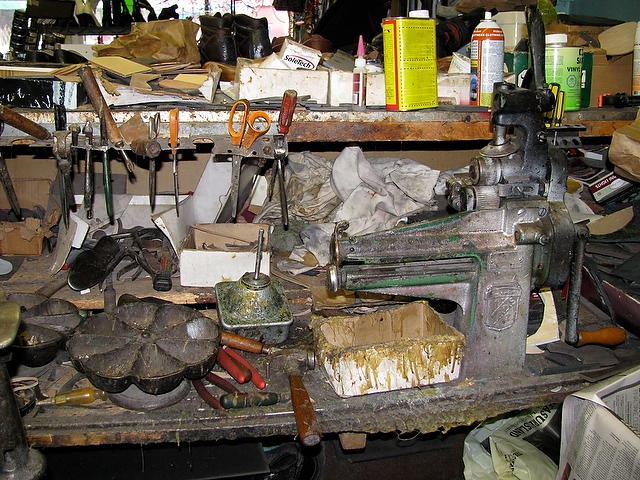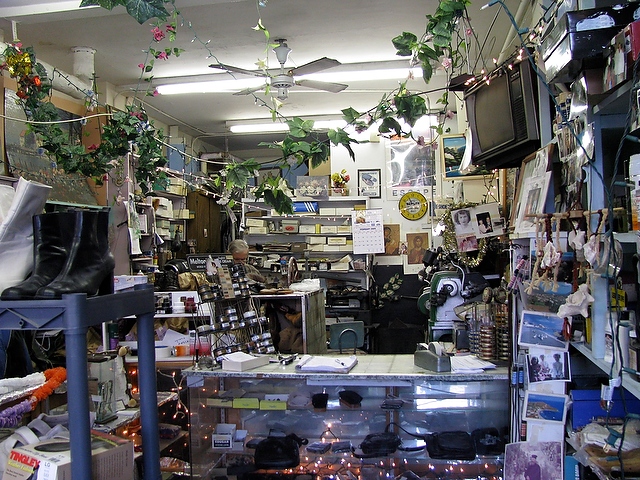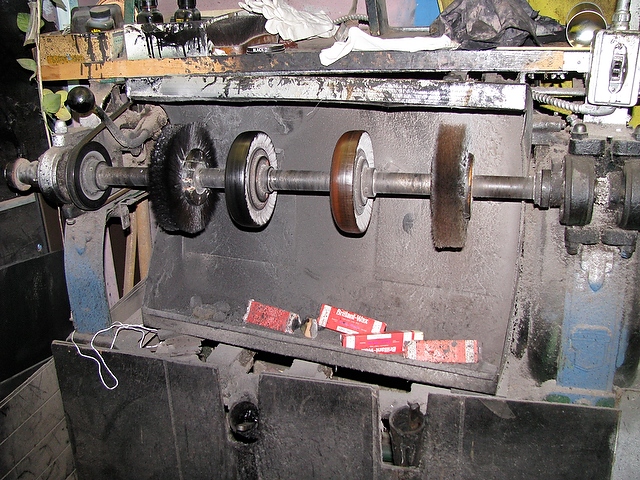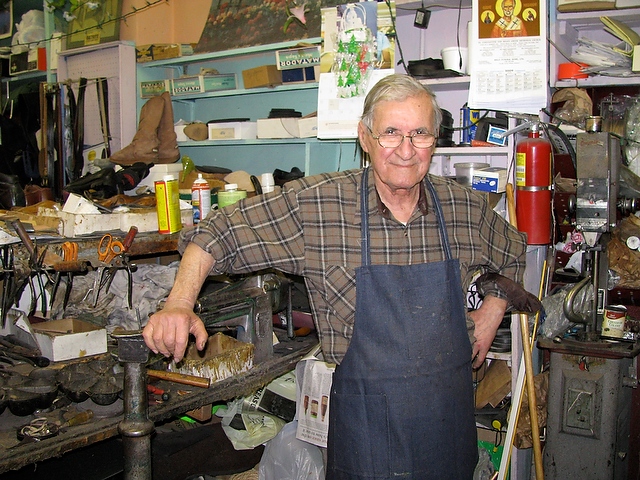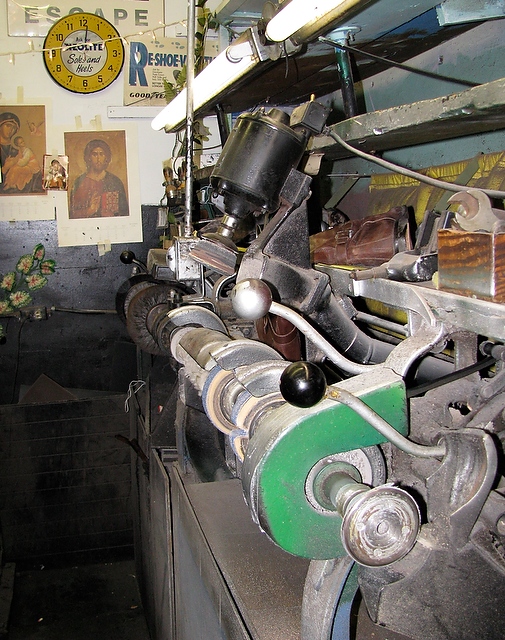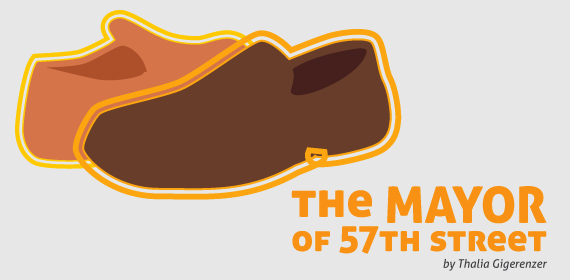 For nearly half a century, Constantinos "Gus" Lukis has been waking up before dawn to fix Hyde Park's broken soles and rundown heels. As other businesses have come and gone, Hyde Park Shoe Rebuilder, a cramped but homey shoe repair shop now sandwiched between a stop-and-go Subway and a convenience store, has been a fixture in the neighborhood since the First World War. Today, Lukis's store is one of the last surviving shoe repair shops in Hyde Park and all of Chicago. The shop—and its owner—represent a way of life that is fast disappearing.
At 4 a.m. on an icy February morning East 57th Street is silent except for the jingle of keys as the 79-year-old Lukis opens the front door to his shop. Donning a stained blue apron, Lukis marks today's date on his wall calendar and gets to work. The drone of shoe-repair machines fills the shop as Lukis smooths out a penny loafer's dilapidated heel. Dipping a rusty brush into a tub of glue, he pastes on a new rubber heel and fastens it tightly with four nails. In a few hours, 57th Street will bustle with people, but for now, Lukis works in silence, save for the hum of his machine.
"You want some Greek pastries? Garlic butter? I made it myself," Lukis says, opening up a vat of garlic paste in the tiny kitchen at the back of his shop.
Lukis speaks the Greek-American English of first generation, early 20th-century immigrants—a thick, Greek accent punctuates a fluid stream of American idioms.
Large, elegant cast-iron machines loom behind the shop's tiny counter, clanking and whirring, relics from a bygone era. They look as if they were plucked straight from the factory line. The machines were purchased by Lukis's uncle when he opened the shop in 1914. "They still work!" Lukis exclaims.
Pictures of Greece adorn shelves of piled shoes, depicting clear blue seas and whitewashed churches. Grainy pictures of family members—"This is my brother, he is a priest, everyone respects him—even the bums"—and the early days—"This is me and my uncle when I was just starting out"—stand alongside portraits of Greek Orthodox saints and the Virgin Mary, who watches over the mammoth 40-year-old cash register. Lukis does not accept credit cards.
These days, Lukis spends most of his time in the shop. "I go home only to sleep," he says with a laugh.
---
On a black-and-white photo in Lukis's shop, a tall man looks out expectantly, his hands resting on a pair of shiny black shoes. This is where Lukis's story begins.
In 1914, a young man named John Richards (born John Psihitsas)—Lukis's uncle—came from Greece to open a shoe repair shop on East 55th Street and South Blackstone Avenue. It stayed there for 43 years, until 1957, when the shop was torn down as part of the University's massive urban renewal campaign and relocated to its current site, where Lukis, Richards's nephew took over two years later.
"It's a big history," Lukis says of his family's saga. "You know they're going to build a Greek museum downtown, and they want my pictures."
Lukis's father owned candy stores all over the U.S. and in Mexico City. All that changed with the onset of the Great Depression, a crisis that coincided with Lukis's birth in Chicago in 1929. After his father lost the candy store he had been running in Chicago, Lukis, who was six months old at the time, moved back to a small town in Greece with his mother and two brothers.
A globetrotter ahead of his time, Lukis got the best of both worlds. "I was born in America, but baptized in Greece," Lukis distinguishes, raising a finger. He carries a card in his wallet that says 'I AM AN ORTHODOX CHRISTIAN. In case of emergency, please contact the nearest Orthodox priest.'
Because he was an American citizen, Lukis was called back to the U.S. to report for the Korean War when he was 18. But he never ended up fighting in the war, moving instead to Los Angeles, where he worked briefly in a restaurant, and then to Chicago, where he worked at a bakery and a machine gun factory. In 1959, Lukis moved to Hyde Park and took over the shoe repair shop from his uncle.
While Lukis feels a strong connection to his job, working as a shoe repairman was not the result of a childhood dream. The idea of a calling, the very phrase "dream job," is foreign to Lukis, to whom working itself—working hard—represents a way of life, not an individual choice.
"It's okay, it's a job," Lukis says. "You gotta do something! I got started because I liked the people around here. It'll be 50 years in April. A whole life," Lukis says.
But Lukis does not downplay the importance of his job. "You gotta walk!" he says throwing up his hands.
As part of a generation flung to every corner of the world by two wars and an economic crisis, Lukis struck deep roots in the neighborhood famous for its diversity and affinity for the life of the mind.
The history of Hyde Park is contained in the notebook where Lukis has his customers write down their names and phone number when they bring their shoes. Nobel laureates, students, blue-collar workers and long-time residents share the pages of this faded yellow notebook.
"Lots of famous names in there," Lukis says proudly, speaking fondly of figures like Hanna Gray, former president of the University of Chicago, and Michael O'Connor, former principal of the University's Laboratory School, who Lukis says used to call him "the mayor of 57th street."
A man with many homes, Lukis immediately fell in love with the neighborhood.
"Hyde Park is like one family," Lukis says. "My sons grew up next door to Japanese kids on one side and black kids on the other, no problem."
"He's always been a fatherly kind of figure to me. I call him theo—that's Greek for uncle," says John Frangias, owner of two restaurant across the street from Hyde Park Shoe Rebuilder, Salonica and Caffé Florian. "Everyone is family in Gus's shop. If you're not family, you become family."
---
For Lukis, the University is an important part of the "Hyde Park family." He can remember times when his wife, who passed away four years ago, would win over professors and students with her Greek cookies.
"With University people, you're dealing with educated people," Lukis says. "They understand you."
Lukis remembers his early days in Hyde Park—the 1950s and '60s—with a sense of nostalgia for the good, simple life.
"Those were the best years of my life," Lukis says. "People were happy; there were no more wars. People got married, went dancing, enjoyed life. A lot of babies were born."
It was during this time that Lukis married his wife, Costula.
"I didn't want to get married," Lukis remembers, laughing softly. "She was working for my uncle, cleaning and doing laundry. My uncle says to me, 'Gus, why don't you marry Costula?' and I says, 'No, Costula is like my sister!' But then one day we went out to Jackson Park, and I says, 'Uncle Johnny says me and you should get married, but I'm not ready' and she says, 'I don't care about money, I know you're a good guy.' And then we kissed and went to work, earning money to buy a house, furniture, everything." Lukis pauses. "We had a wonderful life."
While many newspapers have hailed the economic recession as a boom for businesses like Hyde Park Shoe Rebuilder, Lukis, whose number of devoted customers has remained steady over the years, is skeptical about the future.
"Today, people spend more money than they make," he says. "They use these cards. I only use credit cards for emergencies.
"In the old days, people didn't buy fancy stuff they couldn't afford. And I think they had a better life; they slept better."
But Lukis feels that Hyde Park remains unique in the face of these changes. "People in Hyde Park don't care about fancy things; they care about what is better for their life. Because they read books they know this," Lukis says.
But he says he never desired to be a professor—perhaps a "professor of shoe repair"—laughing: "I'm not much of a reader."
Lukis realizes that should his shop close, it will be the end of an era. When he was starting out, there were about 30 shoe repair shops in Hyde Park, mostly run by Italians and Greeks; now there are two.
"Today, everybody wants to work with a pen and pencil, but somebody has to do the dirty jobs, too," Lukis says, pointing at his callused hands. "They say they can't find jobs, but they could be garbage workers, shoemakers, or painters. I'm self-employed; I didn't get laid-off for 50 years. But there's responsibility. I gotta take care of my store and my customers. I gotta do a good job."
For Frangias, 46, who has known Lukis ever since he came to Hyde Park in 1989, "Uncle Gus" represents a sense of community that is disappearing.
"I used to see that kind of neighborhood feel at the Salonica 20 years ago, when blue-collar workers, professors and students would gather in the afternoon for coffee," he says. "Now most of the small businesses and mom-and-pop stores are gone. Today, people get coffee at Starbucks; they're always on the run."
Frangias is part of a rapidly decreasing number of Greek immigrants.
"I consider myself first generation, too," he says. "But Gus is definitely part of a different generation. It's the generation that was raised during the Great Depression; they're more frugal and don't have this spend-thrift personality."
"He's the last of the Mohicans," Frangias says. "He'd tell me stories that everyone was wearing rubber and plastic shoes these days, and he can't fix them."
From his perch on East 57th Street, Lukis has watched a neighborhood transform and professors, residents, and students come and go. Today, Hyde Park's shoe rebuilder represents a world fading quickly into the past But still, Lukis has no plans to hang up his boots.
"In the cemetery," he says of retirement, only half kidding. "I couldn't stay home. They tell me to retire, but I stay because I like the people here."